News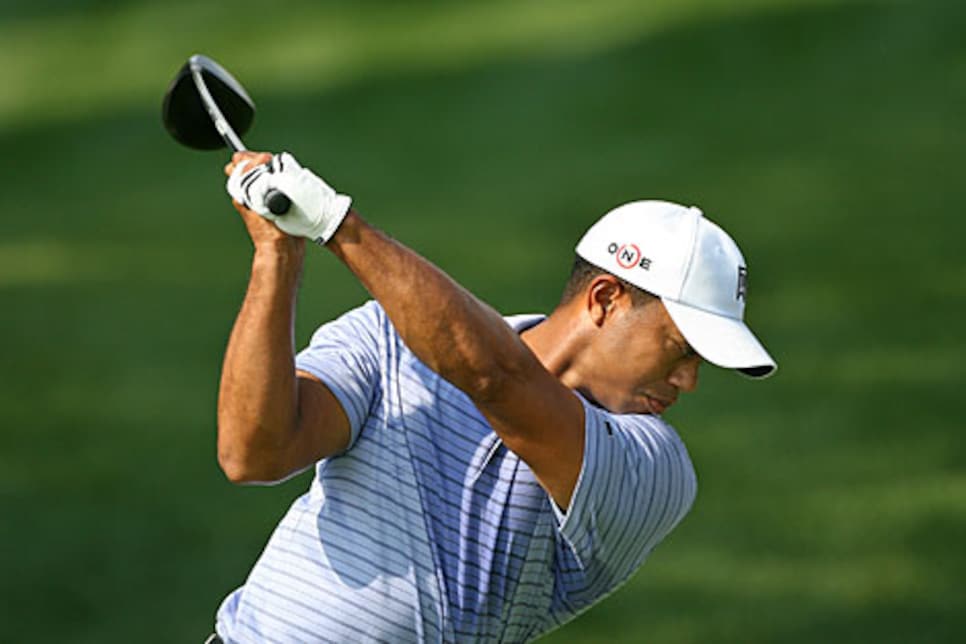 Tiger Woods' 62 matched the second-lowest round of his pro career.
LEMONT, Ill. -- Welcome back to Cog Hill, where there's been a lot of talk this week whether the USGA would ever stage a U.S. Open here.
Tiger Woods may have settled that one Saturday, and the answer now is probably one of these: "No," "Not a chance," or "You cannot be serious."
That's because Woods absolutely scorched the place with a course-record nine-under 62 Saturday in the third round of the BMW Championship ... and the USGA doesn't like 62s on any of its U.S. Open courses ... unless, of course, they're nine-hole scores.
Woods said he thought there was a 62 to be found at Cog Hill when he showed up this week.
"Yeah … after 15 holes, 16 holes," Woods said.
At least Woods' incendiary round had a symmetrical quality to it -- 31 on the front, 31 on the back. He had eight birdies, an eagle at the par-5 ninth when he hit his approach to three feet, and one bogey, when he missed the fairway at No. 1.
"Obviously, after I got past the first hole, I did all right," Woods said. "The round just kind of built upon itself. I just figured that you had to get into double digits (under par) and I thought that was going to be a good score to end up at."
Woods nearly got into double digits for the round, of course. After rounds of 68-67-62, he begins the fourth round with a 16-under par total of 197, looking for his sixth victory of the year and 71st of his career.
As for the BMW Championship, the third of the four FedEx Cup Playoffs, it's pretty much over and out, with Woods holding a seven-shot lead and one round to go.
That's a touchdown and an extra point, a margin not often seen on the PGA Tour.
Brandt Snedeker, who birdied the last four holes for a 66, will be paired with Woods in the last group. He said he expects Woods to continue playing well.
"I've got to do something spectacular and he's got to maybe have a heart attack out there for me to have a chance," Snedeker said. "It's going to be interesting, it's going to be a learning experience. He'll make it as easy on me as possible."
Woods knows all about going low at Cog Hill, where he shot 22 under to win this same tournament in 2007, so he is covering familiar territory.
"I always feel confident playing this golf course," he said. His 62 ties his second-lowest score ever and represents his best round in four years, since his 61 in the second round of the 2005 Buick Open.
Woods also shot a 61 in the first round of the 1999 Byron Nelson and in the second round of the 2000 NEC Invitational. His other 62s were in the third round of the 1999 Buick Invitational and the third round of the 1999 NEC Invitational.
These are not just low scores, they are subterranean, and Saturday's clearly belonged among them. Woods hit 16 of 18 greens (five more than Friday when he shot 67), one-putted nine of them, and put both Mark Leishman and Snedeker, who are tied for second, in the rear-view mirror.
Said Leishman: "He'll be tough to catch."
Possibly. Woods is 47-4 in PGA Tour events when he either leads or owns a share of the lead after 54 holes.