News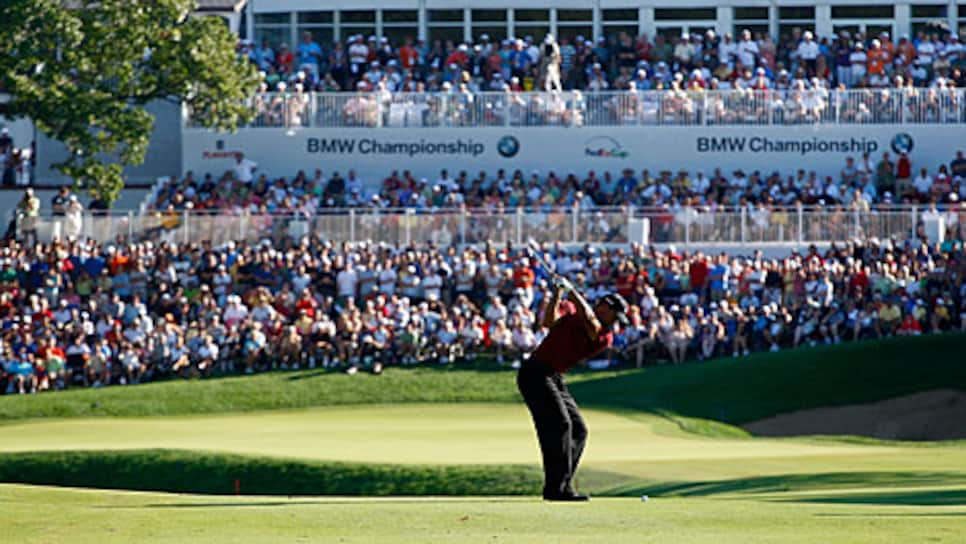 Tiger Woods' dominant win obscured the real drama going on behind him.
LEMONT, Ill. -- Here is your FedEx Cup playoffs status report, in brief:
Tiger Woods leads, after throwing a monkey wrench into Cog Hill again on Sunday when he eased his way to a three-under 68 that won the BMW Championship by eight shots. It looked more like eight miles.
Woods' sixth PGA Tour victory of the year and 71st of his career also marked the 10th time he has won by eight shots or more.
"There are certain times I get rolling," Woods said.
This week was one of them. His rounds of 68-67-62-68 and 19-under total of 265 was eight shots ahead of Jim Furyk and Marc Leishman. Woods cut his work short on the greens. He needed just 106 putts in four days and he had 36 one-putt greens.
"You have to make putts to win championships," he said. "This week I certainly made my share."
Woods' victory might have been a foregone conclusion on Saturday when he constructed a seven-shot lead, but it was still a busy closing day Sunday at Cog Hill:
Brandt Snedeker needed just a bogey on the last hole to qualify for the Tour Championship, but he missed his 12-foot par putt, then a three-foot come-backer. Then his tap-in lipped out and he four-putted for a triple bogey. He said goodbye to a trip to Atlanta.
"I just started thinking about the wrong things, man," Snedeker said. "I didn't concentrate over the bogey putt and I was thinking about all the stuff the Tour Championship comes with and I did everything you're not supposed to do."
The three-footer was ugly, Snedeker said.
"I just yipped it," he said. "I mean it was a full-out yip."
Snedeker's gaffe moved John Senden into the 30th and final spot for Atlanta -- by a margin of .45 of a point over Ian Poulter.
Woods finished the day with a 1,504 lead in points over No. 2 Steve Stricker, but because the points are reset to make the Tour Championship more compelling, it got chopped down to 250 points.
"That's just our new system," Woods said. "I guess the tour wants to have excitement at the last event ... [and] that certainly builds some excitement.
"It's a sprint, a one-tournament sprint."
The top four players at the conclusion of last year's playoffs at the Tour Championship -- Vijay Singh, Camilo Villegas, Sergio Garcia and Anthony Kim -- didn't qualify and they aren't coming back this year. Singh never even made it to Cog Hill.
Mike Weir, who knocked it in the water on the last hole thinking he needed to make birdie, made bogey instead, thought he was toast, was wrong, still qualified for the playoffs and was pleased.
Villegas, who won two of the four FedEx Cup playoff tournaments a year ago (including the Tour Championship), shot 31 on the back for a 66, missed out on the finale, pondered whether five-under was enough and was not happy.
"Enough?" Villegas said. "For what? It's totally enough to have three weeks off."
Stewart Cink, who joined Weir and Stricker complaining about back pain Sunday, was five-under in a four-hole stretch on the front and squeaked in at No. 26. He started the day at No. 32.
He said the playoffs are all about stress.
"It needs to be," Cink said. "That's what makes our sport compelling. There's leader stress, there's cut stress, there's who's going to make the Tour Championship, who's going to make the Presidents Cup and the Ryder Cup. There's all kinds of stress at different levels."
If Cink had missed, it would have meant that in back-to-back years the British Open winner missed qualifying for the Tour Championship. Padraig Harrington, who won the British Open plus the PGA Championship in 2008, never made it to East Lake.
That place marks the end of the road for the FedEx Cup playoffs and all it stands for. Sure, the gleaming, modern FedEx Cup trophy looks nice and it might one day mean even more than it does now, but at this point in the history of these golf playoffs, it's still mostly about the money. And there are huge piles of it in Atlanta -- $7.5 million in tournament prize money and $35 million more in bonus money. Last place a year ago at East Lake was still worth $112,000. After the computers stopped whirring Sunday at Cog Hill, they figured out just who has a chance to make some more money at East Lake ... and who doesn't.
The 69 players in the field knew there was no cut at the BMW Championship, at least not the usual 36-hole one.
But there was an actual, deep and far-reaching cut made after Sunday's round, when only the top 30 players in the FedEx Cup point standings could go ahead and make plans to play at East Lake Golf Club and enjoy the opportunity to line their pockets with some dough.
Phil Mickelson said he thinks the playoffs system is working all right.
"It seems like it ... I didn't play well enough to get in a good position, but if you're playing well, it seems like you get rewarded. That's all that matters."
While it's debatable how much sympathy you are actually to work up for millionaire pros who happen to miss another payday, it's still true that the players who aren't in Atlanta are on the outside. They're not going to be included in what is billed as the culmination of the PGA Tour's season and its final big event of the year.
Chad Campbell is on the outside after finishing 59th on the points list.
"It's a big disappointment, but I didn't have a good year, so that's kind of the way it goes, isn't it?" he said.
Kim said he is far from shocked to be sitting out the Tour Championship, mainly because the way he played this week was the way he's played for a long time. He blamed no one but himself, and his putting.
"I've been struggling all year, haven't gotten putts to fall," said Kim, who fell from 34th to 35th this week. "I just didn't get the ball in the hole."
Weir thought he was done once he saw his ball glance off the grassy bank and bounce into the pond that hugs the left side of the 18th green.
"This whole playoff scenario is definitely different, but the goal is you want to be playing in the final tournament of the year," said Weir, who began and ended the week at No. 27 in the points. "But it is a little strange to be in the position of battling when you're in 20th place or whatever."
There was only a little bit of shuffling in the top 30 who showed up at Cog Hill. Jerry Kelly saved himself when he birdied the last hole to finish just under the wire at 29th place in points. Charley Hoffman and Poulter were the only players who started the week in the top 30 who fell out, replaced by Leishman and Luke Donald.
Stricker dropped from No. 1 to No. 2 this week, but he's pleased to be in the top five, where the mathematical chances of winning at East Lake are greater than any other position.
"We could get a winner who hasn't won at all this year," he said. "It's just the system. It is what it is and you just have to play well."
Mathematically, Stricker is right about the chance for a non-winner to come through at Atlanta. But it's sort of remote. One thing is for certain: If anyone in the top five in the points -- Woods, Stricker, Jim Furyk, Zach Johnson and Heath Slocum -- wins the Tour Championship, that player is assured of winning the FedEx Cup and a $10 million bonus.
The system is all about the points. For instance, according to the reset of the new points, Woods is at 2,500 points; Stricker at 2,250, Furyk with 2,000, and so on.
"I'm going to be 250 points behind," Stricker said. "I don't know what that means. All I know is I'll be 250 points behind."
After what happened Sunday at Cog Hill, it's as good a place as any to start the discussion.