News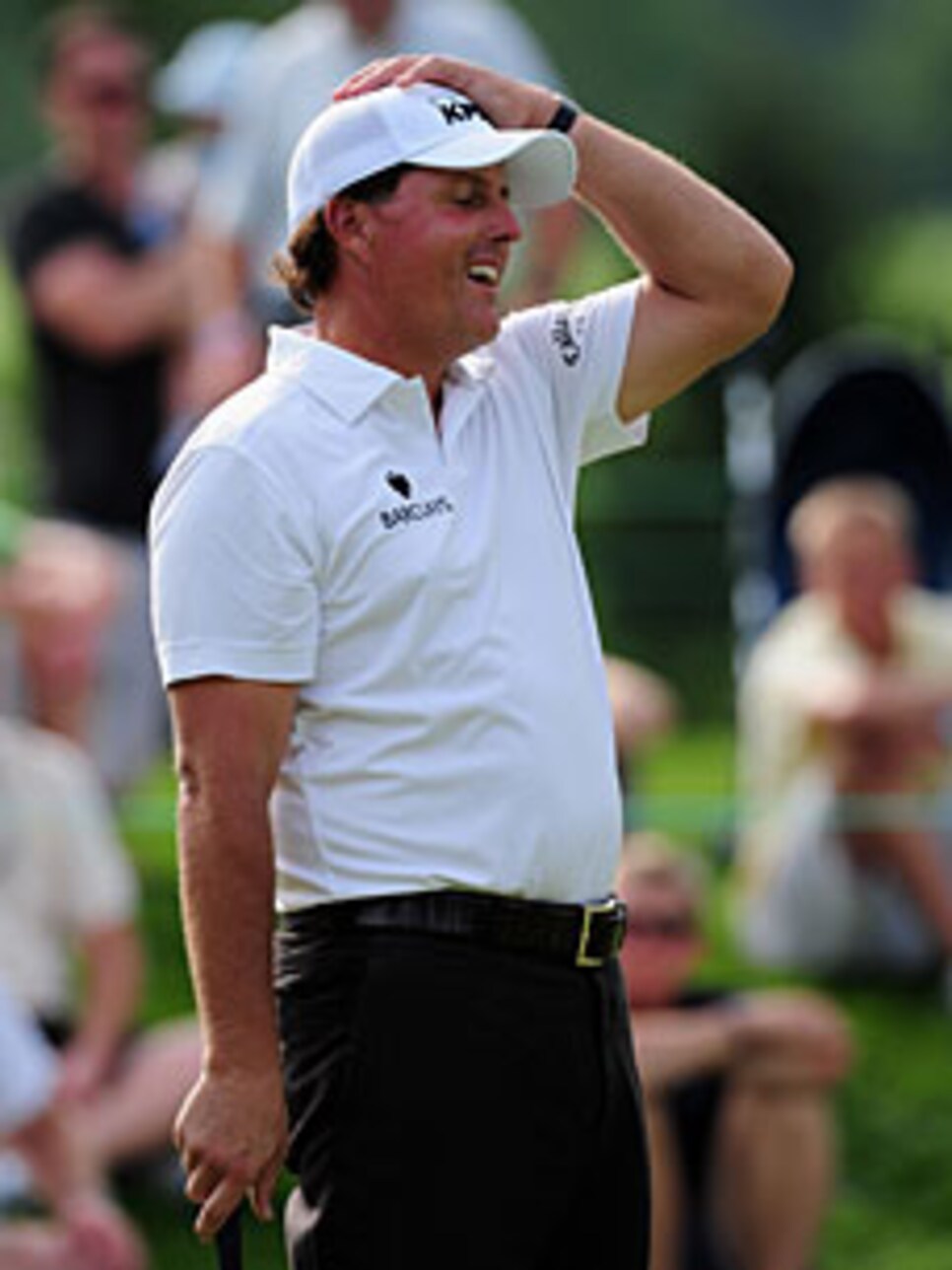 Phil Mickelson has impressed his peers with an encyclopedic knowledge of NFL football.
LEMONT, ILL. -- Phil Mickelson is already planning his Chargers evening. Sure, this is the time of the year for playoffs in the sport he plays, but it's also the kickoff for the NFL season in the sport he follows like no other.
It's a big sports weekend, all right, and it actually began for Mickelson on Thursday, when the Tennessee Titans opened the NFL season against the Super Bowl champion Pittsburgh Steelers under the lights.
Mickelson's caddie, Jim MacKay, suggested that Opening Night for the NFL should be declared a national holiday.
Mickelson said he and MacKay made note of the occasion in their own way in the Fed Ex Cup Playoffs at the BMW Championship at Cog Hill.
"We were wishing everybody a 'Happy NFL Day,'" said Mickelson, who watched the game in his hotel room.
But come Monday night, it's a whole new ball game. Mickelson's beloved San Diego Chargers open against the Oakland Raiders, and the Mickelson household in Rancho Santa Fe, Calif., will be operating in full NFL mode.
"We'll have some friends over, the kids will get in their Chargers gear and we'll watch it," Mickelson said. "I can't wait to take them to a game, maybe the next week against Baltimore, I'm not sure."
The fact that Mickelson is looking forward to a little fun seems only fair, because since late May, he's been having the most difficult year of his life. Only a few days after she was by Phil's side at the Players Championship, Amy Mickelson was diagnosed with breast cancer. Amy underwent surgery in July and is still receiving treatment.
Mickelson has been reeling ever since. He's also been at her side, when he isn't on the golf course, because the Mickelsons are a tight-knit bunch.
Mickelson has tried to make life as normal as possible for his young children -- Amanda, 10; Sophia, 7; and Evan, 6. And if that includes dressing them up in Chargers gear and letting them whoop and holler with Dad as they watch the game against the Raiders, that sounds like a good direction to go.
It's not that paying such close attention to the NFL is so much an escape or a diversion for Mickelson, it's more like he's following a natural, normal path. It is something positive, something that's not golf, something that represents his life-affirming love of sports. It would run contrary to his nature if he chose to ignore it.
"You can't imagine how good his affinity for the NFL is for him," said Rob Mangini, one of Mickelson's closest friends. "It's just a great hobby for Phil. He takes his family to a few Chargers games every year, they get a box and they just have a simple, good old time. That's their deal. He is in love with the Chargers. All his other friends are Steelers fans, so we enjoy sticking it in his ear."
After his round Friday, Mickelson climbed into the scoring trailer, removed his cap, leaned back in his chair and spent 10 minutes regaling Nick Watney with his impressions of the Steelers game.
"I can't believe he knows so much," Watney said. "It's kind of amazing."
And so Mickelson takes the ball and runs with it. He is an encyclopedia on the Chargers, so getting involved in a conversation with him about the team is like tuning in to an edition of "Charger Talk."
He will tell you about the bullish moves of Gartrell Johnson, a running back from Colorado State, and how the rookie complements LaDainian Tomlinson and Darren Sproles. He is very high on the pass-blocking strengths of rookie right guard Louis Vasquez from Texas Tech, who is 6-5 and weighs 325. He thinks the defensive line will put pressure on quarterbacks. He is stoked it's the Chargers' 50th anniversary season and the fact that they've won 11 straight games against the Raiders.
There's something of a little kid thing going on with Mickelson and the NFL. Phil's a fan, plain and simple.
"It's my favorite to watch and follow," he said. "I think it's a sport where I just can't imagine playing. It's so violent, so physical. I'm in awe of watching those guys play, watching how hard they hit, the hits they take, the skill level, the hand-eye coordination, the acrobatic moves, the speed, the acceleration. When I've had a chance on occasion to get down on the field and see how violent they hit, it just blows me away."
Mickelson can watch a half-dozen games at a time on his TV at home, but there's just going to be one he will be tuned in to Monday night. The Chargers are on and he will have the rest of the family around him. It's going to be a fun night, and there haven't been a whole lot of those for a while now. Let them all enjoy it.