News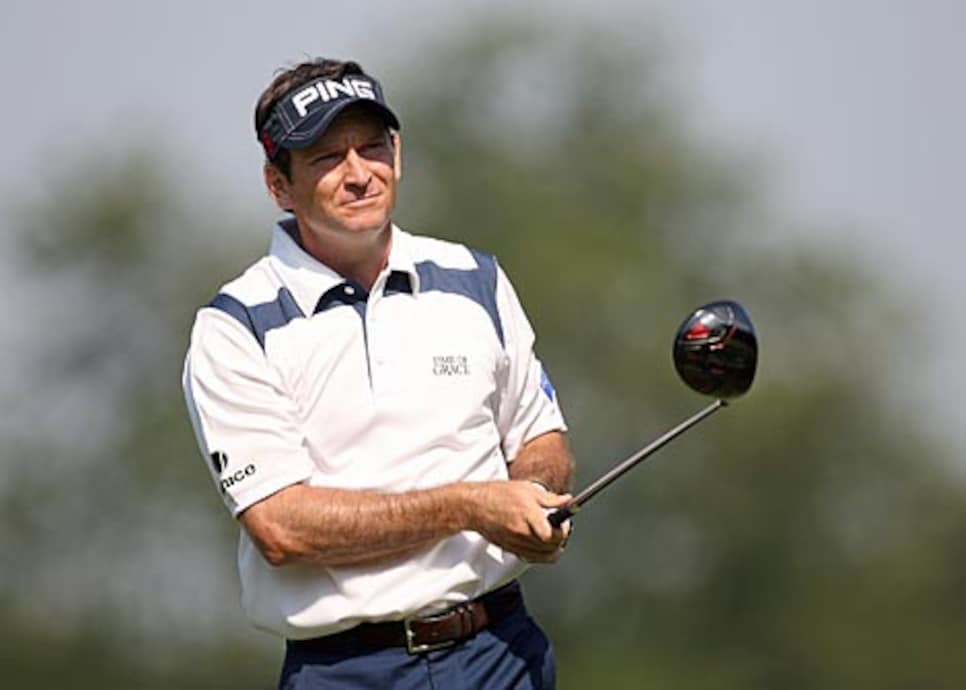 Wilson's 5-under 66 in the second round vaulted him into a tie with Tiger Woods at 7-under through 36 holes.
LEMONT, ILL. -- It's a warm and fuzzy week for Les and Jinny Wilson of Pewaukee, Wisc., because their son, Mark, is a big wheel at Cog Hill and they've come to see him play. In fact, Mark Wilson's parents are staying with him this week at his home in Elmhurst, about a half-hour away.
Everywhere you look there seems to be a Wilson of some vintage. Wilson estimated his family entourage, including assorted aunts and others, at about 15 for Friday's second round of the $7.5 million BMW Championship, where he shot a five-under 66 and just happens to own a share of the lead with Tiger Woods. If Wilson remains on track, he figures there are going to be even more family members and locals who will join his personal gallery.
"Exactly," Wilson said. "But the multitudes are still chasing Tiger."
Maybe, but for the time being, the local guy is showing that it's a good thing to have a home course advantage. Wilson's home course is Cog Hill and for the last five years, he's played it countless times between tournaments for practice. In fact, since the course was redone by Rees Jones, Wilson might be the most experienced player on the layout. He said he has played it a half-dozen times since May.
Wilson is so at home here, among the gently rolling hills and the majestic oak trees, they should probably let him set up a picnic table, unfold a lawn chair and unpack a cooler just for him on the edge of the putting green.
More than once this week, Wilson has heard from his fans, who have used a cheer that just wouldn't work anywhere else.
"I saw a lot of people that were saying 'Go Elmhurst,''' he said. "It's nice to have the local people cheering me on."
One of the more intriguing aspects of the FedEx Cup playoffs is how someone like Wilson can make such an impression in such a short time. He's 41st in the points standings and has to make it into the top 30 by the end of the fourth round Sunday to qualify for the Tour Championship. The rewards are great, of course. The winner here Sunday gets $1.35 million, or just about what Wilson has made all year. And if Wilson does well, it's on to Atlanta, where the $7.5 million Tour Championship is played in two weeks, with another $35 million in bonuses on the line.
A mathematics major when he was at the University of North Carolina, Wilson knows the value of money. Maybe that's because he doesn't have to pay the $150 Cog Hill green fee.
"I appreciate that very much," he said.
But that's not the full extent of the Cog Hill good will that is directed toward Wilson. He gets a free run at the place, almost whenever he wants, although Wilson doesn't really push it.
Normally, he plays at 6 a.m. and maybe 4 p.m. If he goes early, he tries to get in front of the first group and play a quick 18 holes. His son, Lane, usually goes down for a nap around 1 p.m., so Wilson likes to come back out to the course when he can, to chip and to putt, and then hit the front nine and play until he runs into the last group. Then he calls it a day.
As it turns out, Woods and Wilson, who will play in the same group Saturday, have some history together. In the final 1992 U.S. Junior Amateur, 16-year-old Woods defeated 17-year-old Wilson, 1-up, at Wollaston Golf Club in Massachusetts. It was the second of Woods' three consecutive junior amateur titles. They also played against each other on the collegiate level.
"Obviously, we go back a long way, " Woods said.
Even if Wilson may not be not that well known otherwise, the three-time qualifying school grad has earned more than $6 million and he's no secret on the pro tour. Wilson has won twice, including the Mayakoba Golf Classic this March in Mexico, played opposite the Accenture Match Play Championship. His other victory was the 2007 Honda Classic, where he earned notoriety when he called a two-shot penalty on himself and still managed to win.
There's also another unofficial victory for Wilson. Before he made it through qualifying school for the third time in 2006, he donated $30,000 to the Midwest Athletes Against Childhood Cancer fund, the largest single donation by an athlete in the fund's history.
That's as good a reason as any to rally behind the local kid who's trying to make good this weekend.
So as they say, 'Go Elmhurst.'