News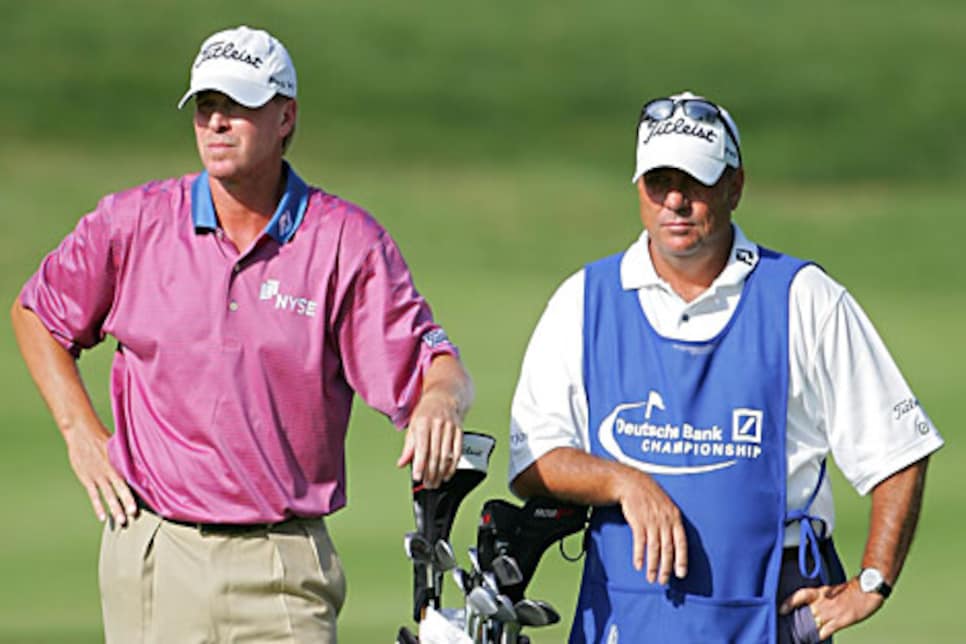 Before working for Steve Stricker, Jimmy Johnson caddied for Nick Price, Michelle Wie and Charles Howell III.
LEMONT, Ill. -- His peers go by nicknames like Squirrel and Bones and Cubby and Fluff and Disco. But Jimmy Johnson doesn't have a nickname, which probably makes him stand out as much as anything.
That's because in the caddie field on the PGA Tour, plain-old Jimmy is about as colorful as a white shirt.
He also may be the best caddie you don't know.
Johnson is a sunburned 52-year-old Texan who toiled for 17 years playing the small pro tours in South Africa, and then started a new career carrying clubs for other pros. He's done so well that he's working for Steve Stricker, the No. 2 ranked player in the world, and the leader in the FedEx Cup points race heading into this week at the BMW Championship.
With Johnson on the bag, Stricker has won three times this year, at the Colonial, the John Deere and at the Deutsche Bank, and is second only to Tiger Woods with $6 million on the money list. Having Johnson alongside him has been money in the bank, Stricker said.
"A secret weapon," said Stricker, who opened the BMW with a one-over 72 on Thursday.
Their personalities are similar, Stricker said, meaning they are down to earth and probably would remain calm if they found themselves in a burning building.
"We're both pretty low-key guys," Stricker said. "He doesn't get rattled. It's nice to have somebody on my bag that's been in every position many times before and can kind of hold my hand and walk me through it."
But what makes a good caddie and what puts Johnson in such a group?
Part of it is personality, plain and simple, said Nick Price, who hired Johnson in 1997 and had him on his bag through 2006.
"There's simply no panic out there with him," Price said. "He's got such a wonderful nature. He's so laid back. Let's put it this way: I don't think he's ever going to have a heart attack."
Price had known Johnson from the South African pro tour days in the late 1970s and early 1980s. He knew him as a tough competitor and a student of the game, but hadn't thought of him as a potential caddie until his own long-time caddie, Jeff "Squeaky" Medlin became ill and later died of leukemia.
"Three weeks before he died, Squeaky said to me, 'If something happens to me, I really want Jimmy to caddie for you,' '' Price said.
"It worked out so well, we really clicked," Price said. "He's one of those guys who are just under the radar. He never makes a fuss about anything. If he has something to say, he'll say it quietly, instead of like Bones so the microphones will pick it up, Jimmy will just whisper it."
Price was referring to Jim "Bones" MacKay, Mickelson's caddie, who maintains a healthy respect for Johnson.
"I think he's got such a calm demeanor, it serves him and his player well," MacKay said. "He can tell a joke, he's strong and silent and all those things that a caddie should be."
On Thursday at Cog Hill, Stricker wasn't making much of a move, two over on his second nine before four pars in a row and then a birdie at the last. Johnson waited for Stricker to sign his scorecard, then said softly, "Well, good job, we got one back at the end, nice job, go get some sleep." Stricker nodded and zipped up his bag for Johnson to take back across the parking lot to the courtesy car.
While he made the walk, Johnson said he loves working for Stricker, but doesn't take any credit for his success.
"He's been playing great, I'm just there to keep him from making mistakes. But I think I know what makes a good caddie. Knowing your player, getting along with your player, knowing his tendencies, what he likes to do when he's under pressure and what he doesn't like to do under pressure. A lot of time, commitment is a lot better than correctness.
"Strick's strong points are giving himself irons out of the fairway. He's driving the ball a lot better now. A lot of times on par 5s, we can get there, but if there's not that good of a chance to get on to the green, we'll lay it up and his wedge game is so good, we play to his strengths."
Johnson has had a few other clients. He was Michelle Wie's caddie on a part-time basis and also worked with Charles Howell III.
One day at the Bob Hope, after a poor putting day by Howell, Johnson tried to make light of the situation.
"If you don't start putting any better, I'm going to go back to Michelle Wie," Johnson said, and Howell broke up laughing.
Their association didn't last, which is not uncommon in the player-caddie circles. Stricker knew that Johnson was available and decided Johnson would be in the rotation of caddies he would try in his search for a regular.
"As it turned out, he was the only guy I tried," Stricker said.
And so it goes for the under-the-radar caddie. As a matter of fact, there is not much radar in Johnson's life ... just sonar. He and his wife of 23 years, Jennifer, spend much of their free time on Lake Lewisville just north of Dallas, where they run their two Chris-Craft boats, a 25-footer and a 19-footer. The Johnsons rebuilt the 19-footer, a 1969 model, because it's the first year Chris-Craft made fiber glass boats.
Is boating better than caddying? If you do it right, it's not a sink-or-swim situation. But then again, the way things are going at Johnson's workplace on the golf course, you have to say the water's been nothing but smooth.