News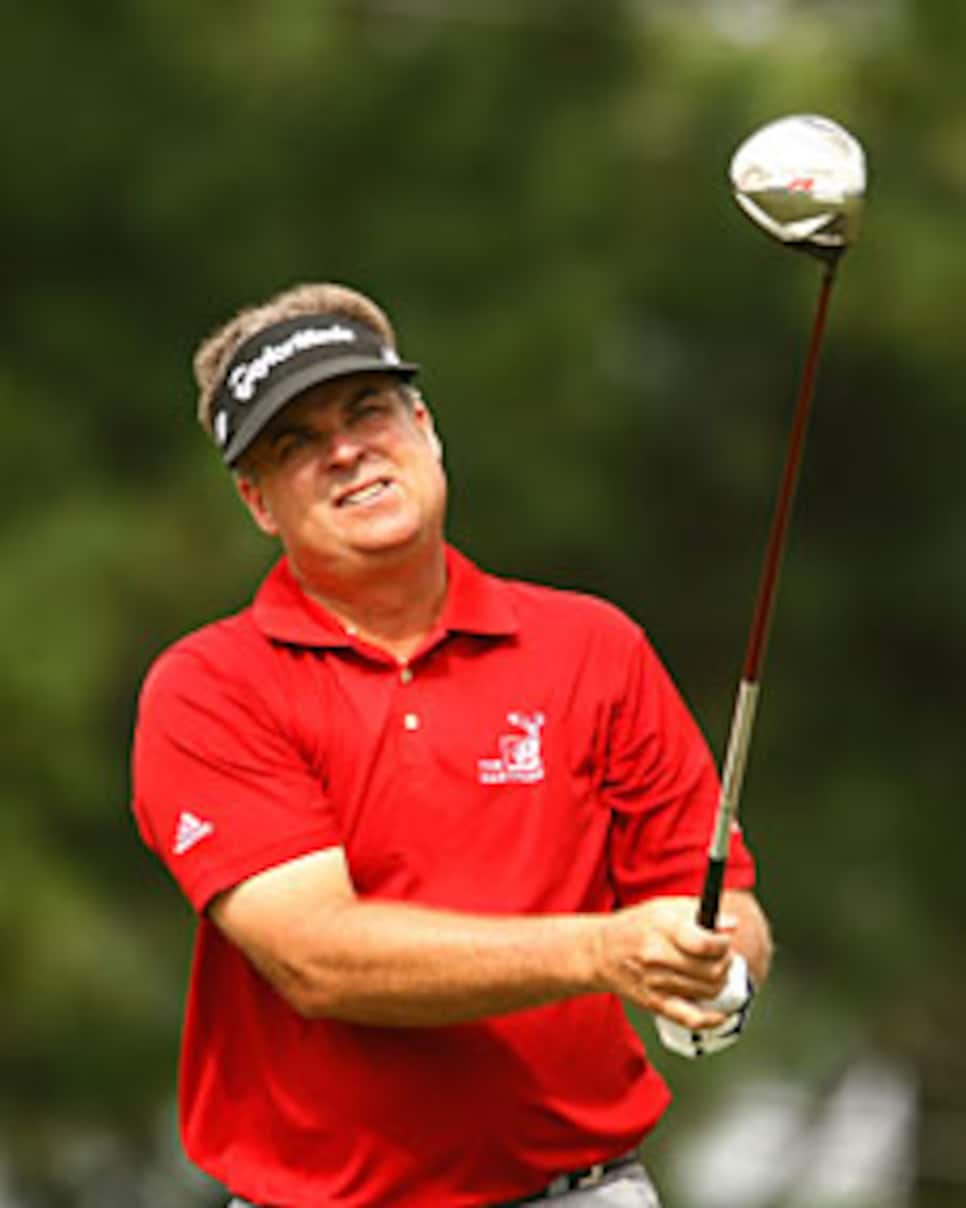 To win the FedEx Cup, Kenny Perry would need to win the Tour Championship and have Tiger Woods finish no better than a three-way tie for third.
ATLANTA (AP) -- Kenny Perry already has had a week to remember at the Tour Championship.
He was honored with the Payne Stewart Award, which he called the greatest accomplishment of his career. He was so overcome by the stifling heat in the opening round at East Lake that he thought he might throw up after five holes and was lucky to shoot a 72.
How about this to top it off?
A two-shot lead going into Sunday, a final pairing with Tiger Woods, his entire family in town, and a chance to capture the Tour Championship, and maybe even the $10 million bonus for winning the FedEx Cup.
"It might be magical," Perry said Saturday. "We'll see."
His round Saturday was magical enough. Perry birdied the opening four holes - all on putts inside 8 feet - to quickly catch up to Woods, then kept bogeys off his card the rest of the way for a 6-under 64.
"Four birdies in a row puts you in a good mood is all I can say," said Perry, who was at 8-under 202. "That set the tone for the day."
Woods had a 12-foot birdie putt on the first hole that slid by the cup, and that set the tone for his day. He missed a half-dozen chances from 15 feet or under, yet his only significant birdies came on putts of 20 and 55 feet. The other was a two-putt on a par 5. He wound up with a 69, his eighth consecutive round in the 60s during the FedEx Cup playoffs, yet this one cost him the lead.
"I got fooled a few times there," Woods said, confused by the slope and grain on the greens.
Perry has 14 career victories, yet only two of them has come with Woods in the field. Even with a two-shot lead, he is approaching Sunday as though he has nothing to lose. He even playfully challenged the world's No. 1 player.
"Here I am at 49, I'm still trying to beat him," Perry said. "I have fun with it. He'd better bring his 'A' game is all I've got to say."
For Perry to win the FedEx Cup, he would need a victory Sunday and for Woods to finish in a three-way tie for third or worse. That remains a possibility, given the players stacked up behind them.
Phil Mickelson continued to ooze confidence with his putter and shot a 4-under 66, suddenly believing he can make any putt whether it's from 4 feet or 40 feet. He was at 4-under 206 along with Sean O'Hair (70), who was tied with Woods until pulling a tee shot into the water on the 17th to make double bogey.
Padraig Harrington, playing with Woods for the ninth time this year, stopping making birdies to offset his mistakes and shot a 71, leaving him at 207 with Steve Marino (67).
Steve Stricker, the No. 2 seed in the FedEx Cup standings behind Woods, got back into the picture, no matter how blurry, with a 66 and was six shots out of the lead.
"I needed to make a move today to have any sort of chance for tomorrow," Stricker said. "At least I gave myself an opportunity. I'm going to need another one of those rounds, or maybe even lower."
All of them would like the kind of day Perry enjoyed.
His start was flawless in the morning, under cloudy skies and the threat of rain that forced officials to move up the tee times. After pounding a driver, he hit sand wedge to 4 feet. Then came perhaps his best shot of the round, a 5-iron with that familiar draw that settled just outside 6 feet of the cup. Perry made birdie on the next two holes from short range, and quickly found himself tied for the lead.
It was Woods' turn to catch up, but he never did.
He missed three birdie putts inside 12 feet on the front nine, and cost himself two other chances from the bunker - a fairway bunker on No. 7 that led to bogey, and a greenside bunker on the par-5 ninth that led to par.
"It was amazing how I had about four or five putts today that the grain was going up the hill, and I didn't know which one to play. Do I play the grain or do I play the slope?" Woods said. "Just one of those days where I happened to be in some interesting little spots, even thought I had pretty makeable putts."
Perry didn't have that problem, and even the one time he was threatened with a bogey, he holed his par putt from about 10 feet.
Now, he is one more good round away from one the biggest wins of his career that couldn't come at a better time. His mother is dying of cancer - Perry nearly missed the British Open when she took a turn for the worse - and his father's health is fading. That's one reason Perry put his son, Justin, on the bag over the last month.
His daughter took a break from SMU to join him this week, and his older daughter and son-in-law are coming for the final round.
"I'll have the whole gang here," Perry said. "I hope mom and dad will be watching. Hopefully, I can lift her spirits."
All Woods is trying to do is lift the trophy, although he would like both trophies - the Tour Championship and FedEx Cup - that have been stationed on the first tee all week.
There's a chance Perry can hoist one (Tour Championship) and Woods the other.
"I'd much rather just win the tournament, and the FedEx Cup will take care of itself," Woods said. "As of right now, I'm two back and have an opportunity to win the tournament. And that's what I'm going to focus on tomorrow."