News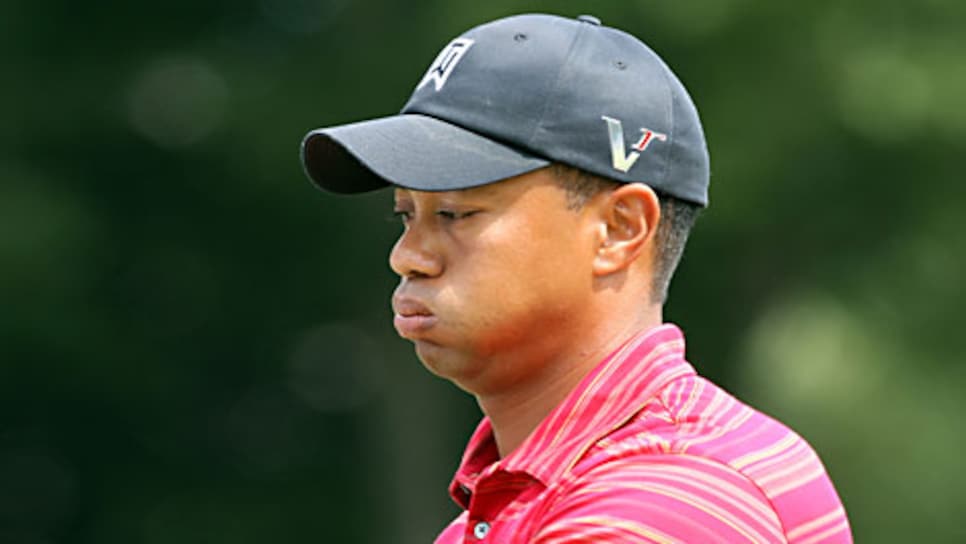 After another slow start to a tournament and a strong finish that fell short, Tiger's frustration is evident.
NORTON, Mass. (AP) -- Tiger Woods was 6 under after six holes in the final round of the Deutsche Bank Championship, leaving fans wondering whether they would see an unprecedented comeback.
But Woods never got his own hopes up after starting the day nine strokes back.
"The whole idea was to try and shoot something in the low 60s and that would probably get me in the Top 10," he said after an 8-under par 63 left briefly brought him within a stroke of the lead. "Certainly from where I was at, I couldn't win the tournament, even if I shot 60 or something like that. I was so far back; these guys, (with) no wind, soft greens and pretty benign pins, they'll go low."
Woods, who has never come from more than eight strokes behind to win as a pro, shot 70-67-72 over the first three rounds to earn an early tee time Monday -- more than three hours before Steve Stricker and Retief Goosen left at 1:40 p.m. Woods, who won at the TPC of Boston in 2006, birdied the first four holes and eagled No. 6 on Monday morning.
But he bogeyed the 11th and 17th, played the back nine in 2-under and finished 12 under for the tournament, five strokes behind Stricker and tied for 11th.
Woods was the leader in the clubhouse for hours, but he knew it wouldn't last.
"Whether you can win a tournament or not, it doesn't matter," he said. "You go out there and post a low number, as low as you've got for that day. It doesn't change, whether you've just made the cut or you're dew-sweeping on the last day. It doesn't matter. You post a low round and see what happens. You can feel good about it, you know?"
POINTS RACE: The Deutsche Bank Championship was the place where Vijay Singh effectively clinched his FedEx Cup victory last year, and the place where his title defense ended in 2009.
Singh won the first two playoff events last year to run away with the PGA Tour playoff title and the $10 million bonus that goes with it. But he missed the cut at The Barclays last week and followed it up with a tie for 54th at the TPC of Boston, shooting 2-over 73 in the final round.
He is 81st in the standings and did not make the third round of the four-round playoff.
It was a different story for Marc Leishman, who eagled No. 18 on the 72nd and final hole and finished tied for 15th at 11 under. That moved him up to 67th on the points list -- just enough to earn a berth in the BMW Championship next week.
PHEDEX CUP: Phil Mickelson, the 2007 Deutsche Bank Championship winner, finished well in the pack despite shooting 65 in the final round.
Although he didn't contend at the TPC of Boston, his strong finish left him in good shape in the PGA Tour playoff race. He is 12th overall, meaning he could probably skip next week's BMW Championship outside of Chicago and still qualify in the top 30 that make the season-ending Tour Championship.
Mickelson had committed to play next week, but he said Monday he wasn't sure. Mickelson has played only four tournaments since the U.S. Open in June after taking time off to be with his wife, Amy, and his mother, Mary, who have been diagnosed with breast cancer.
"I wasn't ready to make that decision last Friday, so I'm going to fly home tonight and we'll see how it goes," he said. "It's just day-to-day. I don't want to be gone for two weeks. ... It's just hard being apart for an extended period of time."
DEUTSCHE BANK FUTURE: Seth Waugh, the CEO of Deutsche Bank Americas, said he is confident the tournament will continue after its contract expires next year.
Waugh said this weekend he's confident about picking up the two-year option through 2012.
"All the reasons we do this still exist, more than ever: raising money for charity, helping bring things to the economy here, our brand has never been stronger, advertising has never been more important and being with clients," he said.
The outlook has changed dramatically over the last six months, he said, because the economy has shown signs of coming out of the downturn.
"Six months ago, I would have said it would be a very hard thing to do," Waugh said. "If it's a question of jobs or a golf tournament, it's not a fair fight -- not that it's ever that directly related. But it's the most expensive thing we do all year. We also get a great return on it. We feel pretty good about it. It gets better every year."
PRIZE MONEY: Deutsche Bank Americas CEO Seth Waugh said he would have liked for the PGA Tour to keep purses the same in 2009 instead of slight increases. The playoff events increased from $7 million to $7.5 million, which was built into the contracts. Most regular tournaments went up by $100,000 or so.
He said PGA Tour commissioner Tim Finchem said prize money went up slightly because sponsorship was strong.
"A lot of players would have said last year they shouldn't have raised purses," Waugh said. "Golf is different. To have a chance to send a message ... I talked to Tim last fall, and I said, 'Tim, this is really bad. You ought to think about it in this context.'
"He said, 'We're in good shape and sponsors are strong. We think it's a sign of strength.' I understand that perspective," Waugh said. "I don't know that he was wrong and I was right. That's my perspective. You give value to people and then you have a customer for a long