News
O'Hair And Furyk Tied At The Top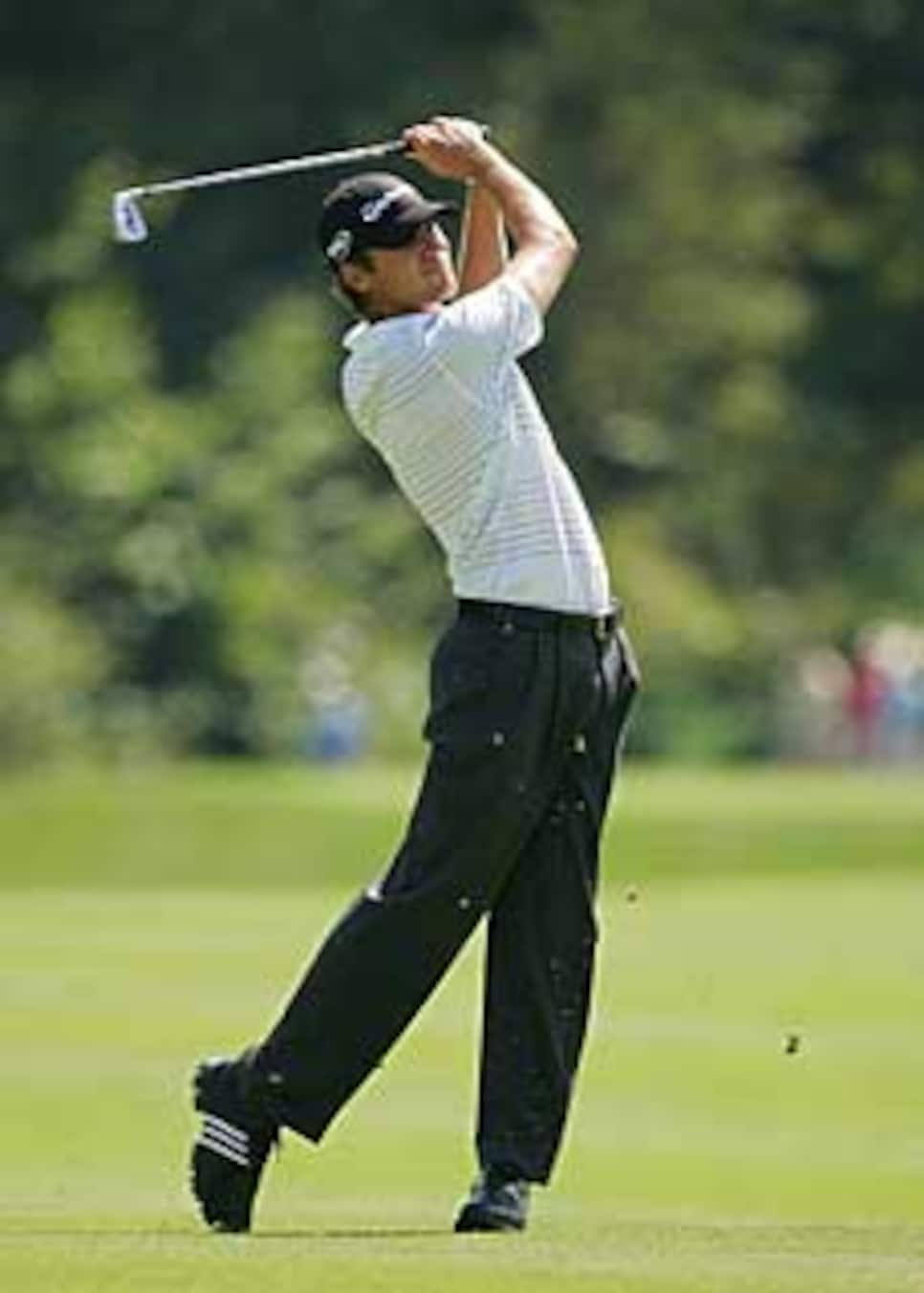 O'Hair's round of 64 was highlighted by an eight-hole stretch in which he was 8-under par.
NORTON, Mass. (AP) -- Tiger Woods couldn't make enough putts to catch up with the players who couldn't miss.
Sean O'Hair and Jim Furyk set the pace Saturday at the Deutsche Bank Championship and brought Retief Goosen along for the ride. That threesome combined to make 17 birdies and one eagle, finishing two rounds at a combined 34-under par.
All that counted was the individual scoring, which wasn't bad, either.
O'Hair ran off six birdies and an eagle during an eight-hole stretch in the middle of his round for a 7-under 64, giving him a share of the lead with Furyk, who had six birdies to offset a few mistakes for a 67.
They were at 12-under 130.
"We saw a lot of good golf and a lot of good golf shots," Furyk said. "And obviously, I saw some putts go in."
Woods arrived later in the day, and instead of making a charge, he flirted with missing the cut. He was on the verge of going below the cut line when he faced a 12-foot par on No. 9, a tricky 5-foot putt on the 10th and a 20-foot par putt on the 11th after gouging a shot out of a plugged lie in the bunker. He made them all, then ran off four birdies over his final seven holes for a 67.
That left the No. 1 player still stewing over three birdies he missed inside 10 feet on the back nine, realizing that he needed to make up as much ground as the could. Woods was seven shots behind.
"They haven't been lipping in, they've been lipping out," Woods said. "That's about par for the course right now. Today is one of those days where I could have gone really low."
That was left to just about everyone else.
Nearly half of the 99-man field shot in the 60s, with Marc Leishman improving his hopes of advancing in the FedEx Cup playoffs with a tournament-low 62 that left him two shots out of the lead, along with Goosen.
Scott Verplank made an eagle for the second straight day on his way to a 68, leaving him in a group of players at 9-under 133 that included Justin Leonard, Mike Weir, Kevin Sutherland and John Senden, who recorded the rarest shot in golf. Senden made a double eagle on the par-5 second hole, holing out from 250 yards with a 4-iron. He shot a 64.
"It looked like it was just going to roll to the back of the green or just over the back," Senden said. "And then when the I saw the cheers go up, I knew it was in the hole, so it was exciting."
Most of the excitement came in the morning, however, as O'Hair, Furyk and Goosen lit up the scoreboard in pristine conditions. The best viewing belonged to Geoff Ogilvy in the group behind them.
"When you're watching the group ahead of you throwing birdie after birdie, you know you have to keep making them," said Ogilvy, who managed a 68 and was in the large group at 8-under 134.
O'Hair has been stuck in neutral most of the summer, doing a lot of things right except putting together good scores. He was determined to stay patient, and he needed that in a group that was pouring in birdie putts.
"It can either help your or it can really hurt you," O'Hair said. "If you get impatient out there, it can be a detriment. But with the attitude I had out there the last couple of days, it was nice."
Furyk, winless in more than two years, went 25 consecutive holes without missing a green until he found a fairway bunker on No. 15 that led to bogey. Even so, he was steady as ever and feeling better about his chance of ending his drought. He has never gone two consecutive seasons without winning since he joined the PGA Tour.
"I didn't expect to go out there and hit 13 fairways and 18 greens today," he said. "I hit a few bad shots, got loose once in a while, but was able to score well all day."
Everyone in his group did that. There were only five holes where no one made birdie.
Steve Stricker shared the 18-hole lead with Furyk and appeared to be on his way toward catching him with consecutive birdies as he was approaching the turn. That changed with one bad tee shot and several missed putts inside 6 feet.
Woods, meanwhile, didn't need a leaderboard to realize he was hovering around the cut at 1 under.
"I saw a lot of media guys out there, so I thought I'd better turn this thing around and make them go away," he said.
It started with pars on three straight holes, starting at No. 9. After that, Woods hit everything inside 12 feet and made some, although he was increasing frustrated by missed birdie chances of 7 feet at No. 13, 10 feet at No. 15 and 10 feet at no. 17.
He was at 5-under 137 needing a low round Sunday to get back into the mix for the Labor Day finishes. And as the first two days have shown, low scores certainly are out there.