News
Stricker And Furyk Share Lead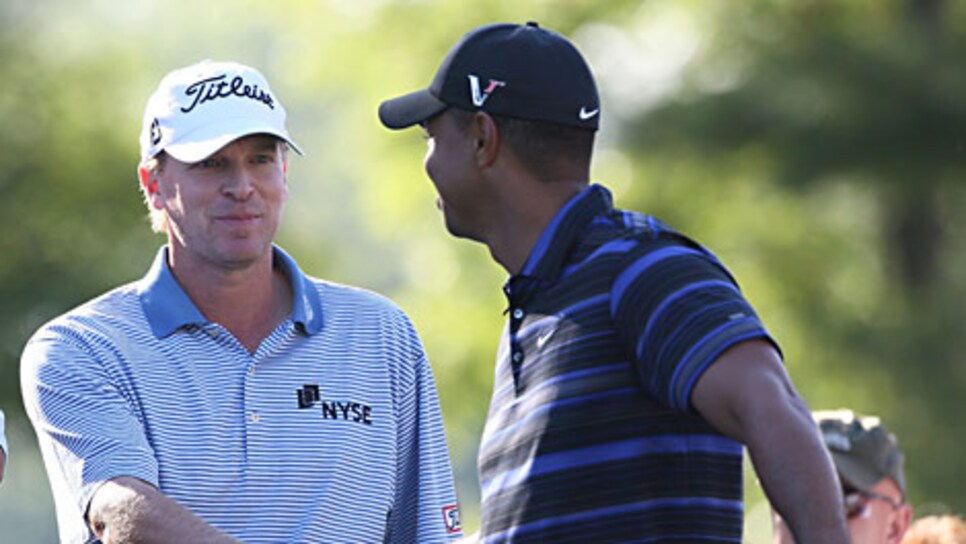 With five birdies in a row for a total of eight, and no bogeys, Stricker came up one shot short of Tiger Woods' prediction of a 62 for Stricker.
NORTON, Mass. (AP) -- Steve Stricker birdied his first two holes, and Tiger Woods could see what was coming. Walking to the next tee Friday at the TPC Boston, Woods said to his caddie, "He's going to shoot 62."
Woods' instincts were off by one. Stricker shot 63.
With superb command of his driver and his typical dose of great putting, Stricker ran off five straight birdies and only once came close to a bogey to share the first-round lead with Jim Furyk in the Deutsche Bank Championship.
Furyk, without a victory in more than two years, shot his 8-under 63 in the afternoon. He had five birdies in his opening six holes, settled in for a diet of pars, then closed with consecutive birdies for his lowest round of the year.
They were two shots clear of a group that included Masters champion Angel Cabrera, Justin Leonard, Retief Goosen and Scott Verplank, who had dinner with Stricker on Thursday night and had a minor bout of food poisoning.
Stricker felt fine, and looked even better.
"To get off to a birdie-birdie start just kind of got the day started in the right direction," Stricker said.
In a reversal, it was Woods who had the best seat for a great round. The world's No. 1 player hit ordinary shots to the green, hit one tee shot into the bushes for a penalty shot and failed to convert five birdie chances he had inside 12 feet. He wound up with a 70.
"I didn't really do much of anything positive today," Woods said. "I didn't feel good over any shot today. Didn't drive it very good, hit my irons worse and didn't make any putts. Other than that, it was a good day."
The PGA Tour Playoffs seem to bring out the best in Stricker. This was the 26th time in 37 rounds during the FedEx Cup playoffs that he shot in the 60s, and this one included a pair of birdie putts inside 7 feet that he missed.
At the middle of his round, however, everything was perfect.
"It was unbelievable," Woods said. "He made one mistake there at No. 7, but other than that, you'd be hard-pressed to find a shot that he hit off line."
First came a wedge that spun back to 4 feet on the par-5 18th, followed by a 15-foot birdie on the first hole, then another wedge to a par 5 that stopped 4 feet away. The pin on the par-3 third hole was hidden behind a bunker, yet it was clear from the loud cheer that Stricker had hit another one stiff.
Woods hit his shot at No. 3 into about 10 feet, then flicked his broken tee at Stricker's elbow.
Like that was going to stop him.
Stricker found his ball a foot from the cup for a tap-in birdie, and finished off his birdie streak with a drive on the 294-yard fourth hole that just went over the back of the green. Having practice that putt up the slope on Thursday, knowing it was slow up to the green, he rapped it to 3 feet.
Woods and Stricker, coming off second-place ties last week at Liberty National, are friends and for years were managed by the same agent. There was a time that Stricker felt slightly intimidated by Woods, although those days are gone.
"He does some incredible things," Stricker said. "I guess I'm to the point where I'm comfortable with what I'm doing, and I'm not really worrying about him. He's going to hit those great shots and he's going to make those great putts. I can't do anything about that.
"He can do all those great things, and I'll just do the things that I need to do try to play well."
Stricker did all the right things on a splendid day of sunshine, as did Furyk.
Furyk noticed Verplank off to a hot start when he arrived to practice. Before Stricker had finished, Furyk was well on his way. He birdied the first four holes, hit a 7-iron to 8 feet on No. 6 and holed a 30-foot putt on the 14th hole before his great finish.
The only finish that matters to Furyk is on Labor Day when the tournament hands out a trophy. He has not won since the Canadian Open two years ago, and it gnaws at him. Once No. 2 in the world, he has fallen to No. 13 in the ranking.
"I've had two pretty solid years," he said. "I wasn't able to win last year in '08, and I haven't been able to win this year in '09, and yeah, it absolutely eats at me," he said. "That being said, I wouldn't be a competitor, I would have a lot of trust in my game if it didn't bother me. But I'm at ease on the golf course."
This was a good day to be at ease, with 64 out of the 99 players breaking par and the field averaging 69.67. The worst score belonged to Robert Allenby (76), partially because of the pure conditions, and because only the players on top of their games are still competing in these playoffs. The top 70 qualify for next week in Chicago.
Troy Matteson started at No. 125 at The Barclays, moved up to No. 83 with his tie for 20th, and continued going strong with a 66. He was joined by Geoff Ogilvy and Sean O'Hair.
Padraig Harrington also put together another solid round with a 67, while Phil Mickelson continued to sputter. He three-putted his first hole and four-putted the ninth to offset three birdies in his round of 71.