News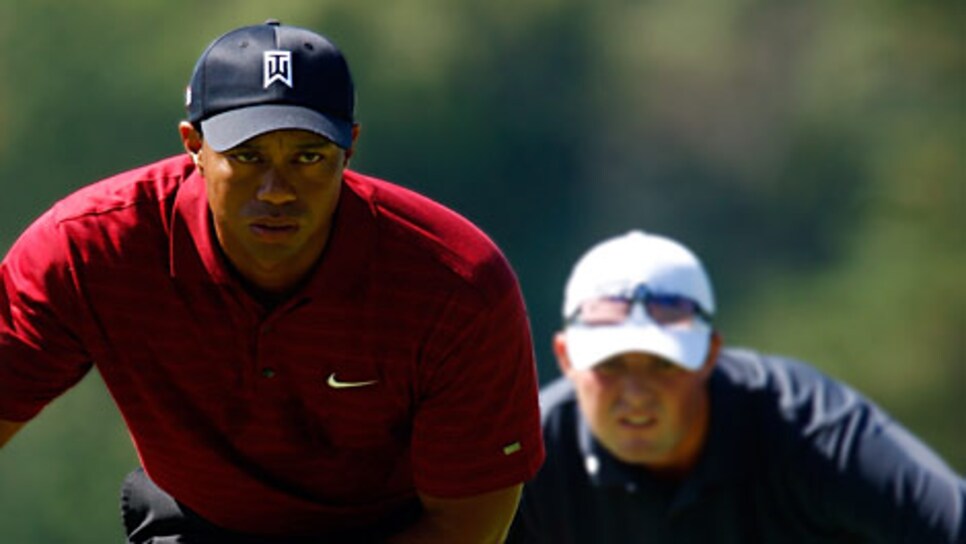 Tiger's closest pursuers were Jim Furyk and Marc Leishman who finished eight shots back.
LEMONT, Ill. (AP) -- Tiger Woods left the drama to everyone else at Cog Hill.
It was his sixth victory of the year, and assured Woods the No. 1 ranking going into the final tournament of the FedEx Cup and its $10 million prize. Woods won for the fifth time at Cog Hill, and it was his 10th career victory by at least eight shots.
"It felt like we had a tournament within a tournament," Furyk said. "Tiger was seven ahead. He was kind of running away. It was kind of a tournament for second place."
That other tournament wound up being quite a show.
As Woods cruised around Cog Hill in his familiar red shirt, a dozen players behind him were scrambling for positions into the FedEx Cup finale at East Lake in two weeks.
Furyk's runner-up finish moved him up 15 spots to No. 3, meaning he can win the FedEx Cup with a victory at the Tour Championship. Leishman, who only qualified for Cog Hill by making an eagle on his last hole a week ago outside Boston, earned his first trip to the Tour Championship and will have an outside shot at the $10 million.
Most compelling, however, was the battle for the 30th and final spot.
The heartbreaker belonged to Brandt Snedeker, playing in the final group with Woods. Walking up the 18th hole, he learned he only needed a bogey to finish in the top 30. He missed his 12-foot par putt, then watched in shock as his 3-footer for bogey caught the left lip of the cup. Snedeker was so stunned that he missed the next two putts and took triple bogey.
"I can't believe I did this," Snedeker said. "I just made a mess of it."
That allowed John Senden to capture the 30th spot by less than a half-point over Ian Poulter, two players who were hardly clutch down the stretch. Senden had a 90-yard wedge to the green at the 15th and chunked it so badly that it traveled only 50 yards. Two holes later, he nearly hit a bunker shot over the green and into the water to make double bogey.
Senden finished with 1,532.41 points. Poulter, who hit his approach into the water on the 18th, wound up with 1,531.95 points.
Far for easier to compute was Woods winning.
He finished at 19-under 265 for his 71st career victory, leaving two short of Jack Nicklaus for second on the PGA Tour's career list. Woods also tied Sam Snead with his sixth season of at least six victories.
Woods won for the first time since his aura was slightly tarnished at the PGA Championship, where he lost a lead in the final round for the first time since he was a 20-year-old rookie. Y.E. Yang rallied from two shots behind to beat him at Hazeltine, ending Woods' streak of never losing a major with at least a share of the lead.
No way he was about to lose this one -- not at Cog Hill, and not the way he was hitting shots and making putts.
The closest anyone got to him was six shots when Woods missed the fifth fairway and failed to convert a 10-foot par putt. He made it look easy, yet still provided a few thrills.
Woods sent his tee shot well to the right into the trees on the par-5 ninth, leaving him a 20-foot wide chute under the trees. He smacked a 3-iron low, straight and under the branches, just a little too far. Blocked by a tree on his third shot, he played a low hook and ran the ball onto the green to 15 feet. He made the birdie.
Walking off the green, he shrugged his shoulder and smiled. Indeed, everything went his way this week in the Chicago suburbs.
He added an eagle on the par-5 15th when his approach bumped off the collar of the green, caught a ridge and rolled to 6 feet. From there, all that remained was his margin of victory.
Cog Hill became the fourth course where Woods has won at least five times. He has won seven times at Torrey Pines and Firestone, and six times at Bay Hill.
Woods' sixth victory likely sewed up another PGA Tour player of the year award -- no one else has won more than three times this year. And while he has a 1,504-point lead over Steve Stricker, the points are reset for the Tour Championship.
As the No. 1 seed, Woods will have 2,500 points, with Stricker at 2,250. The rest of the top five are Furyk, Zach Johnson and Heath Slocum. All of them can win the FedEx Cup with a victory at East Lake. Everyone else will need some help.