News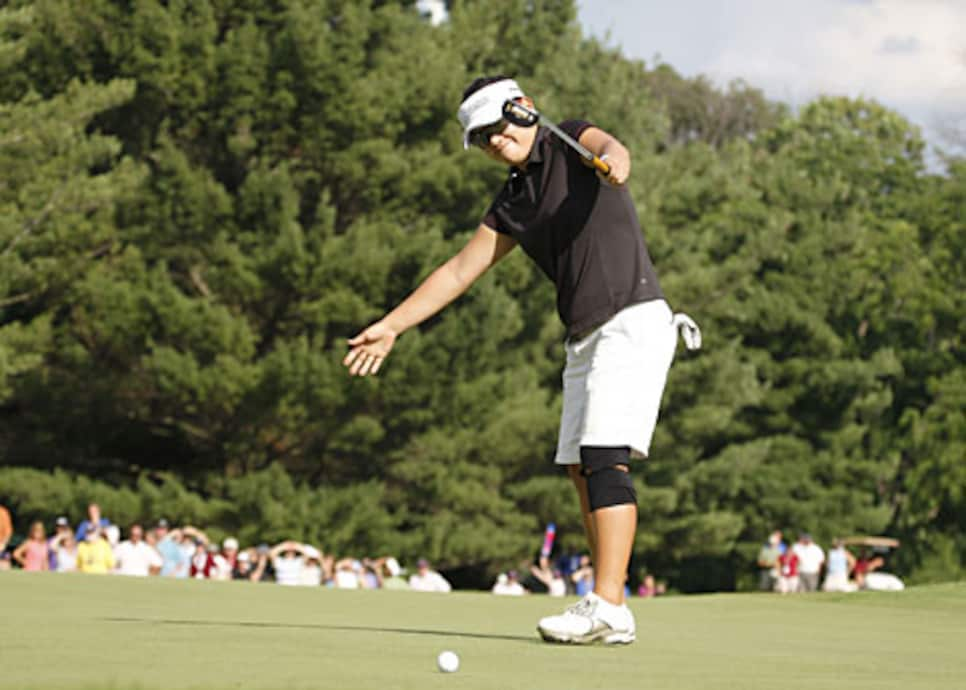 Yi rolled in a 10-foot birdie putt on the first playoff hole to clinch her first LPGA win.
SYLVANIA, Ohio (AP) -- The gallery was going wild. There was no question what had happened.
Eunjung Yi watched from the 17th tee and knew that Morgan Pressel, playing just ahead of her, had holed a lob wedge from 70 yards for eagle that had erased what had only a few holes earlier had been a six-shot lead.
Rather than let her mind wander or allow herself to be distracted by all of the people cheering for Pressel, Yi shut everything out.
"I didn't think about her," she said. "I thought about my golf."
Yi recovered to roll in a 10-foot birdie putt on the first playoff hole to beat Pressel and capture her first LPGA Tour title Sunday in what might be the final Jamie Farr Owens Corning Classic.
Pressel, a runner-up for the second time in three years at the Farr, tipped her hat to the winner.
"She won the tournament," Pressel said. "She made a birdie on the playoff hole. I had my opportunities."
The 21-year-old Yi, the 2005 U.S. Women's Amateur Public Links winner, began the day with a four-shot lead. She birdied two of the first three holes to go up six shots. Yet she remained oblivious; she never looked at a leaderboard and didn't ask her caddie about her status.
"I was just focusing on my golf," she said. "I didn't see the scoreboards at all. I just hit the driver, the second shots -- I was very centered."
Pressel, chasing her third career victory, pulled even by holing that wedge shot on the par-5 17th hole.
Yi, from South Korea, finished at 18-under 266 to earn the $210,000 first prize -- more than she had earned in her previous 23 LPGA Tour starts combined. She had missed the cut in four of her seven starts this year and her biggest previous check was just over $11,000 for a 26th-place tie at the Corona Championship.
Yi closed with an even-par 71 and Pressel had a 67. Michelle Wie had a career-best 64 to tie for third at 16 under, but lost a chance to put extra pressure on the leaders when she misfired while going for the par-5 18th in two and had to settle for a par.
On the playoff hole, the 18th, both Yi and Pressel were in the fairway inside 100 yards away in two. Pressel's approach came up short to the back left pin location, ending up on the first cut of rough about 20 feet from the hole. Yi hit a lower, harder shot that stopped 10 feet away.
Pressel's birdie putt held the line and almost fell as it scooted past on the left edge. She then tapped in for par.
After looking over her putt, Yi hit it firmly and -- before the ball even settled into the cup -- she raised both arms in victory.
"When I hit it, I thought it was going in," she said.
The instant Yi left the green she picked up her cell phone and called her father back in Temecula, Calif., who was working at his restaurant, the Minong Korean Barbecue. When she first soared to the lead in the third round, she vowed that if she won the Farr then her father would serve free meals to everyone who came in.
Her father, Kuyng Su, was watching the tournament on TV. She let him know that he needed to be ready for a lot of giveaways.
"Everything, for whoever comes -- all free," she said with a laugh.
Pressel trailed by four shots as she went to the 16th tee. But a Yi bogey and a Pressel birdie set the stage for the shot of the day.
At the 17th, Pressel was upset by her drive and stopped just short of slamming her driver into the turf. But she was able to chase a 3 wood into the fairway. From there, with 70 yards to the hole, she pulled out a lob wedge on the 513-yard, par-5 hole. The instant she made contact, her caddie, Barry "Rock" Cesarz, shouted, "Go! Go!" The ball, however, didn't need any help.
It cleared the bunker in the way of the back left pin placement, bounced twice and then rolled into the cup for the eagle that tied her for the lead. Pressel flashed a wide smile, turned to Cesarz and traded a high-five with him.
"Sometimes you get a little lucky," she said.
As her score was posted on the large magnetic sign near the 18th green, the crowd went crazy.
Both then parred out to set up the drama that unfolded on the extra hole.
Yi's playing partner, Song-Hee Kim, had a 25-foot birdie putt at the final hole that would have also put her in the playoff, but she missed it and then missed the comeback putt. Kim, who shot a 69, ended up tied for third with Wie and Seon Hwa Lee (67).
Wie made a back-nine rush -- birdieing holes 14, 15, 16 and 17 -- in her 64. But she needed to win the Farr to get into next week's U.S. Women's Open at Saucon Valley in Bethlehem, Pa.
"I feel like I'm on the brink of playing extremely well but I still have a lot yet to learn," she said. "I have a lot to improve. I want to just keep the same feeling as the last 10 holes that I played and keep moving forward from there."
The tournament's contract with its title sponsor, the LPGA Tour and Highland Meadows Golf Club expired after the final round.
"I certainly hope we can come back," said Pressel, who frequently visited her grandparents in nearby Detroit when she was young. "It would be disappointing to not come back, with my family here and so close to where I spent so much time as a kid."