News
Yi Uses A 61 To Take Command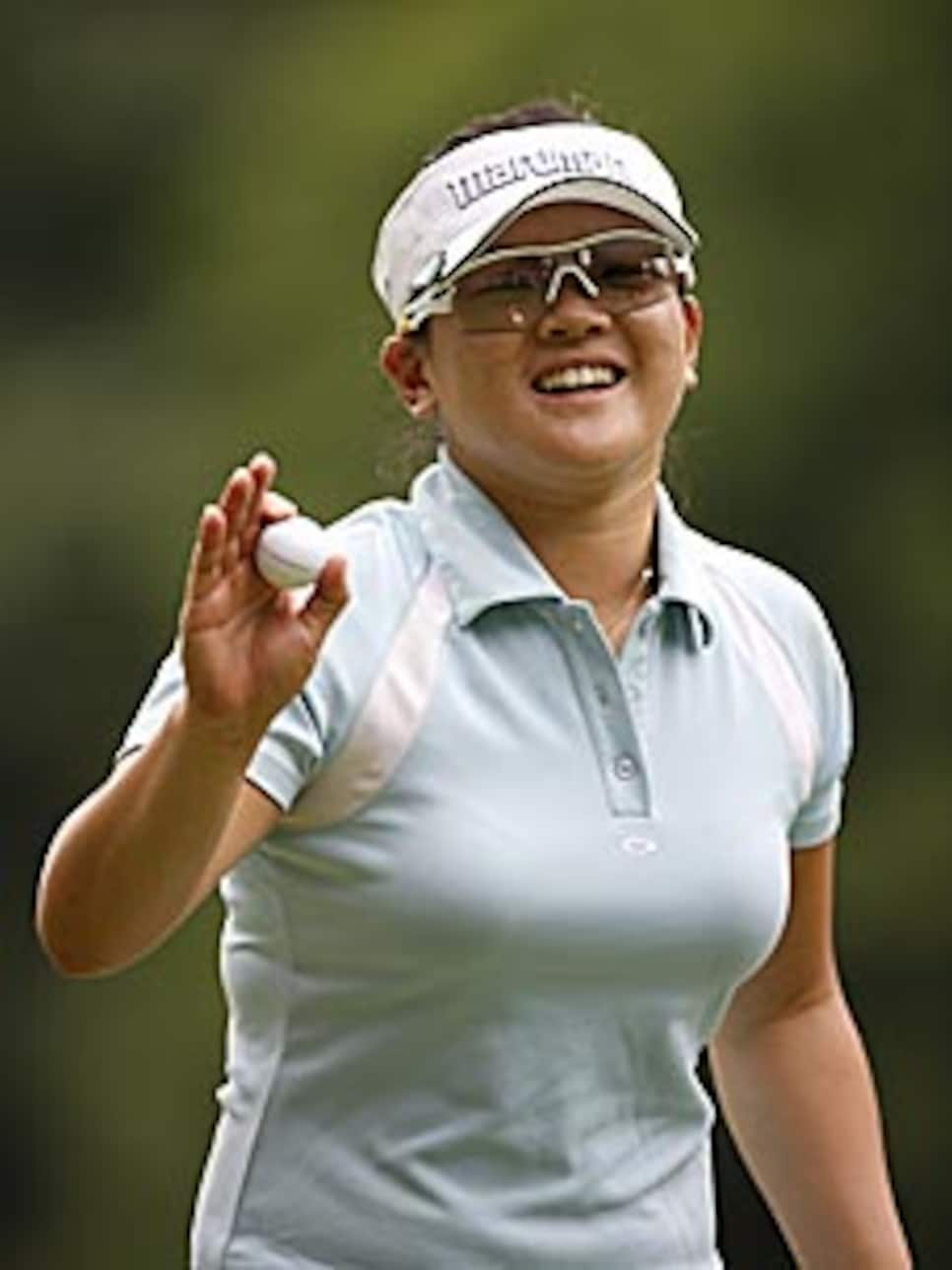 Yi has never finished better than a tie for 11th in her 23 career LPGA Tour events.
SYLVANIA, Ohio (AP) -- No one was more surprised to find Eunjung Yi leading the Jamie Farr Owens Corning Classic through three rounds than, well, Eunjung Yi.
"I'm the leader?" she repeated, incredulous, when asked how it felt to be leading the pack. "Really? I didn't know that. By four strokes?"
She was apparently so into just taking care of the shot in front of her, it never dawned on Yi that she was running away with the Farr.
She recorded eight birdies and an eagle in a 10-under 61 to build a four-shot lead Saturday over Song-Hee Kim (64) and Morgan Pressel (67).
The 21-year-old Yi, who has never finished better than a tie for 11th in her 23 LPGA Tour events, was at 18-under 195 after putting up the lowest third-round score in the tournament's 25 years.
"I like this course. I can shoot very good," she said, disdaining a translator. "We have more holes tomorrow. I'll stay focused."
Yi grew up in South Korea but now spends summers at a rambling 9-bedroom, 4½-bath home in the San Diego area with her father, mother, two brothers and a sister -- who joined her in the States two years ago. Her father runs a Korean restaurant.
"If I win, my dad will give everyone a free meal," she said with a laugh.
After starting the day tied for seventh and three shots back of Sarah Kemp and Laura Diaz, Yi birdied four holes on the front side and then started the back by holing a 110-yard pitching wedge from the fairway for eagle.
"I thought it was a little short but it went in the hole," she said.
The eagle was nothing new for Yi, who wears a knee brace on her left leg. Playing in the Corning Classic earlier this season, she eagled the first, second and fifth holes on the way to a 3-under 69, becoming the fifth LPGA player to collect three eagles in the same round.
Continuing to pour it on, she had birdies at holes 12, 13, 16 and 17 -- and barely missed a couple of other birdie putts. She could have matched defending champion Paula Creamer's course- and tournament-record 60 set in last year's first round but her 5-foot birdie putt on the closing par-5 lipped out.
The previous low third-round score was Karrie Webb's 62 a year ago.
Yi, never known for her putting, needed just 22 putts to break her previous scoring low on tour by five strokes.
"My putting is always bad, but today was different," said Yi, who earned a spot in her first Women's British Open during qualifying over the opening 36 holes of the Farr.
Like many of the South Koreans on the LPGA Tour, she picked up golf in earnest after seeing fellow countrywoman Se Ri Pak rocket to stardom in the U.S. Yi said the turning point for her was Pak's win at the U.S. Women's Open in 1998 at Blackwolf Run.
She also has noticed Pak's five victories at the Farr. As well as one of the small but meaningful benefits that come with a victory at the tournament -- having the street outside Highland Meadows Golf Club named after the winner.
"I want my name on the street, too," she said with a smile.
The highlight of Kim's round was an eagle at the 17th that helped her pick up her second 64 of the week.
"I didn't have any bogeys today," she said. "It was a very clean round."
Pressel, seeking her third career win and first of the year, also avoided any bogeys. She played steadily throughout, continually burning the edges of the hole on birdie putts. She figured she was one of many who could still take the $210,000 first-place check.
"There are more people than just me who have a chance (to win)," she said. "We've seen that three days in a row, where someone has gone crazy and made a lot of putts."
Sweden's Mikaela Parmalid, who teed off more than 4 hours before the last group, shot a 62 to jump from a tie for 54th through 36 holes to the lead by herself until she was caught and passed by Yi.
Parmalid was at 12-under along with the world's No. 2 player, Yani Tseng (65), Kemp (70), Shanshan Feng (65), Suzann Pettersen (67), Jiyai Shin (68), and Seon Hwa Lee (68).
Top-ranked Lorena Ochoa birdied three of the first five holes before racking up 13 consecutive pars in a 67 that left her at 202 with Natalie Gulbis.
Michelle Wie, bidding for her first win since getting her tour card late last year, hit 16 greens in regulation but was near the bottom of the field in putting. She shot a 70 and was at 204. When she finally rolled in a 15-foot birdie putt at the 16th hole, she raised both arms in mock celebration.
Now they'll all be chasing Yi.
Asked what a victory would mean to her, she briefly consulted with a translator. He relayed her response:
"If I win, I will feel like I own the world."