News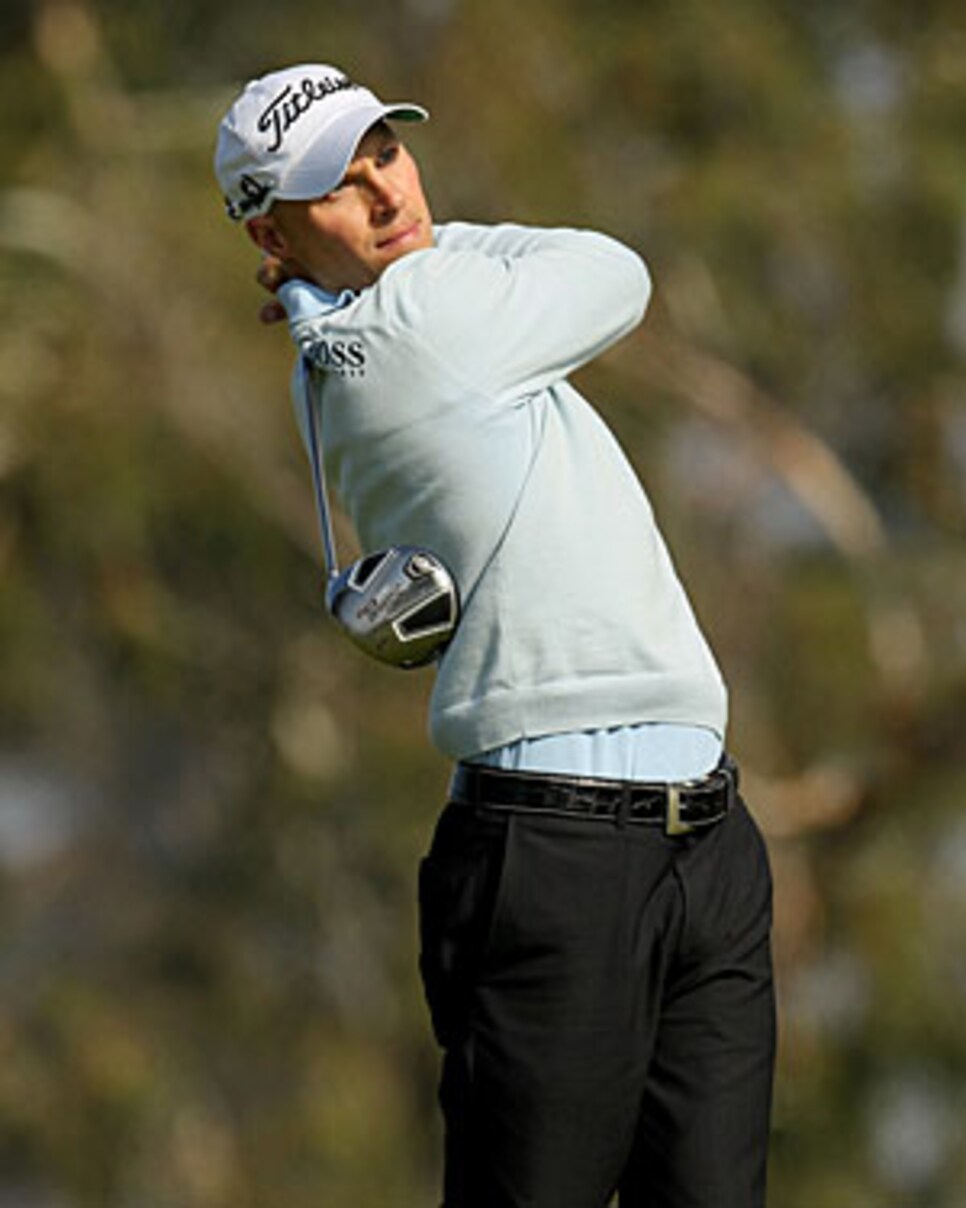 Ben Crane earned a return trip to the Masters with the win.
SAN DIEGO (AP) -- Ben Crane put his name back in the news for the best reason of all. He won another golf tournament.
Crane made two birdie putts longer than 45 feet to build a big enough cushion that missing a few short putts down the stretch didn't cost him Sunday in the Farmers Insurance Open at Torrey Pines.
Crane knocked in a 30-inch par putt on the final hole for a 2-under 70 and a one-shot victory over Michael Sim, Brandt Snedeker and Marc Leishman. It was Crane's third career victory, and first in nearly five years, and this one earned him a trip back to the Masters.
With a reputation for slow play, perhaps it was only fitting that Crane was the last one to know he had won.
He made it a point not to look at a leaderboard throughout the final round, and didn't know the result until Ryuji Imada congratulated him on the 18th green. Even in post-round therapy for his back, Crane said he doesn't talk about results, only the process.
But for his first victory sine Milwaukee in 2005?
"I think it's OK to get out of the moment for tonight," he said, smiling.
The last time Crane made news, he was inadvertently swept up in the Tiger Woods scandal when a gossip magazine attributed quotes to him that he never made. Life & Style said it spoke to Crane at Q-school, even though Crane was never there.
Crane handled that situation with the same even hand he displayed on a cool, breezy afternoon along the Pacific bluffs.
Starting the final round two shots behind, he opened with three birdies in five holes, including one from just over 45 feet on No. 3. He expanded his lead to three shots with another 45-foot birdie putt on the 11th.
Then, it was a matter of hanging on.
He had plenty of challengers, although Phil Mickelson wasn't one of them. Making his season debut, and only four shots behind, Mickelson bogeyed his first three holes and was never a factor.
Robert Allenby made a charge only to fall back by losing five shots in four holes, including a tee shot that vanished into the canyon. Sim, the 25-year-old Australian, kept with Crane the entire round and had his chances to the very end.
Trailing by two, Sim was certain he had made a 15-foot birdie on the 17th hole and stopped in utter surprise when it ran over the right side of the cup. Crane then missed a par putt inside 3 feet to lose another shot off his lead.
Both laid up on the par-5 18th, and both put too much spin on their wedges that the shots rolled off the green -- Crane's against the collar, Sim's a yard off the front of the green, forcing him to chip. They settled for pars.
Sim had just under 250 yards to the hole, right on the edge of reaching the green with his 3-wood. Rather than cost himself the tournament with a shot he had to hit perfect, he did everything right except plan for the amount of spin.
"It was a perfect number (for the wedge), a perfect shot," he said. "It would have been nice to have a putt at it."
Crane finished at 13-under 275, a victory that changes the outlook on his season. He is going back to Augusta National for the first time in three years, and his victory should put him inside the top 60 and give him a good chance to qualify for the Match Play Championship.
"It's really cool to know I'm going in the right direction," Crane said.
Snedeker closed with a 69 after narrowly missing a 12-foot birdie on the last hole. Leishman had a 68, hitting into the bunker and the rough to take away chances of a good look for birdie on the 18th.
Michael Allen celebrated his 51st birthday with five straight birdies for a Sunday-best 65, moving him into a tie for fifth with Ernie Els (69), Rickie Fowler (70) and Alex Prugh (66), who earned a trip to Riviera next week for the Northern Trust Open.
Allenby was the first to make a move at Crane, pulling within two shots after his two-putt birdie at the 13th. But for the second straight tournament, he was a victim of the new V-groove regulation. His ball jumped out of the rough on the 14th with a 7-iron, well over the green and into the hazard. In Honolulu, another flier went through the back of the green on the last hole and he made par to lose by one.
Mickelson was four shots behind when he teed off to a hometown cheer. Within an hour, he was out of the tournament.
He pulled his bunker shot down a slope to the right of the first green, blocked by branches of a torrey pine from playing a flop shot. Using his Ping-Eye 2 wedge that has caused so much consternation this week, he flew it onto the green and it raced some 30 feet by the cup, leading to bogey.
Mickelson missed a 30-inch par putt on the second hole, then flew the green and went into the hazard for a third consecutive bogey. Just like that, he was seven shots behind and never made another threat.
"I didn't feel I played as bad as the score reflected," Mickelson said after his 73. "I feel my game is coming around. I was really excited about playing here. Maybe I was a little anxious. My timing was a little off this week."