News
Brewerton In Three-Way Tie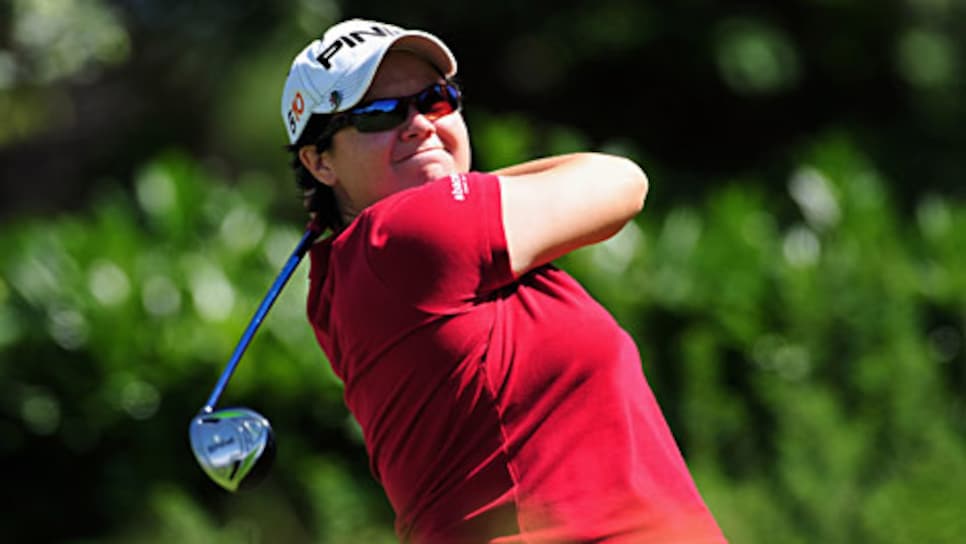 Since turning pro in November of 2003, Brewerton has two wins on the Ladies European Tour.
EVIAN-LES-BAINS, France (AP) -- Becky Brewerton of Wales shot a 3-under 69 on Saturday to grab a share of the Evian Masters lead for the third consecutive round.
Brewerton heads into Sunday's final round tied with Sophie Gustafson of Sweden -- who had a 5-under 67 on Saturday -- and In-Kyung Kim of South Korea at 12-under 204.
Brewerton led through all four rounds when she won the Spanish Open last week.
"I feel like I'm getting used to it now. This week is different pressures, but I'm thoroughly enjoying it," Brewerton said. "It was definitely a bit more of a struggle today. I wasn't quite as flowing with my game as I had been over the previous two days. But I have to say my short game was unbelievable on the back nine, so (I) take confidence from that."
American Michelle Wie improved her chances of qualifying for the Solheim Cup against Europe next month, clenching a fist as her birdie putt on the 18th crept toward the hole before dropping in for a 70 that got her to 3 under for the tournament and a tie for 23rd.
Wie has improved steadily after Thursday's opening round of 73, but the 19-year-old is "frustrated" by her fluctuating form, with five birdies and three bogeys on Saturday underlining her erratic play.
"I couldn't get anything going again, I hit a birdie, and then a bogey," she said. "Hopefully tomorrow I can get things going.
"It's little things here and there. I don't think I'm far off, but in golf that means a lot."
Kim's birdie attempt on the 18th rolled over the hole and cost her the outright lead.
"I had a chance, 8 feet, maybe 10 feet, it was uphill," Kim said. "I knew I had to hit it (hard), (to) make sure it got there, but I kind of mis-hit it. It was bumpy as well."
Ai Miyazato of Japan, the joint second-round leader with Brewerton and Na Yeon Choi of South Korea, bogeyed the final hole to drop a shot back at 205.
She was joined on 205 by Cristie Kerr of the United States, who hit a birdie on No. 18 for a 67.
Two weeks after her dramatic loss to Eun Hee Ji of South Korea in the final round of the U.S. Women's Open, Kerr is hoping to launch a late attack this time instead of being overtaken near the end.
"Leading the Open didn't work for me, maybe this will," Kerr said.
Defending champion Helen Alfredsson of Sweden (68), who is bidding for a fourth Evian title, improved to 9 under.