News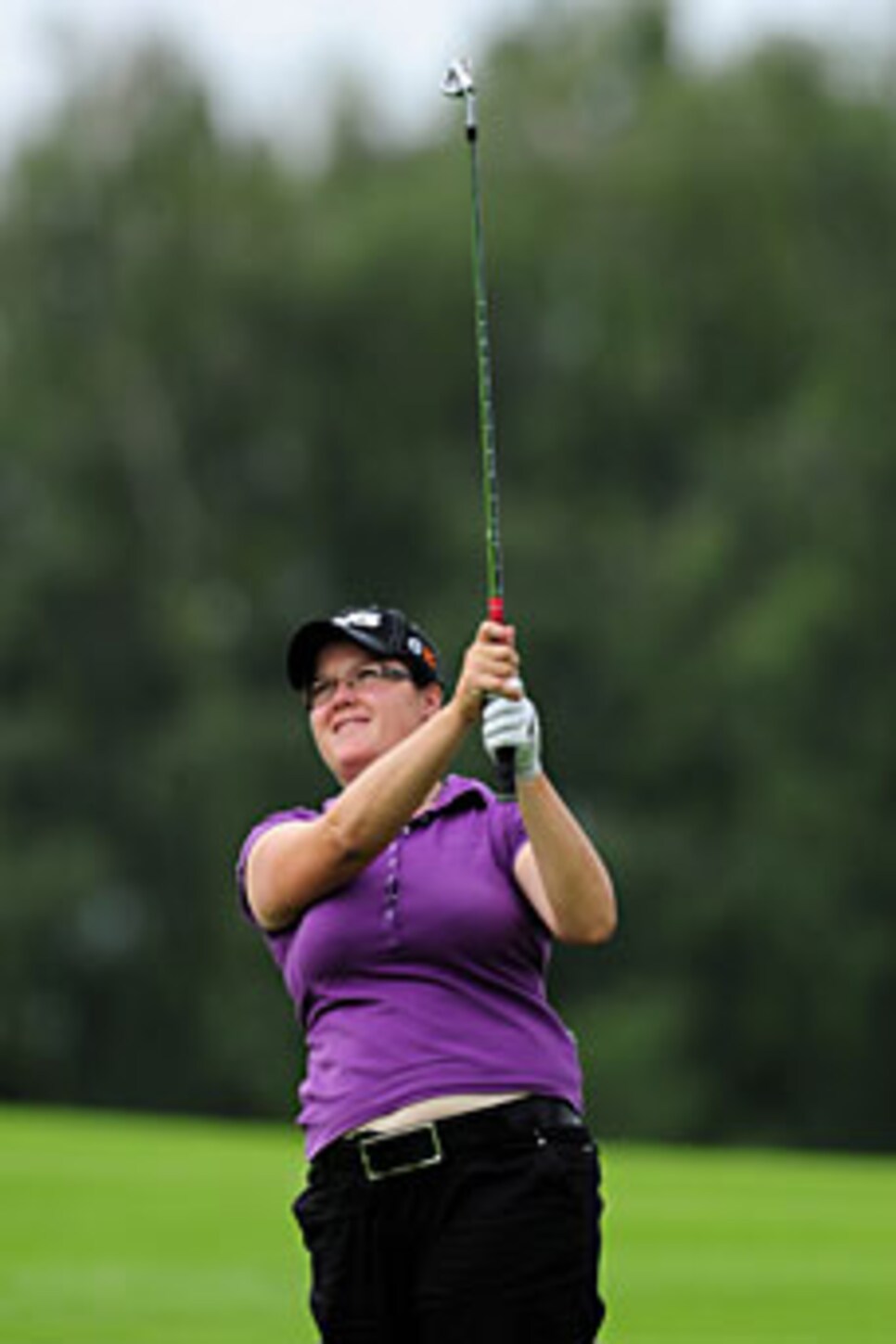 Becky Brewerton is trying to play her way on to the European Solheim Cup team.
EVIAN-LES-BAINS, France (AP) -- Becky Brewerton shot a 5-under 67 and was tied for the first-round lead at the Evian Masters on Thursday, while Michelle Wie rescued a disappointing start with two late birdies.
The South Korean duo of Na Yeon Choi and In-Kyung Kim also shot 67s in windy and overcast conditions that forced play to be suspended for one hour because of late-afternoon thunder.
Kim's round was highlighted by holing out with a 9-iron for eagle at the 11th, while Choi made three birdies on both the front and back nine and only one bogey.
Top-ranked Lorena Ochoa of Mexico, teeing off with Alfredsson and Marianne Skarpnord of Norway, double-bogeyed her opening hole and finished an inconsistent day at 3 over.
Wie bogeyed Nos. No. 3, 6 and 13 before birdies on the last two holes for a 73. She had plenty of players between her and the lead, including defending champion Helen Alfredsson of Sweden, who is chasing her fourth Evian title and had four birdies in her round of 70.
Wendy Ward of the United States shot 68 to stay in touch with the leaders, along with South Korea's Ji Young Oh, Britain's Karen Stupples and France's Karen Icher.
Brewerton, from Wales, birdied four of the last five holes on the front nine and was on pace to match Alfredsson's course record of 63 after moving to 5 under through 10. Bogeys on the 13th and 14th slowed her down, but Brewerton made two more birdies coming in.
"My short game was excellent," the 26-year-old Brewerton said. "I hit quite a lot of shots in very close on the front nine, so didn't have much work left to do for birdie."
Brewerton has more reasons to succeed at Europe's richest women's tournament than just the $3.25-million purse. Following her win at the Spanish Open last week, Brewerton is desperate to play for Europe in next month's Solheim Cup.
"It would be nice to get back-to-back wins, which Diana Luna did a couple of weeks ago," said Brewerton, a former English Open champion. "Martin Kaymer has done it on the men's (tour) recently, so fingers crossed it will be my turn."
Brewerton's round is certain to have impressed European Solheim Cup captain Alison Nicholas, who was watching her at the 18th hole.
"Alison has been at an awful lot of tournaments this year," said Brewerton, who made her rookie Solheim Cup appearance two years ago. "She's got her hands full trying to follow everyone around who has a chance to get in. So much could happen these two weeks, because there are so many points to play for."
The 19-year-old Wie, who is bidding for a Solheim Cup spot for the U.S. team, missed an easy par putt on the sixth hole, but recovered to end the day on a high note.
"I couldn't get anything going, couldn't make any putts," Wie said. "(I have) three more days to make it up. (Holes) 17 and 18 were a real positive boost for tomorrow."
The dark afternoon skies and slightly windy conditions made play uncomfortable, and Wie was fortunate to finish just before heavy rain and thunder forced players off the course.
"I don't remember it being this windy," Wie said. "I couldn't really give myself that many birdie putts."
She needs a big improvement if she is to collect any points for the Solheim Cup. Wie is in 16th place on the list, with the top 10 getting automatic spots on captain Beth Daniel's team.
"For sure, you definitely do want to play in it. But when I'm out there I can't think of (the Solheim Cup)," said Wie, who can also earn points at next week's British Open, or hope to get one of two wild-card picks.