News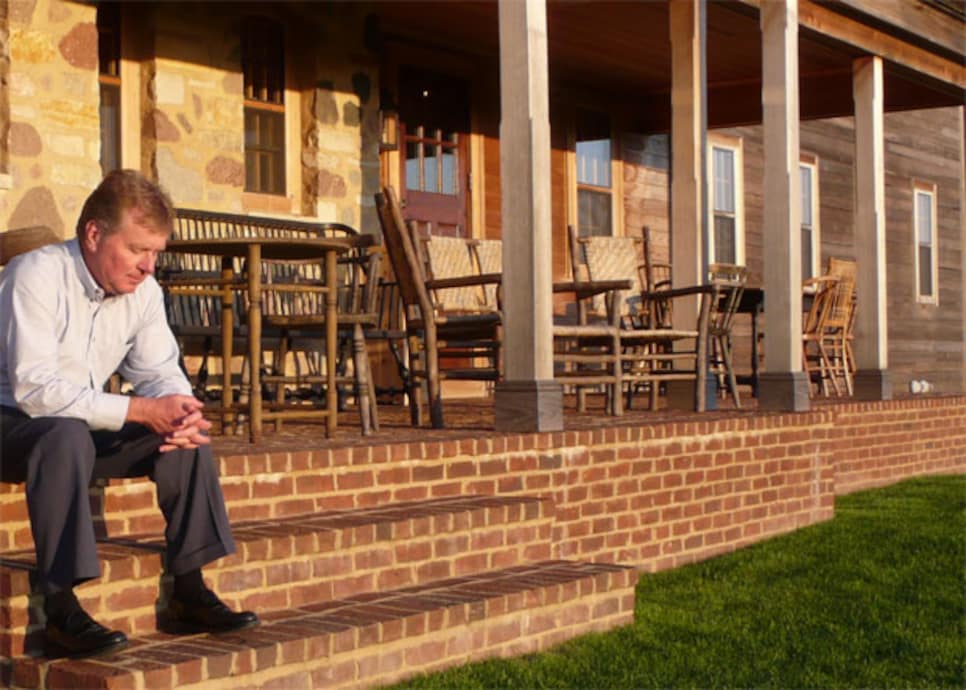 Bob Lang, former owner of Erin Hills, poured 11 years and most of his money into the golf course.
Bob Lang, who owned Erin Hills GC in Erin, Wis., remembers the morning. It was the Monday after the 2007 U.S. Senior Open at nearby Whistling Straits, a day after Brad Bryant swiped a major from Tom Watson and Ben Crenshaw. Lang was standing in front of an old barn that he had converted into a cart shed, surrounded by rolling hills, dirt roads and flatbed trucks. Located 25 miles northwest of Milwaukee, Erin is home to more dairy cows than people. Yet here came the USGA's executive committee, tearing down the driveway to the latest and greatest in public golf in a caravan of Lexus courtesy cars.
"There were nine or 10 of them," recalls Lang. "I remember thinking, 'This is the real deal.' "
The USGA had sparked the buzz about Erin Hills by awarding the course the 2008 U.S. Women's Amateur Public Links before it even opened in 2006. Since USGA officials were in the area for the U.S. Senior Open, they had arranged a site visit. The blue coats wanted another peek at their latest crush.
Lang's agenda that day -- and for many days to come -- was simple. He was trying to pull a Brad Bryant himself and take a major from golf's big names. Lang seemed to have everything in order at Erin Hills in 2007, and there were no obvious indications he couldn't do it. As he tried to showcase his course to the powers on the ground, the powers above were threatening.
"I remember thinking, 'Oh my God, I hope it doesn't rain,' " says Lang. "That was one of the most nervous times of my life."
The group played the front nine before the skies opened, sending everyone in for lunch. The rain ceased, but because the USGA folks had planes to catch, there wasn't enough time to play the back nine. Lang convinced his guests to at least see the back nine. Instead of carts, they drove their fancy cars.
Despite the abbreviated round, the USGA's infatuation became more like genuine love that day. A year after the visit, the organization announced Lang's creation would host the 2011 U.S. Amateur. It was quite an accomplishment for a relatively new course. Lang appreciated it, but he was thinking bigger. "To host the Women's Amateur Publinks was exhilarating," says Lang, who first contemplated the course 11 years ago. "To be awarded the U.S. Amateur was an honor. But my goal in life is the Open."
Last year, however, only months before the USGA was to decide if Erin Hills would get that coveted Open in 2017, Lang faced the prospect of selling his creation. His goal of snagging the championship had become a passion, but his passion morphed into an obsession.
"For Bob Lang," says USGA executive director David Fay, "Erin Hills hosting an Open became a bad obsession."
Lang, 65, likes to say, "golf is a journey." He says it a lot. He tags his e-mail with the phrase. He uses the line so often those who know Lang tend to quote him. "As Bob says, 'Golf is a journey.' "
Lang admits, though, he isn't a golfer. He played once in 2009, with his daughter at Erin Hills, and says, "I shot well over 100."
Born and raised in Danville, Ill., with a brother and a sister, Lang likes to tell friends and interviewers he is from "the other side of the tracks." When anxious, he speaks in incomplete sentences, can't sit still and runs his hands through his rust-colored hair during pauses in a conversation. Lang is a salesman, but when times are tough he can't sell calm and in control.
Lang graduated from Northern Illinois in 1967. After college he sold encyclopedias and hearing aids, became a teacher, then taught himself how to be a builder and a businessman. In 1975 he began buying and renovating properties in Delafield, Wis. He built and restored more than 200 houses, some restaurants and a movie theater. He also started a calendar company. After only seven years, he was a wealthy man. "I made a fortune," he says.
Fueled by his big imagination, a bank that would back him and a history of pulling off deals, Lang proved a bold entrepreneur. In 1997 a neighbor told Lang about a piece of property for sale in Erin, only 15 miles from Delafield. To buy it, Lang needed to raise $2.5 million. He remembers paying a non-refundable $100,000 fee to get a 90-day extension in order to get financing. Lang, being Lang, beat the deadline.
Lang's wife of 43 years, Susanne, offered her support and a piece of advice: "She told me," he recalls, " 'Just don't put everything we have into a golf course.' "
In the years to come, Lang would prove to have selective hearing. He bought more land next to the original plot. Eventually he would buy nine parcels totaling 650 acres. Now what? For a guy who's not a golfer, the game would give Lang quite a journey.
Lang didn't see a better use for his property than a low-key course for locals, his original vision just nine holes. Tom Doak, in the mid-1990s before he was the renowned Tom Doak (and before Lang owned the land), was asked to make some preliminary plans for a course. But in 2000 Lang met architect Mike Hurdzan, and they hit it off.
Hurdzan and Lang are the same age, but Hurdzan was a Green Beret in Vietnam while Lang stayed home and worked as a teacher. "He went to 'Nam, and I didn't," says Lang. "I respected that. I wanted to give him a piece of property that he could use to make a name for himself."
Hurdzan and design partner Dana Fry have a combined 70 years of experience. They've built more than 350 courses worldwide -- among the most recognizable are Bully Pulpit in North Dakota and Naples National in Florida. Hurdzan added a third person to the design team: Ron Whitten, the experienced golf course architecture editor at Golf Digest and Golf World. Whitten had dabbled in design, and he and Hurdzan, longtime friends with a mutual respect, had often discussed working on a project together. Given the original plan and Whitten's views as a "purist," Hurdzan thought it would be a good fit.
By 2004 a rough course layout was done. "We wanted to build a nice, inexpensive, lay-of-the-land style course," says Hurdzan. Because the land was perfect for a links-style layout, the designers moved only a few feet of dirt for the original set of greens.
But did Lang really want to build a course? It turns out he wasn't sure until he met Mike Davis. A veteran USGA staffer, who in 2005 would become the governing body's senior director of rules and competitions, Davis was Tom Meeks' deputy in 2004 when Lang traveled to the U.S. Open at Shinnecock Hills GC to meet him and encourage a visit to his Wisconsin property.
Even before Lang's invitation, though, Davis was aware of Erin Hills. "Ron Whitten, years and years ago, before it was even a golf course, sent me a note saying that he had found a perfect piece of property for a U.S. Open," says Davis. Not long after the '04 Open, Davis traveled to Wisconsin for the first of nearly 20 visits to Erin Hills. "I remember thinking, part way through the walk of the course -- and definitely after we were done -- 'Ron wasn't kidding,' " Davis says.
Lang stumbled into what he thought was a beautiful piece of property with too many slopes and valleys for grazing dairy cattle. Davis saw those same undulations as a natural theater in which to play and watch golf.
"From a championship standpoint," he says, "Erin Hills is truly one of the most fabulous sites I've ever seen. What is really interesting about it, one of the things that grabs you right from the get-go, is it has a really neat routing for championship golf that allows a lot of room between holes. To get operational things and viewing areas, you could really utilize the dunes. When I was driving out there from the Milwaukee airport, through this [flat] farmland, I was thinking to myself: 'How can there be this type of property out here?' But then you get closer and you start to see a little more movement to the land. And then, all of a sudden, I thought, 'Wow, this looks like Shinnecock on steroids.' "
Before driving back to the Milwaukee airport that day, Davis told Lang and company, "Guys, if you're truly thinking about building a golf course here, keep us apprised."
"The next day," says Lang, "I called the bank and told them I was going to build a golf course." He borrowed the first part of the $3 million it eventually cost to build Erin Hills. "I didn't know, until several years later, that Bob hadn't really committed, one way or the other, to doing anything with the property," says Davis, "so I think that visit, to some extent, had something to do with him pulling the trigger on a golf course."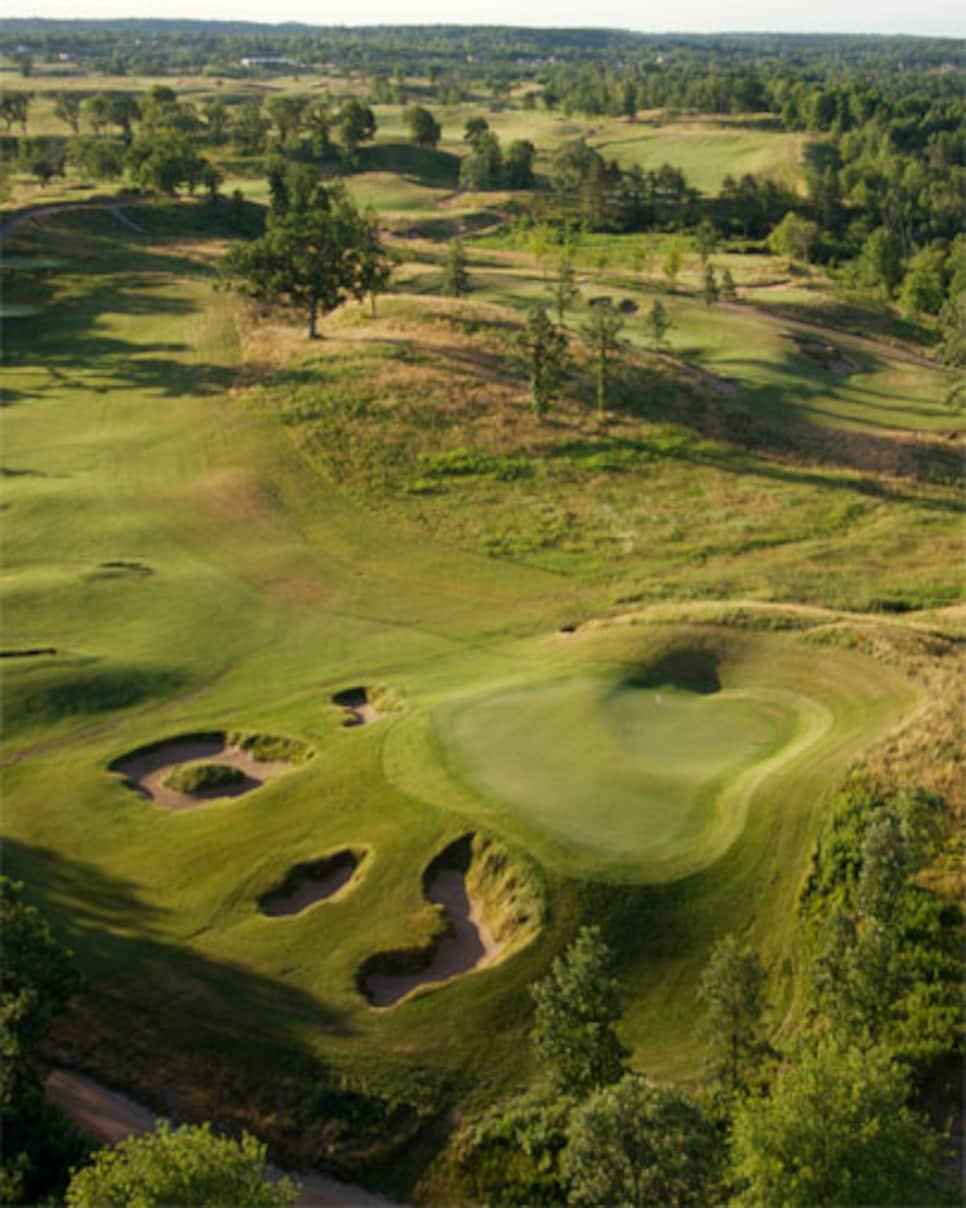 By 2006 Erin Hills was open. The green fee was $150, three times what Lang originally had in mind, but business was good. After its landing the 2008 Women's APL, Erin Hills started stealing headlines. According to the storytellers, Lang and his trusty tractor had reinvented good golf in the Midwest. Move over Herb Kohler.
Then came the 2007 caravan of USGA powerbrokers and, on Feb. 6, 2008, the call from Davis to Lang telling the owner his course had been awarded the 2011 U.S. Amateur. "Mike said, and I quote, 'We only award an Amateur where we plan on bringing the Open,' " says Lang.
The 2008 Women's APL went well, buttressing Erin Hills' unlikely ascent. "It's a unique story," says Fay, "to get to this level and have the man behind it with a lack of connections to the world of golf." But that wasn't exactly so. Lang had picked up a key ally along the way, a fellow Wisconsinite with golf connections and a golf savvy Lang didn't have. Jim Reinhart, who owns an investment firm in Milwaukee, spent five years on the USGA executive committee, eventually serving as vice president in '06.
Reinhart had met Lang on his trip to the 2004 U.S. Open, and he took an interest in helping Lang promote golf in their home state. If getting an Open was Lang's business, it became Reinhart's hobby. Although Lang offered Reinhart 3 percent of Erin Hills at one point, Reinhart declined. He felt it could potentially be a conflict of interest -- a former USGA executive owning a portion of the course angling to host an Open.
Reinhart's backstage presence brought Erin Hills, at the very least, credibility within the Wisconsin golf community and, more important, at USGA headquarters in Far Hills, N.J. Reinhart became Lang's interpreter of all things USGA and ultimately his liaison to a bailout when things went bad.
After the Women's APL in '08, the USGA came back and "suggested" some course changes. Lang only heard the word "changes." And he knew only one speed. "It didn't matter whether it was Hurdzan or Fry, or the USGA, or his wife," says Fay. "Bob was so excited by all of this that I think everyone involved, at one point or another, told Bob to slow down."
But Lang didn't hear them -- or did and chose to ignore the advice. "We told Bob he could do the changes in increments," says Hurdzan. "Golf courses continue to evolve. The Old Course at St. Andrews is still going through changes. But I think Bob became obsessed with trying to get it all done at once."
After the USGA chimed in, Lang also saw an opportunity to make changes of his own. The owner's insistence on input at this juncture led to a falling out between Lang and Whitten. Lang started to believe he knew what was best for his business and what would improve his chances of landing an Open. And he also knew he was running out of money. There was only a little time to get all the changes done before the bank stopped supporting him. The last thing Lang needed was Whitten to get in his way.
"I've known Ron since the '70s, and he is a hard-headed guy," says Hurdzan. "And, on top of that, he has the perfect mentality to be a barrister [Whitten is a former prosecutor] because he can argue and argue and argue. And Bob, on the other hand, couldn't support his arguments. Ron would say, 'Bob, what you're telling me [about course changes] has no logic or support.' Dana and I were really in the middle. We were saying, 'Hey Ron, it is Bob's golf course, he can do what he wants. We can disagree with him, but we can't stop him from doing it. He's paying the bills.' "
Whitten didn't want to be a part of something that was getting so far away from the original plan, and he wasn't interested in being a human speed bump. "Even if you leave me out of the equation, Mike and Dana represent seven decades of experience," Whitten says. "What Bob was suggesting was amateurish."
After Whitten left the project, the Hurdzan/Fry strategy was simple: appease Lang and continue working with Davis to get the course where it needed to be to host an Amateur and perhaps an Open.
According to Davis, the USGA made five suggested changes in 2008: enlarge the second green by 50 or 60 percent; move the green on No. 3 closer to the bunkers; lower the landing area on the fifth; lower the 10th green; and cut back the fescue around the 17th green.
But Lang did much more. By Hurdzan's count Lang added roughly 50 bunkers. Lang says he added more than that: "They suggested adding five bunkers. We added 103. It was exhilarating." Whitten says Lang "was trying to out-bunker Herb Kohler, and that's just not possible. And Herb Kohler is smart enough to trust the experts to make changes to his golf courses."
Lang didn't stop at bunkers. He didn't like the location of the fourth green, which was a punchbowl, so he moved it back 40 yards, creating an elevated approach shot ("It's the way I want it now"). Lang wanted another par 5 on the front nine, so he altered the seventh hole, a Dell Hole with a blind approach to the green that was one of Whitten's favorites, converting the par 4 into a par 5, resulting in a par of 73. "I was timid at first," says Lang. "Then I just did things sometimes, with and without blessings." Lang raised tee boxes because he wanted better views of the course, and he got rid of more blind shots throughout the round.
Reinhart visited Erin Hills often in 2008 when the alterations were being made. "I'd go out there and find Bob at the bottom of a deep bunker with a shovel in his hand," Reinhart says. "He got so involved. For 14 or 15 hours a day, he'd be out there. He loved to be a part of it."
Erin Hills reopened in July 2009 and through the rest of the summer Lang offered a reduced rate because of the course's mediocre condition. In 2008 the fee had been $160; in '09 it was $95. Whitten played the course with Hurdzan the middle of last summer. "I try not to let it get me depressed," says Whitten. "It's like I sent my daughter away to college, and she came back with pins in her cheeks, dyed hair, covered in tattoos and wearing Goth. The plan was to make a course that wasn't conventional. Bob made it conventional."
The changes were pricey and diverted spending from necessities such as equipment, a maintenance facility and irrigation. After the rough was cut and then re-seeded, there wasn't sufficient water to help the grass grow. In addition, the superintendent was borrowing equipment from nearby courses because Lang didn't own the right mowers to cut the sloping fairways. The fairways and the new tee boxes had yet to be top-dressed, not since Erin Hills opened in '06. The greens were in good shape, but several landing areas were roped off, played as ground under repair, and the rough was covered in papier-mâché fertilizer, but the seeds, due to a lack of rain and proper irrigation, did not grow. The back tees were on the scorecard at 8,348 yards (Lang's idea) and, even worse, people were playing from them. As a result, rounds sometimes approached six hours.
"If there have been any complaints," says Lang, "it's that we were not ready to open up." When a golfer booked a tee time at Erin Hills, he would get a personal e-mail from Lang explaining the reduced green fee and why.
Several people, including Reinhart, advised Lang not to reopen until the course was ready, but Lang couldn't afford to listen to that advice either. He had too many financial pressures for a downshift now. What only Lang knew, at that point, was the dwindling state of his fortune. The course had taken priority over his other business interests. He had purged several struggling businesses, including the swank Delafield Hotel, which he sold in July 2009. Lang also bankrolled a movie, "Red Betsy," involving his son, Andrew, who is listed as its executive producer, but it never really took off.
Despite the risk of word getting out about Erin Hills' condition, Lang didn't have the luxury of keeping his course closed last summer. Lang had plans for a second course at Erin Hills and revealed blueprints for cottages he hoped to scatter throughout the 650 acres, but he said, "I don't have an unlimited budget." Making a comparison to two well-known course owners, Lang said, "I'm no Kohler or [Bandon Dunes' Mike] Keiser." In defense of Erin Hills' lavish, Irish-style clubhouse, forgoing a maintenance shed, irrigation, the expense of elevating tee boxes, eliminating an extra hole in the middle of the round, moving a green and adding countless bunkers, Lang said, "Golf is all about feel."
Driving home from Erin Hills one day last August, Lang says he figured it out -- he had to sell Erin Hills. "I ran out of money," he says. "I tried to find partners first, but the sale was the only way to go. I went too far from a financial standpoint. I thought about my family."
The first time it looked as if Lang might need outside investors was in 2007. Reinhart started shopping it to Kohler, owner of the American Club, the Old Course Hotel and other courses, including Whistling Straits. "You have to give Bob a lot of credit for what he has done," says Kohler. "Bob was hoping we'd buy it, but it didn't fit in our program."
Reinhart also shopped it to Keiser, who once told Lang, "In order to have a true golf destination, you need two courses." And he tried to interest Phil Mickelson in it, too. Reinhart says he spoke to about eight potential investors or buyers, but the first person whom he introduced to Lang and Erin Hills was a friend and a fellow member at Milwaukee CC, Andy Ziegler. Ziegler looked at the course and the finances, and he passed. He came back a year later and made Lang an offer to buy Erin Hills. The two men couldn't come to an agreement, and Ziegler passed again. "Bob had an inflated sense of what Erin Hills was worth at that time," says Ziegler.
After that drive home last August, Lang called Ziegler and asked him if his earlier offer was still on the table.
Ziegler, 52, had kept an eye on Erin Hills. When Lang called in '09, negotiations resumed -- and Ziegler got it for less than he had offered in '08. Ziegler is a savvy businessman (he manages a multibillion-dollar money-management firm), and Lang had few options. "It became obvious something had to be done," says Ziegler. "Bob had a number of projects and an enormous amount of debt. Not because of suggested USGA modifications, but the cumulative total of his hotel, a movie and real-estate developments. Bob Lang didn't go broke on Erin Hills, Bob Lang went broke."
Lang doesn't appreciate the label "broke," but who would? "It's not easy for me," says Lang. "You don't think I'd want to be out there right now walking the course with Mike Davis? I feel relief because I don't have to keep finding money. I've subsidized this for 11 years. Very simply, I ran out of money. I'm happy for Erin Hills and all the people associated with it. Now they have the resources to grow turf."
Notwithstanding local buzz suggesting the deal approached $20 million, public records show Ziegler paid $10.5 million for Erin Hills. Whatever the number, Lang says: "I didn't get back what I put into it."
In the end, like most people who are familiar with Erin Hills, Ziegler has sympathy for Lang. "It's clear," Ziegler says, "everything Bob did at Erin Hills, he did with the best of intentions." And what are Ziegler's intentions? Why save Bob Lang and Erin Hills?
"I realize the enormous potential of Erin Hills," says Ziegler, a true golfer and a 6-handicapper, "but I didn't get into this because of a business interest. I wouldn't advise an investor to get into golf today to make money. In a few years, at best, I hope to break even. I'd say it's my philanthropic contribution to the area, but that may be overstating it. We're not curing cancer here. It's the game I love, and it's good for golf in Wisconsin. It just felt like a situation where I could help."
From the date of purchase, Oct. 24, 2009, Ziegler jumped right in by filling in some of Bob Lang's holes. Ziegler says there were places where Lang went too far. "At every private club there is a president of the board who wants to make changes to the course. And after a few presidents, eventually it's not a course any more," Ziegler says. "I intend on returning Erin Hills to a Hurdzan, Fry and Whitten design. They are great architects, and they had a vision. You'll never see me in a bunker holding a shovel. I'm having fun asking questions and understanding the holes, but touching the course [myself] doesn't make sense."
Ziegler's priority is the course's condition. He plans to build a state-of-the-art maintenance facility; he will invest in the necessary equipment and increase the size of the greenkeeping staff, and he's just getting started. He says, "It's pretty clear that I bought a project that was only halfway done."
Hurdzan says that since Ziegler took over and before the course was closed for the winter, his crew filled in roughly 12 bunkers, built a new 10th green and converted the hole into a par 4 instead of a par 5, which returned par to 72. They've fixed the drainage on 17, widened some fairways and added bunkers on some holes. Plans call for a pond near the green at No. 14, where a cart path Lang built will be removed and replaced with a bridge, a change that will please local environmentalists.
Ziegler insists his focus is getting the course ready for the 2011 U.S. Amateur. "If we don't get an Open, it's still a thrill for me," he says. "I'm not obsessed with an Open, but I'm willing to work with the USGA."
The USGA has returned to Erin Hills since the sale. Last November several members of the executive committee, Ziegler and Reinhart ate dinner there and then walked the course the next morning. Davis explained that it was a routine visit, planned months in advance, but it gave both sides an opportunity to get to know one another. The USGA was impressed by the new owner and pleased with his progress.
In Ziegler the USGA gets a fresh face for Erin Hills, a much softer voice and a better set of ears. Moreover it gets a lot more capital, which can't deter the course's chances of winning the Open vote. "Let me dodge the question by saying it doesn't hurt," says Fay. "Finances were trickier for Bob. It's only natural that we'd take a closer look at the finances of an individual owner of a course than say, when we're dealing with the state of New York."
The storm clouds over Erin Hills have given way to bluer skies. "Beyond the Amateur in 2011," says Fay, "there has been no decision made. What might be next is no secret. We have a lot of pretty girls who want to go to the dance with us, and it's a nice dance to go to."
The time to pick a partner is Feb. 6. The USGA Executive Committee will meet in Pinehurst. Fay will be there, and Davis and other members of the Championship Committee will be there as well. The finalists to land the 2017 U.S. Open appear to be Cog Hill and Erin Hills, but several other courses also have been mentioned. With Ziegler in charge, Erin Hills has to be considered the favorite. "Let me put it this way," Hurdzan says, "I've booked my room at Pinehurst."
An official announcement will be made during this year's U.S. Open at Pebble Beach. "A lot of good things are going to happen at Erin Hills," Reinhart says. "Bob's hopes and dreams have a good chance of becoming a reality." Lang may have passed the baton, but by selling when he did, he set himself up to ultimately be viewed as a visionary instead of a villain. "I'm not cocky, but I'm confident," Lang says. "I knew I could build an Open course."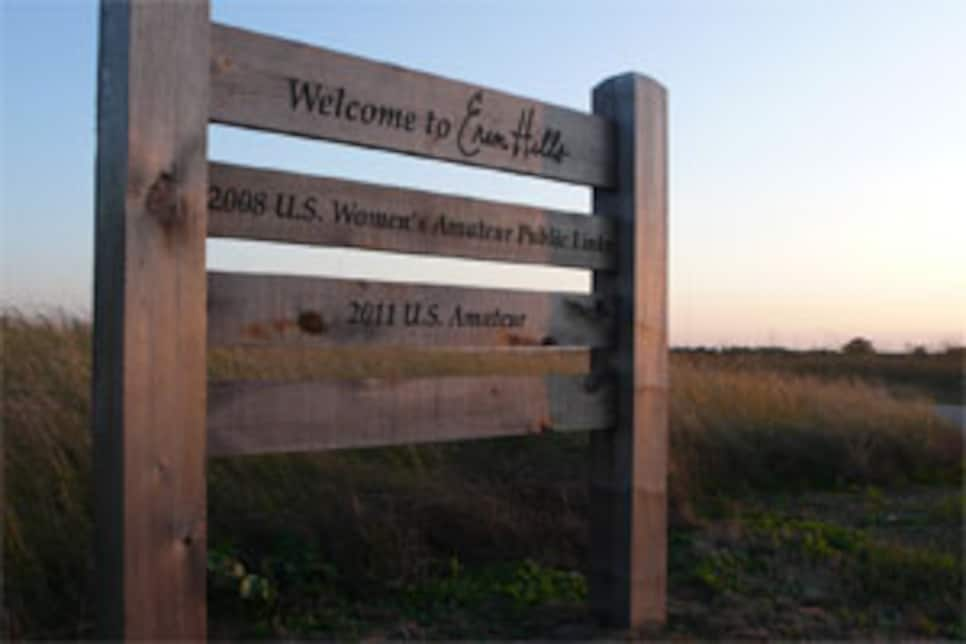 Lang says he won't be getting involved in any other businesses. He still lives in Delafield, he's technically still a consultant at Erin Hills, a nod from the new owner. Lang has two remaining pieces of property he's trying to sell and after that he plans to enjoy life with his growing family. One of his daughters is expecting his second grandchild in April. He might even take up golf and enjoy a more conventional journey.
In the middle of a small roundabout along the same driveway the USGA rolled down in 2007, Lang built a simple sign: two wooden posts holding up four small wooden planks stacked on top of one another. The top plank says, "Welcome to Erin Hills." The second one says, "2008 U.S. Women's Amateur Public Links." The third says, "2011 U.S. Amateur." The fourth plank was left blank.
Lang's sign remains, but says Ziegler, "It might not be there when we reopen in August."