News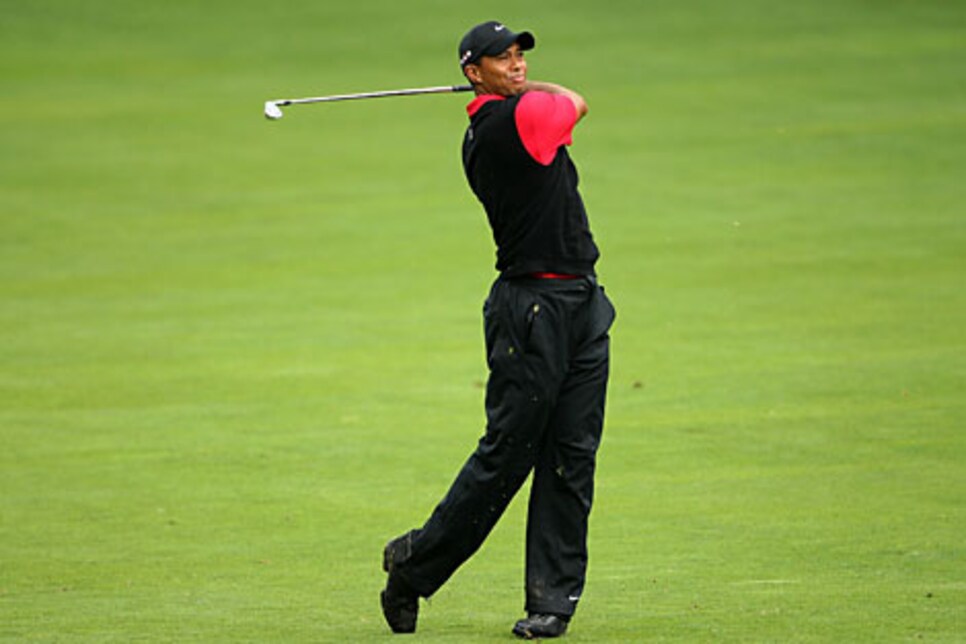 "We've had plenty of time to make our adjustments," Tiger Woods said of the groove rule to be implemented in 2010.
BETHESDA, Md. -- Shortly after Tim Finchem announced that the PGA Tour was standing by its decision to implement the USGA's condition of competition on grooves starting Jan. 1, 2010, there was plenty of talk about the groove move on the range at the AT&T National at Congressional CC in Bethesda, Md.
"I think it's great," said tournament host Tiger Woods. "We've had plenty of time to make our adjustments. We've known for over a couple years now what this decision was going to be, when it was going to come down, and we've had plenty of time to make our adjustments. All the companies have been testing and getting ready for this, and the guys will make the changes."
A big part of that change is getting some of the new clubs to hit. Although Ping stated Monday that its preference was not to have the condition of competition implemented at all, it has clubs at the ready for its players.
"They will have clubs with the new grooves here for us to hit tomorrow, so I'm excited to hit those," said tour veteran Ted Purdy who has played Ping his entire career and said he has never hit anything but square grooves. "I'm sure there will be some adjustments to make with the golf ball, some more spin to have better distance control. But hopefully we'll get acclimated pretty quick. We've only got six months."
Six months may not sound like a long time, but according to John Mallinger, it is more than enough. "I would say a solid month," Mallinger said when asked how long he thought he would need to get comfortable with the new grooves. "Maybe six weeks. It will definitely be taking up a lot of my off-season. It's going to make the game different, but I don't mind it. You're going to have to hit the ball straighter now, but this is our job, so we need to work on it. I've asked for some of the new wedges. I'm going to start getting prepared as of right now."
What players can expect are noticeable differences out of the rough and on certain shots around the green, said Tom Pernice, Jr. "It's not so much the depth of the groove that's going to alter shots but the rounded edge radius," said Pernice. "That will make it not only harder to grab the ball out of rough, but will make the low, spinning shot much harder to execute."
Harder is perfectly fine with Woods. "It'll be interesting seeing guys catching flyers and not being able to spin the ball back out of the rough," said the man who hit the ball out of the rough and spun it back on the 72nd hole of last year's U.S. Open at Torrey Pines, setting up his tying birdie. "Their decision is how they play par 5s and whether they will try and drive drivable par 4s now. Short-siding yourself is obviously going to [extract] a little more of a price, and you know, how many more 64-degree wedges are you going to see with the balls being as firm as they are. Are guys going to start going to a spinier ball?"
Purdy, however, isn't quite as enthused at the prospect of the game being more difficult. "The game is hard as it is, to make it harder doesn't make a lot of sense to me," he said. "I think people want to see excitement. We'll evolve and we'll be fine and there will be great scores and great shots being hit. But I don't think this was the will of the majority of the players."
Perhaps not, but in making the announcement, Finchem said the tour's policy board discussed the matter, but did not vote on it. Last week at the Travelers Championship, Zach Johnson conceded that was a possibility, saying, "It's a condition of competition rule and should we even be voting on it? We don't vote on other conditions of competition." That left the decision to Finchem, who opted to move ahead as planned (although he left open the door regarding the possibility of not implementing the condition of competition in Monday and Wednesday tournament qualifiers and suggested the USGA might consider that as well). Count Scott Verplank, who spoke at last week's Travelers Championship, among those giving the move a thumbs up.
"I think the intention is to bring back a lot of the skills that were really important -- ball control, trajectory control, distance control," said Verplank. "Those things have kind of gone out the window with drivers that you can swing as hard as you can and grooves that let you spin it out of the rough. Kids are coming out now that can't necessarily play all the shots. That's the thing that makes Tiger so good. He still plays with clubs that are old style, and he can hit all the shots. He can change his trajectory and do all that. That's one reason why he's so darn good."
That he is. And Woods says he may already have a head start on some of his peers when it comes to adapting to the new groove rule as well. "I think it'll be an advantage to the guys who play spin golf balls already," said Woods. "Guys who play a harder ball are going to have to make a bigger adjustment to the grooves and there are few guys who play a softer ball. I do play a pretty soft ball, and I'll have to make less of an adjustment than most."
For the rest of the tour, those words may pack more clout than those uttered by Finchem earlier in the day.