News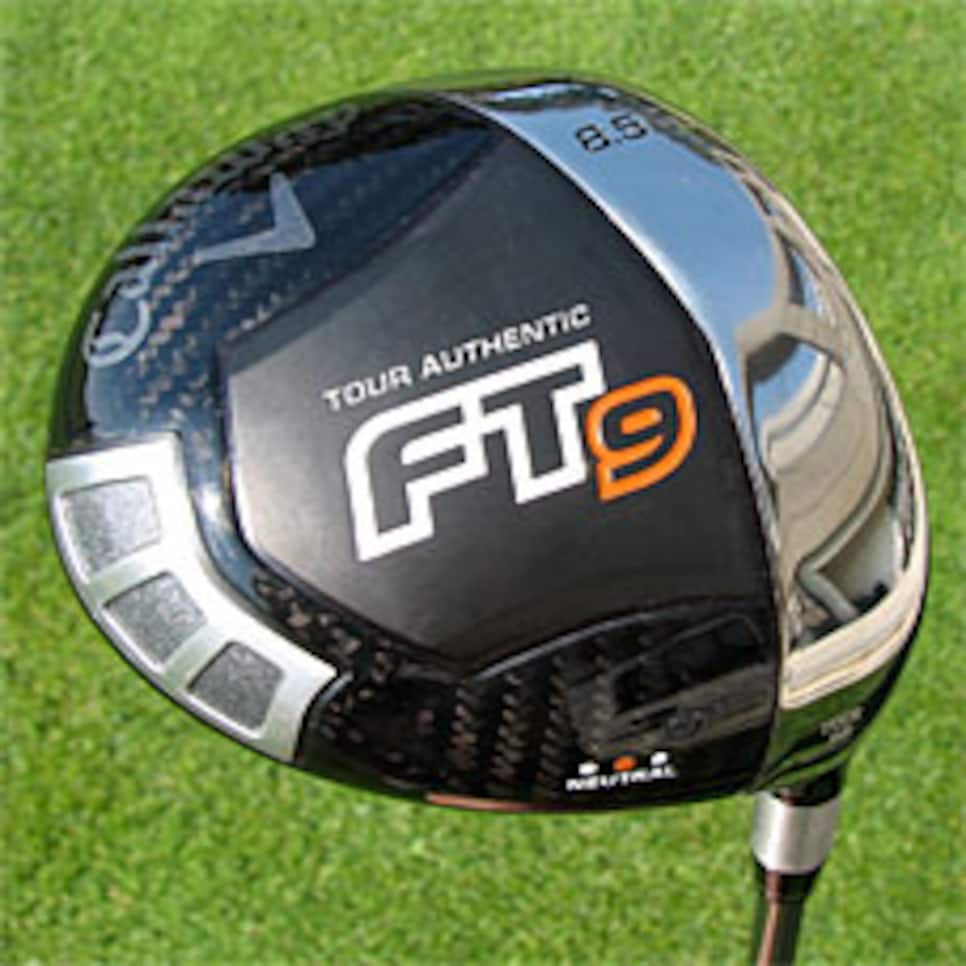 Callaway FT-9 Tour Authentic: Callaway's first driver with a hosel. Phil Mickelson uses a similar version of the club.
As tour pros prepare for the grooves rollback that will take place next year, they've been going backward in another area all on their own: putter size.
Five years ago mega-size mallet putters were bordering on a trend despite being described as branding irons or science-fair projects gone hideously wrong. Still, the super-sized flat sticks looked that way for a reason: The extra weight in the back and alignment features were designed to create a better roll and more forgiveness on off-center strikes. Who cared if they looked like they could tenderize a steak?
Turned out, a lot of players.
In 2004, on any given week, more than 20 tour pros wielded one of the big boys, including stars such as Phil Mickelson (Scotty Cameron by Titleist Futura) and Vijay Singh (Never Compromise Voodoo and MacGregor's Bobby Grace 6.4). Now, it's down to a couple per week at most and in some events none at all.
That's not to say all mallets have fallen by the wayside—they haven't. It's just that most are now a manageable size. Styles such as the Odyssey 2-Ball remain popular. But the behemoths, such as the Ping Doc 17 (which at 6.7 inches wide had a face width more than double that of the 2-Ball) have become almost nonexistent as companies design more compact models.
The reason? Most tour pros simply can't stand to look at something that big, particularly on greens that are very fast. Although its true many of the putters with larger heads provide a benefit in terms of stability, that doesn't matter much if a player doesn't have confidence when looking down at it.
That stability benefit, or moment of inertia, was part of the explanation for the explosion of large mallets. In short, putts struck off-center result in the head twisting slightly, thereby imparting a sideways spin and consuming some of the energy that would otherwise be transferred to the ball, resulting in putts that come up short and off line. Most extra-large mallets have additional weight in the heel and toe to help offset that shortcoming. But players eventually found they got enough stability in the smaller mallets. In fact, at the Presidents Cup only one player, Kenny Perry, used a mallet (Ping G2i Craz-E) that could be considered on the big side.
Although pros have backed off on size, they haven't gone as far as Jesper Parnevik did at the 2003 WGC-NEC Invitational, where the Swede used Never Compromise's Stubby (a putter with a face a mere 1.78 inches wide, just slightly more than the 1.68-inch circumference of a golf ball). Then again, Parnevik's rash remedy resulted in a lowly T-71 finish.
Which proves there is such a thing as taking things too far.
As reported in the Oct. 5 issue of Golf World, Justin Leonard changed drivers for the Presidents Cup, using a 10.5-degree Nike Machspeed. Calling the club, "my secret weapon," Leonard says he has gained about 10 yards off the tee. With a deeper center of gravity than Leonard's previous Nike driver, the Machspeed provides a higher launch and more carry. That's important for Leonard, who has a relatively low launch angle, ranking 147th out of 192 players in that statistic in 2009.
An intriguing aspect of foursomes play at the Presidents Cup is players sometimes using a different ball than the one they are accustomed to. At Harding Park only three of the 11 U.S. pairs in the two foursomes sessions comprised players who use the same models (Stewart Cink-Lucas Glover and Zach Johnson-Kenny Perry twice). But Johnson and Perry still needed to adjust. Although each plays Titleist's Pro V1x, Perry uses the 2005 version while Johnson uses the slightly different 2007 model.