News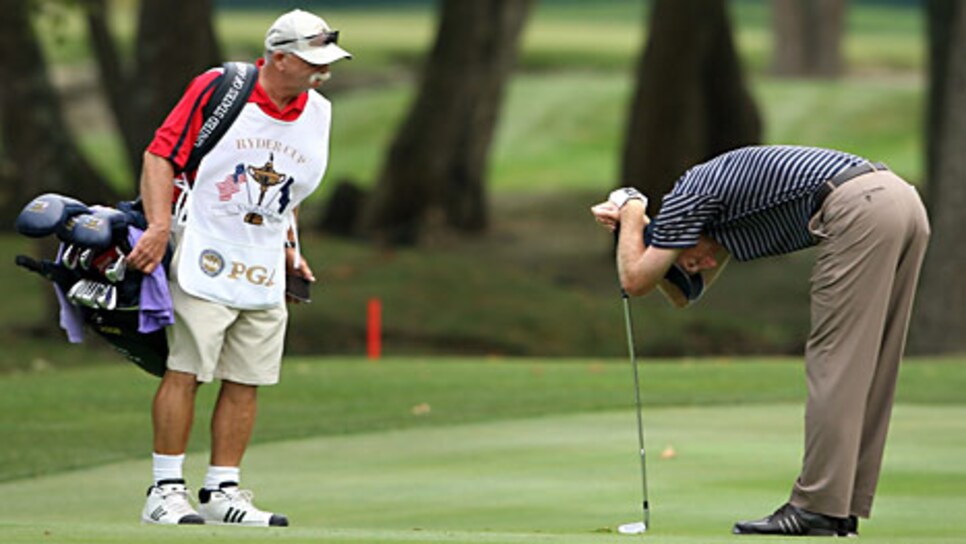 Furyk refused to heap blame his longtime caddie Fluff Cowan, unlike Ian Woosnam back in 2001 with his caddie Myles Byrne.
BOMB & GOUGE'S FIVE CHOICES FOR A 15TH CLUB • 1. Alternate Bounce Wedge: BOMB: What was Jim Furyk's 15th club? A 60-degree wedge with a different bounce from his gamer to combat the wet conditions. A great idea -- just not when you're only allowed 14 bats. GOUGE: A low bounce wedge works on tight lies, a high bounce wedge might help on fluffy lies. I don't know about you but I get plenty of different lies on the golf course. And the desert. And the forest. And the parking lot. • 2. Draw Driver: GOUGE: Need a confidence boost? I know I wish I could step to any tee box and be completely confident that I wasn't going to miss it right. BOMB: No argument here. My index right now is 2.6 thanks to going to a draw-biased driver. Knowing one half of the golf course is out of play is as comforting as a 15-handicap partner who can hit any green in regulation. • 3. Higher lofted wedge: BOMB: I don't know of many everyday players who like to hit less than a full shot. Add one at least 2 degrees more than your current highest-lofted wedge and swing away. GOUGE: You say you've got enough skill to open up the face and hit a flop shot? Sure you do, shankopotamus. • 4. Second putter: GOUGE: If you haven't played a round where you've wanted to toss your putter in the lake but didn't because you needed something to finish the round with, here's your chance. BOMB: Anyone for one mallet and one blade? • 5. Chipper: BOMB: It will make you feel filthier than not showering in a week, but trust me, I've used these suckers and it's almost like cheating. GOUGE: Shut. Up. If you can't nudge the ball onto the green with one of your other clubs, why not just throw it up there? If chippers are part of the game, throws might as well be, too. I'd rather see you go with one of these. Literally.
Tom Watson once said, "There is no surer or more painful way to learn a rule than to be penalized once for breaking it." At the Barclays, Jim Furyk learned exactly what Watson was talking about.
After missing the green with his tee shot on the par-3 second hole at Liberty National GC during the third round, Furyk reached for his 60-degree wedge and came to a startling revelation: He had two of them to choose from.
Having a pair of 60-degree wedges was not part of a unique set makeup. Rather Furyk, who often practices with one 60-degree and uses another in competition to help keep the grooves fresh on his gamer, had an extra stick in the bag -- a violation of Rule 4-4, an infraction that comes with a two-shot penalty for each hole the player has an extra club in the bag, with a maximum penalty of four strokes. That turned pars on the first and second holes into double bogeys (in match play the match is adjusted one hole for each hole the player has an extra club with a maximum of two holes -- in other words, if you are 1 down after two holes and discover you have 15 clubs, you would then be 3 down after only two holes).
When interviewed afterwards, Furyk failed to place the blame solely on veteran caddie Mike "Fluff" Cowan, saying that although it was a "embarrassing, bonehead thing to do," the responsibility to make sure there are no more than 14 bats in the bag is the players' responsibility as much as the caddie.
Ian Woosnam didn't have nearly the same reaction during the final round of the 2001 British Open at Royal Lytham and St. Annes. A stroke off the lead after 54 holes, Woosnam nailed his tee shot on the par-3 first hole to within inches, the birdie tying him for the lead -- at least until he got to the second tee.
There his caddie, Myles Byrne, said words no player wants to hear. "You're going to go ballistic," Byrne told Woosnam after discovering there were two drivers in the bag, resulting in 15 clubs and a two-shot penalty. Byrne's words were prophetic, too. Woosnam grabbed the extra driver and fired it at a tree, muttering, "You've got one job to do and that's to count the clubs."
The one time Johnny Miller got caught with an extra club, he really couldn't blame his caddie. Or even himself. The offending club was his son's cut-down putter that was so short that it was hidden beneath the top of the bag. Still, there was no break for the short club. Miller was hit with an extra four shots.
Phil Mickelson is another who exceeded the club limit unknowingly. During a collegiate tournament Lefty had his normal 14 clubs but, a teammate unwittingly put his putter in Mickelson's bag, leading to a penalty once discovered.
The rule limiting the number of clubs to 14 was put in place in 1938 by the USGA (the R&A adopted it a year later) after numerous golfers employed the practice of using 20 or more clubs during tournament play. Lawson Little, in fact, was renowned for carrying 25 clubs or more on a regular basis. So what happens after a player discovers he has a 15th club in the bag? According to John Morrisett, the USGA's director for the Rules of Golf, under Rule 4-4c when a player realizes that he has started his round with 15 clubs, he is required to declare one of them out of play (although he does not have to remove it from the bag) and not use that club for the rest of that round. In other words, a player cannot decide that it is worthwhile to accept a four-stroke penalty in order to play with more than 14 clubs.
As for Furyk, he went on to play admirably and shoot 71. Still, the four strokes resulted in a difference of $131,250 and 188 FedEx points. A painful way to learn a rule indeed.