News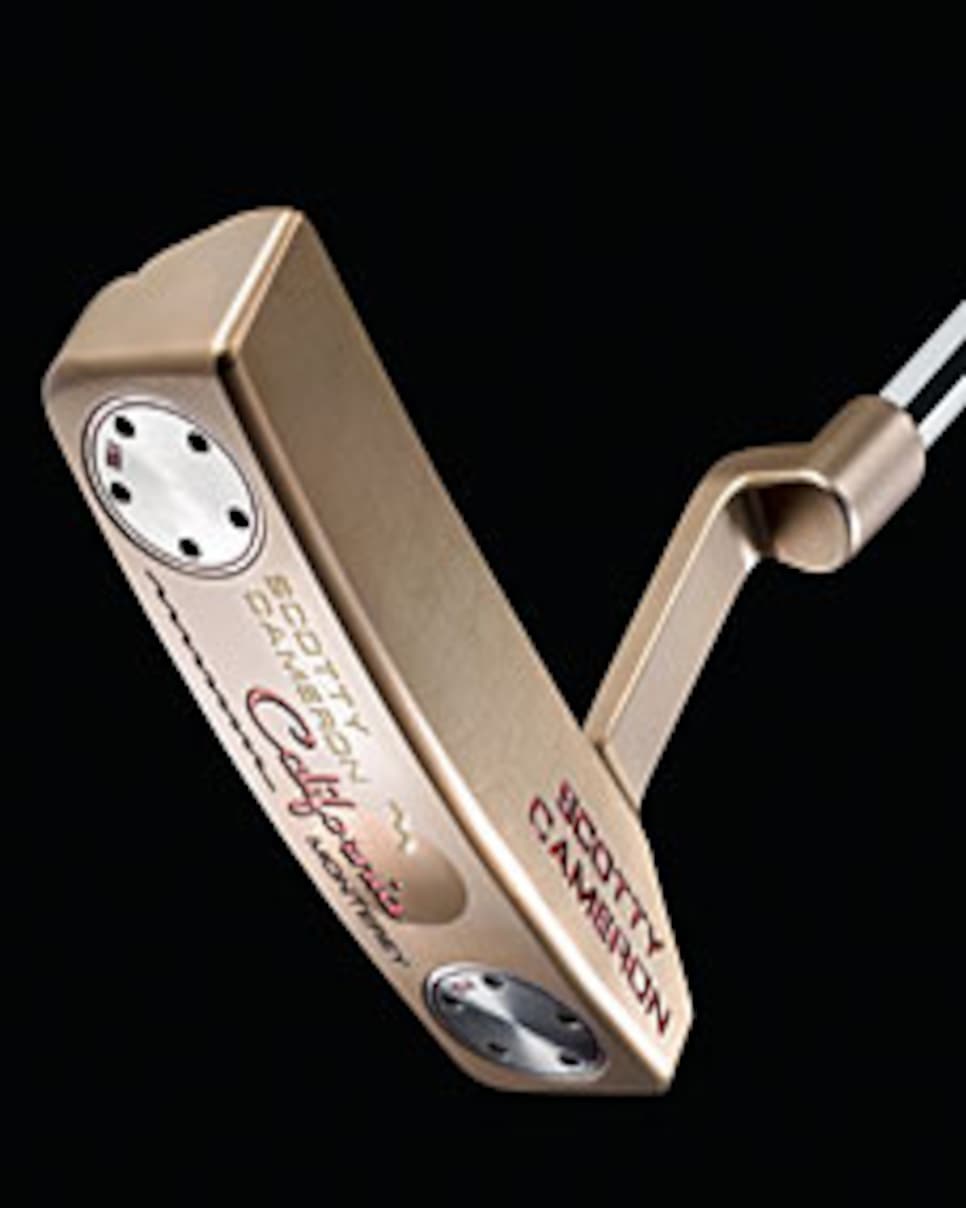 Scotty Cameron By Titleist California series: Cameron has four new models on tour (Monterey, shown) with a new bronze-colored finish created by a special heating process.
With high-tech materials and engineering worthy of NASA, the creation of golf equipment has become more science than art. What that equipment does to the human brain, however, is nothing short of a psychology paper waiting to happen.
At the Wyndham Championship, Bill Haas used a new set of Titleist's 710 CB forged irons. His reason for the change? "If somebody sends me a pretty good looking set of new irons, I'm going to use them," he rationalized. "These are a little shinier. I wanted to use them."
Shinier? That would seem an odd reason for a man who has made 11 cuts in 23 starts on the PGA Tour this year. However, Haas' justification for his equipment change really isn't that unusual among those who play for pay, because just as there is a psychology to the swing and competition, there is a psychology to equipment as well.
Much like a kid who is sure he runs faster in new sneakers, Haas is just one example of a golfer whose brain was stimulated by something new in the bag. But that, said noted sport psychologist Dr. Bob Rotella, is just a small part of the psychology of equipment.
Why do players swing a little harder with a large-headed driver? Because to the mind's eye, big-headed drivers make the club appear shorter and therefore more controllable. Ditto for shafts that have one color on the bottom half and another on the top. "Mentally speaking, both of those are very appealing," said Rotella.
Debbie Crews, an LPGA member with a Ph.D. in psychology, once conducted a study of 10 female professionals, specifically targeting the newness effect. Crews found that brain activity went up in 26 of 32 different measures when one of her subjects was given a new putter. In short, the player's brain got excited when given a new toy to play with.
That may have helped Bo Van Pelt earn his first PGA Tour win in 229 starts at last month's U.S. Bank Championship. Mired in a slump, Van Pelt changed putters, going from a belly putter back to a conventional-length T.P. Mills model. His explanation? "I just felt like I needed to make a change," he said.
When it comes to equipment mind games, sometimes change can be a very good thing.
Most pros play with the latest technology, but not Mike Reid. The Jeld-Wen winner, who joked easily about his aged sticks, uses Hogan Apex Forged irons that are nearly 20 years old. Reid also wields older model TaylorMade fairway woods, including a Burner Raylor 5-wood. But there's little chance Reid will have to do without that model anytime soon. He had TaylorMade build him seven copies of the club a few years back.
Ball news: Although Titleist continues to dominate golf ball usage on tour, Srixon has become the third most played ball on the PGA Tour over the past month while TaylorMade had six players using its new Penta TP ball at the Wyndham Championship, including Sergio Garcia and Justin Rose, who finished fourth and T-5, respectively. ... Not having an equipment contract allowed Wyndham champ Ryan Moore to go back to his old Ping S59 irons at Greensboro, where he ranked T-8 for the week in greens in regulation.