News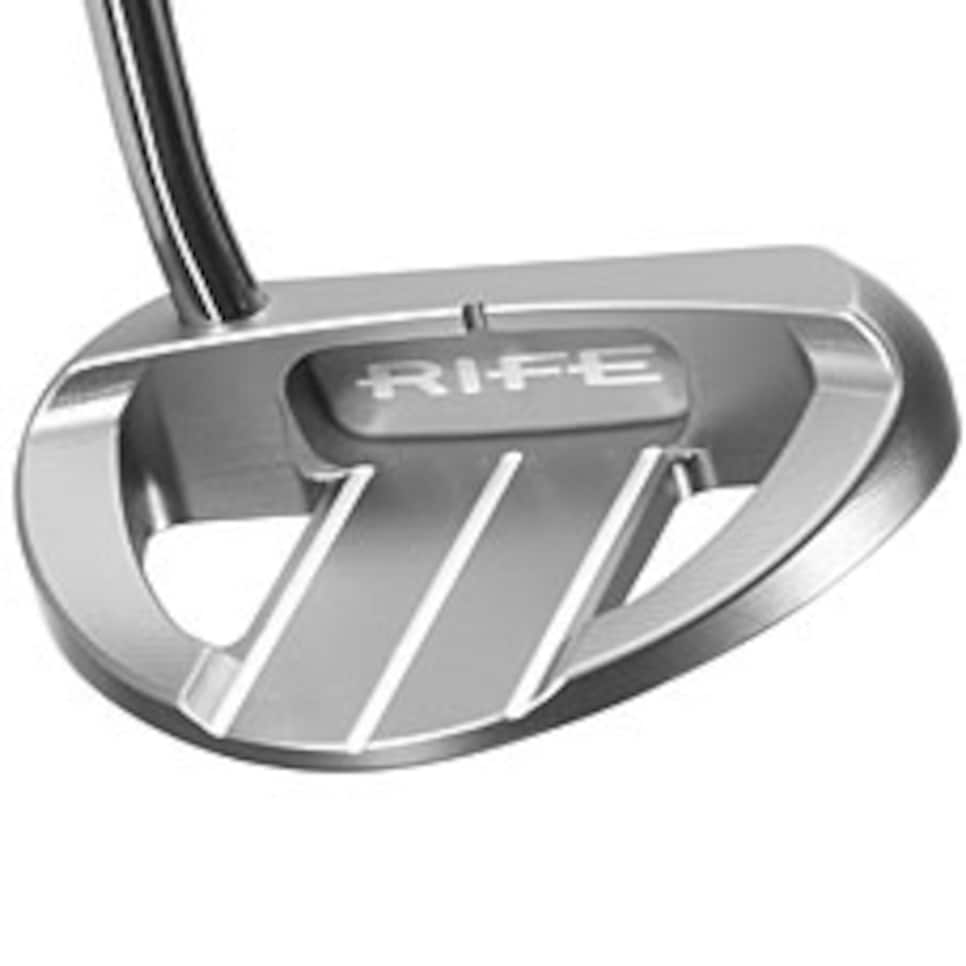 guering rife barbados: Fred Funk used this mallet with a three-line center alignment aid to win the U.S. Senior Open at Crooked Stick
The USGA's recent proposal to "further clarify" its condition of competition on grooves came with a succinct but powerful message to equipment manufacturers attempting to design their way around the groove rule: In essence: Stop, now.
Perhaps the most ominous wording came in a couple of simple sentences: "Manufacturers are reminded of the intent of the new groove regulations as stated in the February 27, 2007 Notice to Manufacturers: The objective of this change is to limit the effectiveness of grooves on shots from the rough to the effect of a traditional V-groove design."
But what does that mean? Let's say a pro hits a 90-yard shot out of the rough with a current wedge and generates 10,000 rpm of spin and that spin would be reduced to 5,000 or 6,000 with the proposed 2010 groove. Then along comes a wedge design that incorporates a groove that conforms to the new USGA standard, but produces 7,000 to 8,000 rpm of spin from the same condition. The USGA most likely will not deem such a club conforming, although it meets the technical threshold.
"We are trying to make it crystal clear that the rule was intended to return the grooves' effectiveness on shots from the rough to that of traditional V-grooves," said Dick Rugge, senior technical director of the USGA. "If we chose to look the other way, we wouldn't be upholding our responsibility."
But while Rugge sees it as upholding the USGA's responsibility, some manufacturers view it as something entirely else.
"It's like moving the goal line just as someone is about to score a touchdown," said Michele Szynal, spokeswoman for Callaway Golf, who added the company had product ready to show its tour players. "It's our job to maximize golf club performance within the written rules. That's pretty tough to do when the rules change monthly."
"It's like the adjustability rule," said Benoit Vincent, chief technical officer for TaylorMade. "The USGA said submit your adjustability, and we will tell you if it's OK. That's not a rule. That's submit your stuff and if we see something we don't like we will rule even further."
Not that the USGA argues Vincent's point. Rugge said "You can't always be predictive of what someone might come up with," and admitted, "We've seen some sophisticated designs in the patent literature, and these [designs] are not what we had in mind." One of those patents may have been # 2009/014316, application 6A1, filed Sept. 25, 2008, by Bridgestone Sports, a design that included shoulder notches added to each side of the groove at angles of less than 60 degrees. According to the patent, that angle would increase spin while adhering to the 2010 guidelines for groove spacing and "cross-sectional area." The change the USGA has proposed "would disallow features such as bends, indentations in or protrusions from the [groove] wall."
So given that, will there be another significant innovation in groove design in the history of golf? Vincent thinks there still is room. "There is no way to regulate life with rules," he said. "They want to slow down innovation. I give them that. But to stop it entirely is a fantasy. It is impossible."
And then he added about the ruling bodies, "You can be as mad as you want at them, [but] they always win."
Mizuno has brought some prototype irons to the PGA Tour. Among those testing the new players' irons was Brian Gay at the Buick Open. A two-time winner in 2009, Gay tried out a model that features a multimaterial dual muscle design.
Competing in a U.S. Senior Open is tough, but it's particularly difficult when you've had to reload your bag as Peter Jacobsen did after the 3M Championship in July. Said Jake: "My good friends at Delta must have parked their airplane on my bag. When I got home from Minnesota, all my clubs were broken. Literally, the bag was crushed. Only a couple of wedges were OK. Along with my new body parts, I have some new clubs. Actually some new clubs and old clubs. I'm using an old set of irons, an old putter and an Adams driver and 3-wood. I've spent a lot of the week hitting drivers and testing clubs. So that's been interesting." Jake missed the cut. ... A new putter had Vaughn Taylor rolling at the Buick Open. He changed to a TaylorMade Rossa Daytona blade and finished T-8, ranking T-12 in putting. How did he decide on the Daytona? "I had a handful of putters in the bag on Tuesday," he said. "I used a different one every hole and when I got to that one, I made two 30-footers and I went to the next hole, same thing, next hole, same thing. So ... it was a no-brainer." ... Titleist rolled out the second iteration of its AP irons to its tour staff at Flint, with Tom Pernice Jr. among those putting the AP2 model in play. The AP2 boasts better turf interaction in the short irons by reducing bounce one degree.