News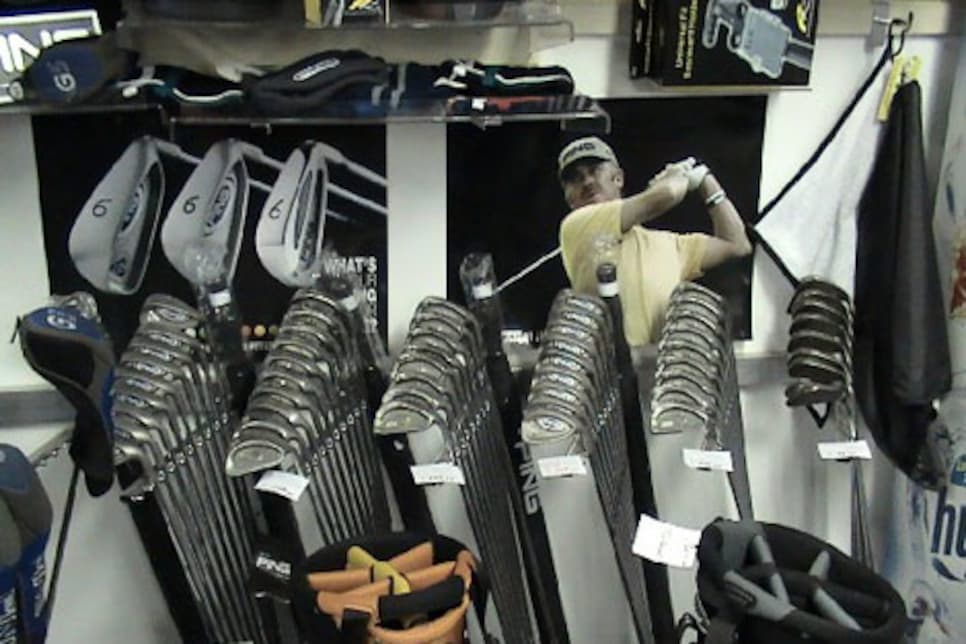 Golf manufacturers are all scrambling to slash prices in an effort to entice buyers.
A week ago Callaway Golf, the largest publicly traded company deriving its earnings exclusively from golf business, announced that its first quarter earnings would likely fall well below Wall Street estimates.
This should be taken as good news.
For golf consumers, that is.
The challenging economy has left golf companies scrambling, prompting an unprecedented opportunity for golfers looking to upgrade their gear. Looking at research provided by golf marketplace tracker Golf Datatech, the average selling price of a metal wood today is dramatically less than it was in 2005. Back then, the average driver selling price was $280.91, but today that number is 25 percent lower at $210.60. Certainly, those numbers are fueled by the ramp up in driver innovations and product lifecycles that seem to have been cut in half. The economy hasn't helped, of course.
It's a trend Callaway's President and CEO George Fellows acknowledged in a statement last week. "Global economic conditions have proven to be more severe than initially anticipated," he said. "These conditions have resulted in a more aggressive pricing environment in the United States and some international markets and a continued shift by consumers to lower price point products, which have also adversely affected the Company's gross margins."
The first quarter has seen a rush of deals and discounts that are enticing on two important fronts. First, the prices are remarkable, ranging from one-dollar or free fairway wood with driver purchase offers in recent weeks to giveaways of shoes and one-third and one-half off close-out specials on drivers barely a year old. More importantly, however, those deals aren't for retreads, knockoffs or failed designs. Rather, with more clubs available today that can be neatly custom tuned to your specific needs (and in some cases adjusted to suit your mood on a daily basis), there has never been a situation in the game's history where so much technology has become so readily available at such prices.
"I don't remember a time when the consumer has been in a better position to procure golf or the tools you use to play it," says Leigh Bader, a golf retail veteran for nearly 30 years and the visionary with partner Joe Ricci behind Joe & Leigh's Discount Pro Shop and Pine Oaks Golf Course, as well as the online retail outlet 3balls.com. "The recent conversation in things like the Hot List has been about how good all the new stuff is. Well, now you can buy all those things at great deals.
"We were talking internally just this morning that there are so many deals it's getting hard to communicate them all to the customer. It sounds kind of funny, but we've legitimately had these conversations for the last two weeks."
A shopping list of current deals includes the following:
Callaway is offering a matching fairway wood for $1 with every purchase of a new Big Bertha Diablo, FT-9 or FT-iQ driver. All three drivers were Gold selections in the 2009 Hot List. Callaway also will deal a free X-Forged wedge with the purchase of the new X-22, X-22 Tour or X-Forged iron set.
TaylorMade is enticing sales of its current Burner and r7 Limited drivers, both of which earned Hot List Gold designations in 2009, with a free pair of golf shoes.
The Adams Speedline driver, also a 2009 Hot List Gold selection, also comes with a buy one, get a free fairway wood promotion.
A $500 purchase of Cleveland Golf products will get you two round trip airline tickets.
Nike not only has cut the price of last year's SQ Sumo 2 5900 driver in half, it will throw in a matching SQ fairway wood, too.
Tour Edge and its sister brand Exotics are each offering free fairway woods or free putters with the purchase of a new driver.
Several companies have dramatically reduced irons that were introduced in the last year, while others have reissued older irons at prices 30 or 40 percent less than similarly constructed new models of irons. Examples include Ping's G5 irons, which are available for less than $400 or about more than a third the cost of the current G10 irons. Also, there's Callaway's X-18R irons, issued in the marketplace earlier this year at a price of $400. Though slightly altered and less technologically sophisticated than the original X-18, the design essentially competes directly with the company's new X-22 iron, which retails for $700.
While these sorts of deals aren't revolutionary in the golf industry, they generally are the kinds of offerings that come at the end of a product cycle, not at the beginning. Moreover, these deals exacerbate a trend in reduced pricing for all equipment over the last four years. While there still are relatively big-ticket driver introductions, the overall driver market has seen a dramatic split. Gone are the days where nearly every company fought at the $300 price point. While there still are a few reaching toward $400 and a huge collection of recent product lined up at $200 and below. None of these deals may be particularly cost-effective for manufacturers or retailers, for that matter. But they can be game-changers for consumers.
"For the consumer it has never been a better time to buy equipment," says Susan Roll, owner of the Carlsbad (Calif.) Golf Center located just down the street from the headquarters of golf's leading manufacturers including Callaway and TaylorMade. "The deals are flying right now. We hope it will draw more people into buying this spring."
But Roll, a past recipient of the LPGA's National Professional of the Year and a two-time honoree as merchandiser of the year by the PGA's Southern California section, admits the deals could cause problems down the road. "This program just took thousands of golfers out of the fairway wood market for the next 3-5 years."
Bader, who helped establish the PGA.com trade-in network for used clubs, said one drawback to such incredible price reductions is how it causes problems in the secondary market. He suggested the promotions are not all that different from offering a free Toyota with the purchase of every Lexus. Eventually, that's going to affect the resale and trade-in value of all those Toyotas. Of course, that also makes for a boon for the used club market.
For example, a used set of the TaylorMade r7 irons, the model that nearly won the Masters in the hands of Kenny Perry can be bought for about $300, according to the PGA.com Value Guide.
Dale Robbins, owner of Dale's Winning Edge in Knoxville, Tenn., a Golf World Top 100 shop for 13 years, says the discount crazy season will be great for consumers, but speaks to an industry that's ultimately lost focus.
"The consumer benefits in large part because he's getting better products, better fitting and cheap prices," Robbins said, but he expressed concern for his retail brethren, who often find themselves swamped with merchandise that they have to net down or close out, meaning less net cash in their cash registers. He said manufacturers probably will be able to move product now, but maybe not later.
"They bring back this old product and they have conditioned the consumer that the new price on drivers is $199.99," Robbins said. "They are conditioning the consumer that this is the going price, and it will be extremely hard to get them to move back to the way it was."
Especially when the consumer can pick up the weekly circular from Dick's Sporting Goods and see four drivers that are barely a year old for less than $200, three of them for less than $150. The strategy for golf companies is to perhaps grow marketshare with these aggressive pricing tactics.
According to Callaway's Fellows, "Despite these economic headwinds, the strength of our 2009 products, together with several retail initiatives we put in place early in the year, has enabled us to gain market share around the world in almost all product categories."
Call them retail initiatives, market share gains or just plain deals and discounts, there's little doubt the consumer wins.