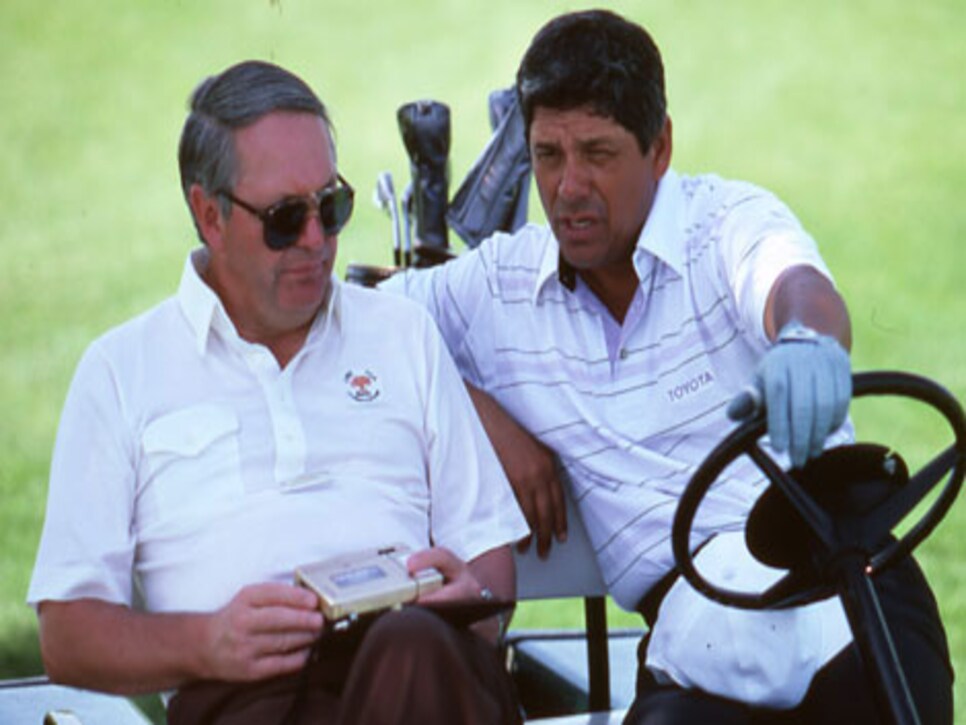 In his tenure at Golf Digest that stretched from 1974 to 1997, Dwayne Netland, pictured here with Lee Trevino, profiled many of the greats of the game.
Some people in golf are remembered primarily for their body of work (Ben Hogan), others for their persona (Moe Norman). Dwayne Netland, the former Golf Digest senior editor who passed away peacefully on June 30 at age 77, is distinctive on both counts. "Netty" authored scores of memorable feature stories for Golf Digest from 1974 to 1997 and also wrote or co-wrote several popular books. His best-selling Confessions of a Hooker, a collaboration with Bob Hope, is one of the classic golf books of all time. He was a prolific writer and skilled interviewer with a knack for tackling difficult, controversial topics, including the infamous episode in which LPGA Tour star Jane Blalock was accused of cheating (a charge for which she was exonerated), and the thorny but compelling story of LPGA Tour players expressing jealousy of Nancy Lopez. Netty wrote engaging pieces on Tom Weiskopf and Greg Norman, and was adept at profiling clubs such as Oakland Hills.
But it was Netland's way of going that made him a widely known and recognizable fixture in golf. With his plaid sport coats, clip-on sunglasses and omnipresent pipe a frontispiece for his ingratiating personality, Netty was unmistakable as he strode across practice ranges and hotel lobbies. Visually he prompted curiosity and drew people to him, and once they spoke with him, Netty had a friend and source forever. He had hundreds of friends on the three major tours, and was well known even in unexpected quadrants. Peter Andrews, one of Netland's Golf Digest contemporaries, once drew an assignment to rural England. Checking into a small and obscure inn, the woman at the front desk said, "I see you're with Golf Digest. Do you know Dwayne Netland?"
Netland was rife with eccentricities, some more endearing than others. At dinner he was a terror to the wait staffs, habitually sending the servers back for additional napkins until a stack of them sat next to his plate. He used only one. He was a famously cheap tipper who once left nothing for the exhausted server when the meal was done. When his guest cited the apparent error, Netty claimed he had overtipped the night before -- at a different restaurant. On the golf course Netty was a charming but maddening playing companion, sometimes walking off the course with several holes left to play, leaving his fellows in the lurch. His explanation: His beloved pug, Andy, was expecting dinner, and he just couldn't be late feeding him. Netty was demanding in a nice sort of way, once calling home just before a morning tee time to tell his lovely wife, Joanne, that he'd forgotten to bring along his tuna sandwich and would she mind driving it out to the course? Joanne knew that the path of least resistance was to deliver the sandwich, and at the turn there she was, brown bag in hand. How these traits could become terms of endearment is a mystery, but endearing they were.
On the truly virtuous side, Netland was an excellent golf and traveling companion who knew of every good deal and shortcut. He could get anything he wanted from an airline ticket agent or hotel concierge with a magical word or two, and he glided through all of society's roadblocks with an officious nod and wave. At the 1986 U.S. Open at Shinnecock Hills, where the nearest media parking lot was a mile from the course, he sat in the passenger seat while steering this writer (who was driving the rental car) past one security checkpoint after another. We wound up 50 feet from the front door of the clubhouse. He was good to younger colleagues and liked nothing better than inviting groups of them up to his room, where he told gossipy tales over a bottle of scotch while a rerun of his favorite film, "Drums Along the Mohawk" blared on the TV in the background.
But if Netland was known as an eccentric character, he will be remembered foremost as a gifted writer. He deftly handled the travel sections of Golf Digest for years, and his major championship preview sections are magazine set pieces. His stories on Payne Stewart and Lee Trevino ought to be reprinted, for Netty had a way of writing in which his work, though timely, also stood up when re-read years later. Golf Digest periodically releases a "best of" book with signature pieces, and Netty's stories invariably are at the center of every one.
After Netty retired from Golf Digest in 1997, he moved to Arizona, where as a lark he contributed to publications put out by the Arizona State Golf Association. He enjoyed the craft he was good at almost to the end. It's sad that Netty's gone, and the golf community rues his passing.