News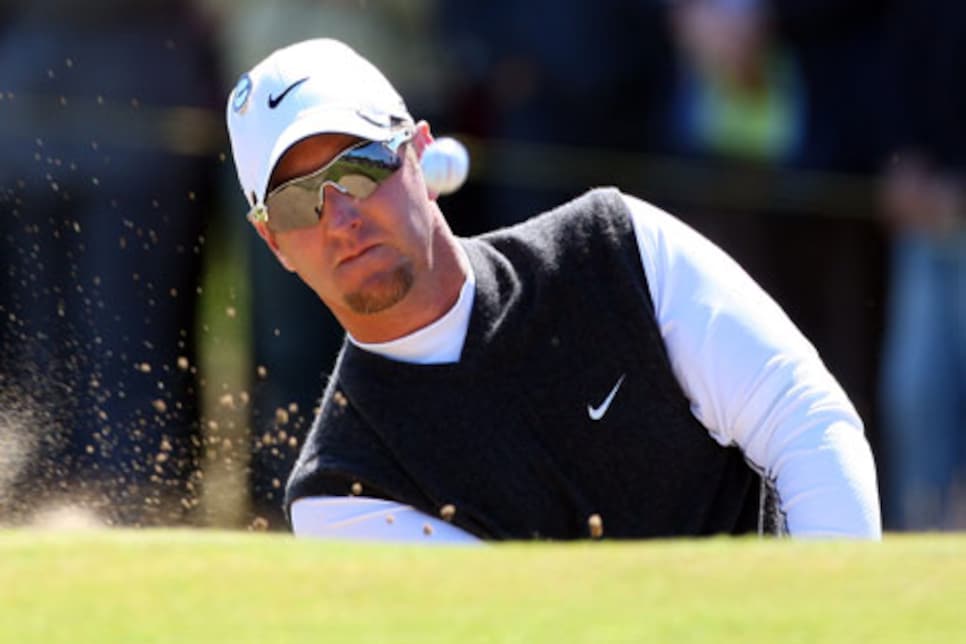 With little success to speak of in recent years, why does David Duval keep at it? "It's what I do," he said.
To end his first round in the Arnold Palmer Invitational at Bay Hill last month, David Duval pumped his tee shot so far left out of bounds that the ball cleared a cart path, a row of trees and a couple of maintenance sheds. He had no visible reaction, but with those sunglasses as big and black as a total eclipse, who could tell? Duval hit another ball, picked up his tee, swallowed his double bogey and moved on.
He's been doing that a lot lately.
"Really bad shot," Duval said later.
Are there better shots coming? Despite the cold, hard numbers that suggest otherwise, Duval still believes so.
At 37, the former world No. 1 continues to persist through a slump that has covered most of the last decade. He has kept the faith, in himself and in his game, and that ought to be a step in the right direction for someone who has seemed so lost.
Which comes first, success or confidence? They are so married, you know. You have to have a little of both. That's all I'm lacking.'
And now, with the 10th anniversary of Duval's landmark victory at The Players coming right up, the 854th-ranked player in the world has a short announcement to make: He plans to be back on track, in bounds and over all those problems.
"I expect to," he said. "People kind of identify with struggles, you know, especially if you keep fighting and keep trying."
With nearly $17 million in career earnings on the PGA Tour, it's not as though Duval needs the work, or a bailout check. He remains part of the Nike Golf entourage, a head-to-toe endorsee, from cap to shoes as well as every club in his bag.
But even if Duval insists he's close, he is far removed from his still impressive highlight reel.
He shot a 59 and eagled the last hole to win the Bob Hope, but that's not what makes him feel the most proud.
He won the British Open, but he says that isn't his greatest achievement.
He won nine times in one 16-month span, more than anyone, even anybody named Tiger, but that's not the moment to which he points.
Actually, Duval counts his best day as that windy Sunday 10 years ago at The Players, when he outlasted the field on a fast and tricky TPC Sawgrass and won it . . . with the highest winning score ever on the Stadium Course.
"It was brutal," he said. "The highest score by a winner, I'm pretty proud of that. Just to get around and control the golf ball on a course playing like that was pretty cool."
Why wouldn't being ranked No. 1 have meant the same thing to Duval?
On March 28, 1999, the day he won the Players, Duval assumed the No. 1 ranking. He celebrated it by winning the next week at Atlanta. Then he said he wasn't all that comfortable with being No. 1, a characteristically honest Duval comment that some questioned immediately. So add it all up, and you've got the chain of events that led to Duval being equally known in competing roles: Top Player and Reluctant Superstar.
Hidden behind those standoffish, trademark wraparound shades, Duval has always been a complex character, rife with contradictions.
He played a game full of sizzle and snap and fizz and then stuffed a cork in it with a personality so understated that it was hard to hear.
When Duval said he had read Ayn Rand's "The Fountainhead" he earned a reputation as an intellectual. It's a tag that is sometimes haphazardly applied in sports, as if someone is an intellectual and a thinker if he can spell the word library. But it fit Duval.
He was tireless in signing autographs for fans and was easily approachable, even though he didn't appear that way.
Blame part of it on his open uneasiness with being No. 1. Even now, he doesn't understand what the big deal was.
"A little bit of psychobabble," he said. "I don't know what comfort means, you know. Roughly a year before that, people said I should have been No. 1. Why wasn't I ranked No. 1? Then I won a tournament and the next day I got up and I was No. 1.
"I don't know what else I did different other than doing what I had been doing for a year-and-a-half. And so something I never understood . . . I told people and I don't think they appreciated it for some reason . . . but I said, 'I don't understand why I wake up today and I'm No. 1 and now I'm supposed to have all the answers. I don't have any different answers than I had yesterday. You liked it then, but now I don't have the right answers.' I'm like, well, I'm not comfortable with that, I guess. I don't get it."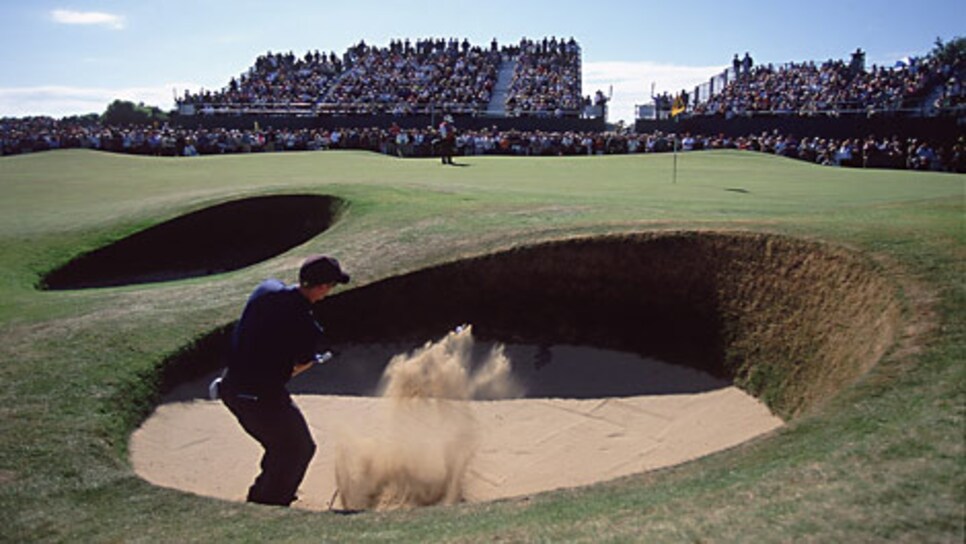 His reign at No. 1 lasted 14 weeks. His slide to No. 854 has taken a lot longer.
In 2000, Duval was sidelined for 10 weeks because of back problems, but won the Buick Challenge. In 2001, he injured his wrist early in the year, but won his only major, the British Open, by three shots at Royal Lytham.
He fell from 80th to 200th on the PGA Tour money list in 2003; took a seven-month break in 2004; made one cut in 2005; battled his swing and his back problems in 2006 when he had three top 25s.
To play in 2007, Duval used his top-25 all-time money exemption, but played just seven PGA Tour events because he was at the side of his wife, Susie, who was bedridden with a difficult pregnancy.
Last year, Duval played under a major medical extension exemption, but missed 15 cuts in 20 events and finished outside of the PGA Tour's top 125 on the money list for the sixth straight year.
I said, 'I don't understand why I wake up today and I'm No. 1 and now I'm supposed to have all the answers. I don't have any different answers than I had yesterday.' '
This year, Duval is using his top-50 all-time money exemption, and so far, he doesn't have a lot to show for it except a positive attitude. Coming into the Quail Hollow Championship Duval has made two cuts in nine events with only a tie for 55th at Pebble and a tie for 59th at Riviera on the correct side of the ledger.
He ranks last in driving accuracy (out of 190 players) and he's 187th in greens in regulation.
Still, all is not lost with Duval. He ranks 17th on the tour in putting with a 1.732 average. And according to one of his supporters, Tiger Woods, there is still a way out.
"He just needs to post some numbers, get some positive results, and boost his confidence level," Woods said. "That's really it. It sounds so simple. Get the ball on the fairway, get the ball on the green, make the putt. Then do it again. I'm thinking he can do it."
David Toms has battled injury and winless seasons since his breakout victory at the 2001 PGA Championship, so he feels a bond with Duval.
"His attitude is pretty good," Toms said. "He's not out here hanging his head. What he needs isn't necessarily a good round, just start with a good nine holes. It might be as simple as that. But I will say it would be great for the tour to have him back in the mix."
For his part, Duval isn't looking like someone who wants to give up. But he is clearly someone who has problems finding tournaments to play. His status doesn't get him into every event he'd like. Compounding his playing problems is the fact that even though he has won 13 times on the PGA Tour, most of his opportunities to enter those tournaments are gone --either because the events no longer exist in their current form (Kingsmill, Chrysler Tucson, World Series of Golf, Atlanta, Buick Challenge), or there is no status for past champions (Kapalua, Tour Championship and The Players).
The Players? No, Duval won't be on hand to relive his victory of a decade ago.
"Looking back, it's gone fast. I may not have felt so a couple of years ago, but just the way things have changed for me, it's hard to believe. My back gets tight, but I'm fine. Every now and again, something hurts, but nothing like it did.
"When I was really hurt, then I got the point where I got to see myself on film and realized what the injuries had done to my golf swing. I saw it, I said 'That's just awful, you can't play swinging like that.' So then I knew I had a lot of work or I had to stop. I'm not much of a quitter, so I decided to work."
In the meantime, Duval changed his body type back to what it was when in 1999 when he shot 59 at the Hope and won four times before the Masters, including the Players. He's stocky again, after finding out that slim wasn't really him.
"I'm probably more comfortable with getting older, being who you are. I feel like I'm actually pretty fit right now. I mean, I'm just a big guy. I certainly don't have time to spend in the gym like I used to. I got married. I have children. I'm not free all day, you know. I've got things to do."
Susie and the children -- Deano, Nick, Shalene, Brayden and Sienna Violet -- are Duval's support team, but he's got others, including his dad, Bob, and also a new friend, novelist Michael Craven, who lives in Boulder, Colo., not far from the Duval home in Denver.
In fact, Duval just finished Craven's new book, "Body Copy," a crime thriller in the Elmore Leonard vein. He's also recently read the mystery ''The Girl With The Dragon Tattoo" by Swedish journalist Stieg Larson and "The Mystic Arts of Erasing All Signs of Death," a thriller by Charlie Huston.
What can you judge from a cover? If Duval were writing his own book about what's in store, it surely would be a mystery thriller.
[Ljava.lang.String;@13982295
"Which comes first, success or confidence?" he said. "They are so married, you know. You have to have a little of both. That's all I'm lacking. I need to play. I can hit balls until I'm blue in the face, but I'm swinging the golf club real well, I know what I want to do.
"When I was hot, I expected to win golf tournaments, and you hope some of those weeks are the big weeks. I had a few. I was as confident as anything else. I look back and I struggle to think of a bad shot I hit, ever, in any round of golf, even when I shot a 76. My point is the confidence part. You hit a couple of bad ones, you don't think much about it. Whereas when you're down and you're struggling and you hit some bad ones, that's what you think about."
Duval said he isn't exactly thinking about winning right now because that's too far ahead. And besides, for the next week or so and during the Players, it's going to be more about the past anyway. It isn't something he dwells on, but it is something he's more than willing to discuss. The past is part of him and always will be, just as Duval knows what happens next is going to be written right beside it.
Duval's attitude and the level of his willingness to work may be at even a higher level than when he was playing at his best, which is a typical Duval trait. Give them the unexpected. Now, after all the missed cuts, all the injuries, the time he was forced to spend away from the game, the worry and the questions about whether his career is over, Duval still isn't ready to give up.