News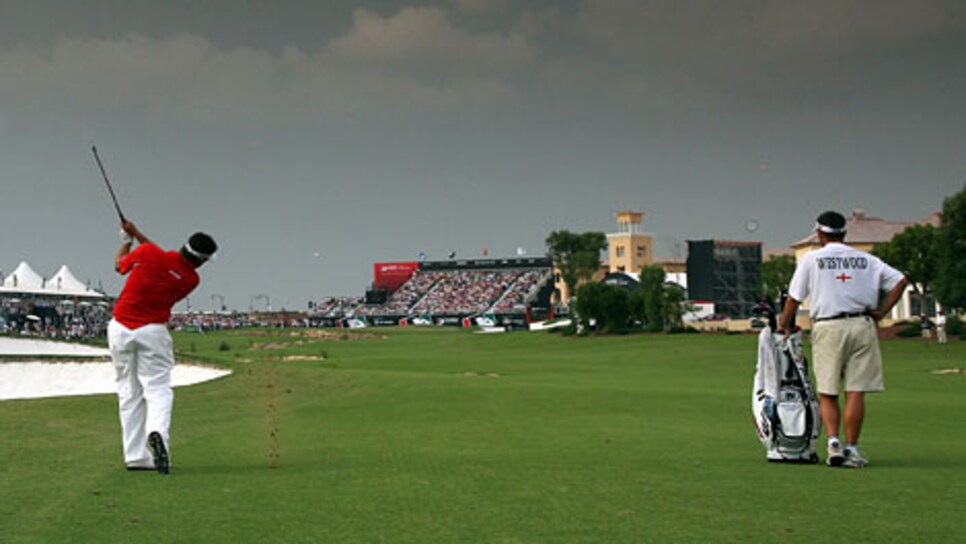 Westwood took some early week advice from caddie Billy Foster and finished strong with a 64 on Sunday for a six-shot victory. With his runner-up finish, Ross McGowan raised his chances for making the European Ryder Cup team next year.
"How close did all of this come to total disaster?"
His brow momentarily furrowed, George O'Grady considered the dire implications of the question, blew out his cheeks, shuddered slightly and slowly shook his head. "No one will ever know how hard it has been for us to get to even this stage," sighed the European Tour executive director.
"This stage," after months of doubt over the immediate and long-term future of the Dubai World Championship, the Race to Dubai and the financial stability of the tour itself, turned out to be an event held on what even the designer calls "a resort course," one that opened for play only three days before the elite 58-man field teed off in the European Tour's season-ending big-money climax. It turned out to be a tournament played before an economically ravaged backdrop of unfinished homes, long-stationary cranes and a fenced-off clubhouse that is but an empty shell of its proposed opulent self. And it turned out to be -- amazingly enough -- one of the most absorbing events in the seemingly never-ending European Tour season.
Yup, times may be tough and houses might be empty in this United Arab Emirate, but the combination of blind stubbornness on the part of O'Grady and his staff and a star-studded leader board -- highlighted by the overwhelmingly brilliant play of Lee Westwood -- more than made up for the obvious hardships being endured outside the ropes.
Indeed, that the man now fourth on the World Ranking should triumph amid such desolation is very appropriate. Nine years since his previous incarnation as European No. 1 and a mere four months removed from crushing disappointment at the British Open -- he three-putted the 72nd green to miss the Stewart Cink-Tom Watson playoff -- Westwood has returned from whence he came, emerging from a slump earlier in this decade that threatened to end a career that now boasts 20 European Tour victories.
"I can't remember the lowest point. I've tried to block all that out," Westwood revealed. "But I do recall leaving a tournament after shooting two rounds in the 80s. I played a lot of events back then with low expectations."
Those dark days are long gone though. Closing with an eight-under-par 64 -- the low round of the week -- over the Greg Norman-designed Earth course (companion courses Wind and Water are on hold), the 36-year-old Englishman was 23 under par in clinching both the tournament and top spot on what most still refer to as the "Order of Merit." For his troubles -- of which there were few amid a totally dominating performance that contained but two dropped shots -- Europe's new No. 1 earned a check for €830,675 and a bonus of $1.5 million from the Race to Dubai pool. Not what they once were (both prize funds were reduced by 25 percent from their original heights), but winnings of €4,237,762 represent a good season's work for the lad from Worksop in the English Midlands.
Certainly, all that cash hasn't affected his sense of humor.
"I feel a bit like I beat the rest into submission," Westwood said. "The secret was that there wasn't a secret. So the real secret was making everybody else think I had a secret, when I didn't have one at all.
"Actually, the big turnaround in my confidence came from bumping into [caddie] Billy [Foster] at the beach party on Tuesday evening. He had consumed just enough Heineken that he felt able to tell me what he really thinks. And I hadn't had enough that I couldn't understand what he was telling me.
"He told me I was paying too much attention to the players around me, and that I was looking at boards way too much," said Westwood. "So I needed to start playing the way I know I can. That way, the others would be the ones worrying about me."
It would be fair to say, however, that despite his extraordinary level of play over all four days, Westwood did not have things completely his own way. Not at first anyway. Two shots ahead of eventual runner-up (and now likely Ryder Cupper) Ross McGowan and five clear of his only remaining challenger on the money list, Rory McIlroy, as Sunday's action began, Westwood needed to play almost as well as he did to hold off a dogged chasing pack.
Taking advantage of generally benign conditions and generous hole locations, the leading 11 players were a collective 49 under par for a final round that fairly sizzled with admittedly cheap birdies. It was McGowan who claimed second place (six shots behind Westwood) ahead of, among others, McIlroy, former U.S. Open champion Geoff Ogilvy, three-time major champion Padraig Harrington and former Players champions Adam Scott and Sergio Garcia. Evidence indeed that even in these hard-pressed times the European Tour can put on a bit of a show with name players to the fore.
Of those, the man with the most to feel disappointed about was McIlroy. The young Irishman arrived in the Gulf atop the Race to Dubai, finished third by himself -- yet lost comfortably. He will no doubt learn, too, from the unthinking comment he made ("It will be nice not to play with him tomorrow") after playing with Westwood -- and apparently being intimidated by him -- in the first round.
"That was obviously a massive feather in my cap," said the eventual champion. "I wouldn't have said it. But he'll know better next time. The mind games you play are as important as the pressure you put on people on the course."
Still, McIlroy was a sporting loser. "I gave it my best shot," sighed the PGA Tour's newest member. "I feel as if I've played well over the four days, but Lee has been unbelievable. All credit goes to him. He's played great over the last two seasons, and he deserves all the success he has had today."
That he does. And somewhere, after all that, George O'Grady had to be smiling. With relief.