News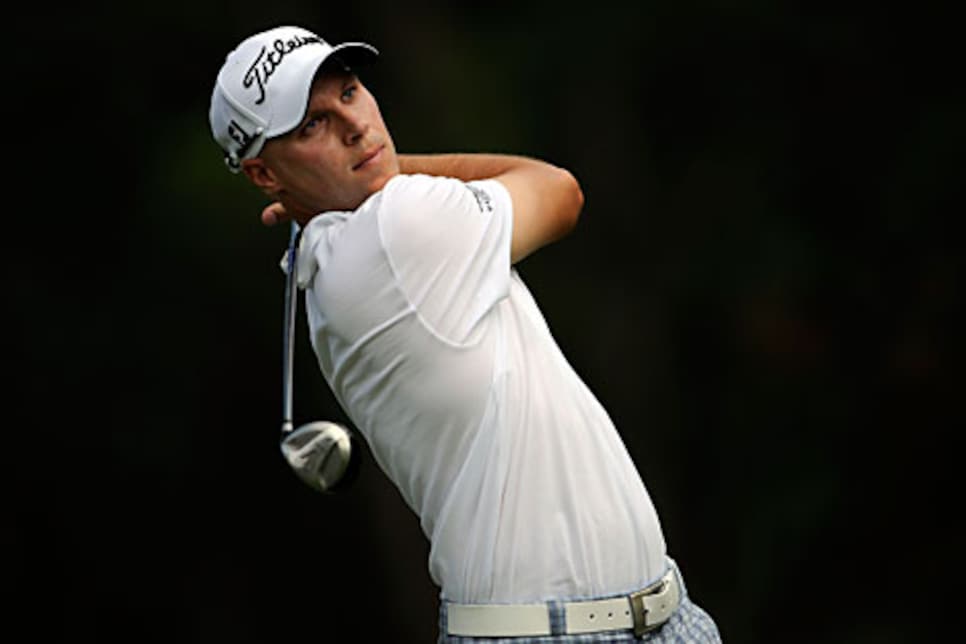 Ben Crane hit his tee ball on the 9th hole Thursday 298 yards. With a 3-wood.
The logic heading into the week at the Players was pretty clear: Keep the ball in the fairway, even if it meant throttling back. With conditions primed to be fast and firm, if you're not in the fairway, the theory goes, you're not going to be able to attack the greens at Pete Dye's Stadium Course at the TPC Sawgrass.
But throttling back is not what Dye had in mind when he conceived the course. A good golf course, according to Dye, tests the longest club in the bag, the driver.
"If you tighten the rough, it takes the driver out of their hand, and I always felt, higher handicap or lower handicap, the driver is the most fun club," Dye said in an interview a few years back. "I always felt that the professionals, if you could keep that driver in their hand, they're going to finally get in trouble."
Maybe Dye's right, because the sad news from Thursday's first round in Ponte Vedra Beach's torture stadium is that a golf course that doesn't require frequent use of the driver is more of a pushover than a substitute teacher on a Friday afternoon. And there didn't appear to be a lot of getting in trouble around the grounds of the declawed Stadium Course.
Of course, the problem might be more fundamental than that. The fact is, unless the wind blows, the Stadium Course barely requires a driver anymore. That's right, we said it. The PGA Tour's flagship event is played on a venue where many (if not most) of the driving holes can be played without the stick Dye says is likely to get them in the most trouble -- at least by many above-average-length tour players. Even with the expansion and renovation in 2007 that lengthened the course to 7,215 yards, so many holes still can be fairway wood or even long iron tee shots. Let's look at some numbers from Thursday:
Of the 14 driving holes, six of them ended the day Thursday with "driving" distance averages that suggested a considerable number of players pegged it with a fairway wood or iron instead of the big-headed club. Let's explain: For those who don't know, the statistic called "driving distance average" is computed on two holes where the overwhelming majority of players would be expected to hit driver. On Thursday at the Players, the driving distance average was 285 yards. However, the driving distance average on 12 of the 14 driving holes (10 par 4s, four par 5s) was below that number.
Confused? Think of it this way: It could be fairly surmised that a significant percentage of the tee shots on many of the par 4s and some of the par 5s at TPC Sawgrass weren't hit with the driver. Indeed, half of the par fours were averaging tee shot distances that were 5-18 yards below the average driving distance on tour this season of 284.4 yards. Again, plenty of 3-woods can be played. Even the par-5 second hole was averaging only 275 yards for tee shots, a yardage that is lower than the year-end driving distance average on tour of any year this century.
"There are a lot of holes where it can end up hurting you," said Johnson Wagner, one of a commune of players who finished the day 3-under. Wagner said he hit driver on only eight of the 14 driving holes. "If you want to be aggressive you can hit driver all day, but you really have to control your ball here. It negates power if it's wild power."
And the 3-wood, of course, is not wild power. Well, maybe. Modern club technology might disagree with Wagner's assessment. There is little doubt that most drivers in use even by tour players today have much more forgiveness than 3-woods. They are more stable on off-center hits due to an increased moment of inertia, and they launch shots generally with less spin than 3-woods, which makes them potentially curve less than a typical 3-wood.
Still, what 3-woods really provide over drivers, however, is less length. And on many holes at TPC Sawgrass, more length can be more trouble than it's worth. A perfect example is Tiger Woods' play at the 523-yard, par-5 16th: "I hit a 3-wood around a corner, hit a 7-iron in there to about three feet and made it." Even the course description on PGATour.com suggests 3-wood is often the choice half of the 14 driving holes:
No. 1: "more often than not a 3-wood."
No. 2: "If it' s playing firm and fast, it's mostly a 3-wood with a draw…"
No. 6: "It's tight, just a long iron off the tee
No. 10: "You want to hit the ball about 280 off the tee. Sometimes, you don't need a driver to do that."
No. 12: "I've seen anything from a 2-iron to a driver hit off that tee."
No. 15: "For big hitters, it's a 3-wood."
No. 16: "It's 3- wood to driver…"
Routinely, of course, the 18th hole also is often a 3-wood these days for those contending for the title.
So where does this dearth of drivers leave us in assessing the PGA Tour's crown jewel? It is hard to laud the course as a championship test when 78 players shoot par or better, and when a Bob Hope Classic-like seven under is leading after the first round.
Maybe that's unfair. No one complained about the strength of the challenge of Hoylake when Woods won the British Open by hitting his driver only once the entire week. But that sort of strategy is clearly not the preference of the Hall of Fame architect whose signature work is on display this week. Dye told Golf Digest in 2002, "I wish Tiger Woods could be forced to hit his driver 14 times a round. The distance he gets with his 2-iron is impressive, but the risk of a bad shot is cut in half. There's so little suspense to it."
The Stadium Course at TPC Sawgrass may not require the trouble-causing driver all day long anymore, but maybe that's not a knock. While its architect Pete Dye may have said the driver is the source of trouble that tests the best players in the world, what he really may have been getting at was challenging a shorter part of their games -- namely the space between their ears.