News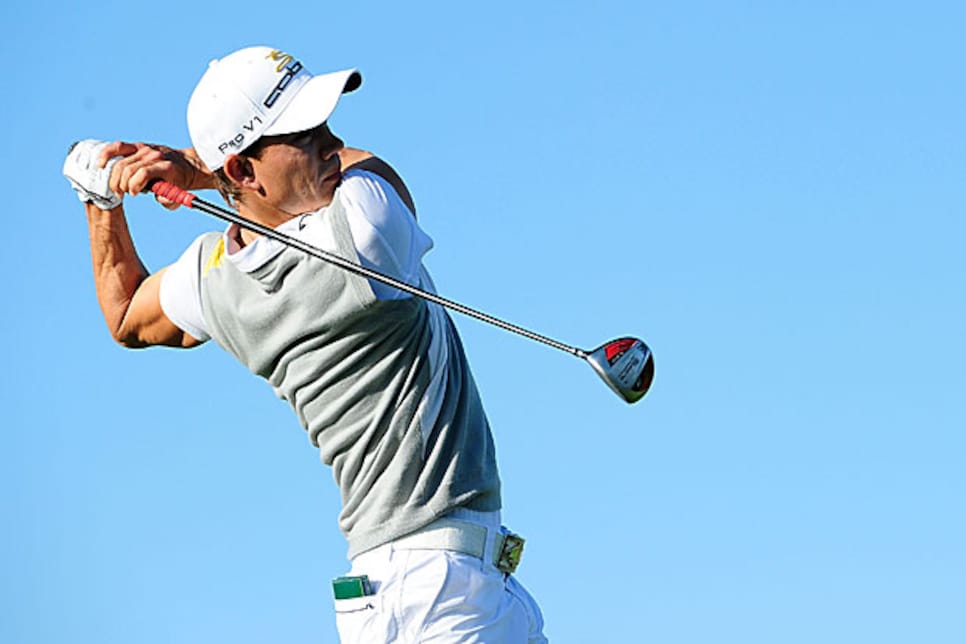 All three of Camilo Villegas' wins have come when Tiger Woods has been inactive.
MIAMI -- There is every reason to be happy with the final leader board at last week's Honda Classic. Camilo Villegas, who won in a cakewalk on Sunday at PGA National, runner-up Anthony Kim and top-five finishers Justin Rose and Paul Casey all embody the promise of the future. In the case of Villegas and Kim, they are young stars growing into their competitive spikes. Rose and Casey, on the other hand, are experienced players of promise who should just be entering their peak years. But isn't there something about this road that feels all too familiar?
As we swing into this week's CA Championship at the Doral Resort, the second World Golf Championship event of the year and a significant landmark on the way to next month's Masters, let me give you some names, listed alphabetically: Aaron Baddeley, Casey, Luke Donald, Sergio Garcia, Charles Howell III, Rose and Adam Scott. All are between the ages of 29 and 32; possess significant skill and have extremely solid fundamental swings.
So with that kind of collective talent, what odds do you think you could have gotten back in the early days of this century if you had predicted that, going into the 2010 season, those seven players would have a combined 0-for-203 record in the major championships? And who would have guessed that their overall success would be modest at best -- a combined 20 wins in 1,248 PGA Tour starts, 13 of those by Garcia and Scott?
The lesson learned is that promise and potential do not always equal performance, that the complex formula for success has as much to do with the psychological as it does the physical. And a strong case could be argued that among the things those seven talented players with the 0-fer in the majors have in common is that they had the misfortune of coming along when Tiger Woods was at the peak of his powers.
Certainly, when you look at Villegas, Kim and other young talents like Rickie Fowler, Rory McIlroy and Ryo Ishikawa, one of the advantages that they have over Garcia, Scott, Howell and the boys is that their psyche has not been buried beneath a decade of Woods-inflicted scar tissue. Simply put, Villegas and Kim have not spent the last decade getting slapped silly by Woods, especially in the major championships, 14 of which he has left with the championship trophy.
But here is the danger in getting too excited about Villegas and Kim. Both of the young bombers won two times in 2008 when Woods was on the shelf with a bum knee. And the victory last week by Villegas came with Woods still on his indefinite leave from competitive golf.
But Woods is going to come back. He told us as much during his Feb. 19 apology. And the hints have been flying fast and furiously that his return will be sooner rather than later, probably before the Masters -- with the Arnold Palmer Invitational, played in his hometown, and the Tavistock Cup, played on his home course the Monday and Tuesday of the Palmer, making the most sense.

Certainly, the return of Woods will be one of the biggest sports stories in recent memory. Anyone who says they know how he will perform when he gets back into competition isn't dealing in reality. Woods has experienced a severe psychological trauma and we will only know how he emerges from that trauma when he reappears. And that's why his first few events back will be among the most closely covered sports stories in history.
That's just the Woods component to the equation. On the other side of the equal sign is his competition. Phil Mickelson, Ernie Els, Padraig Harrington and Vijay Singh have the most majors among those in the Woods era -- each with three, well behind Tiger's 14. Will they be revitalized by what could be the most impactful realization of this entire mess -- that Woods is, after all, human?
And then there are those underachievers -- that gang of seven with the 0-fer in the majors. Will this help them clear the psychological barriers that have prevented them from capturing a major championship?
But of greatest interest -- and perhaps those with the most at stake when Woods returns -- is this newest wave of young talent. Villegas and Kim can be victorious when Woods is on the sidelines. Can they win with him in the field? They haven't proven that. And what about McIlroy. Fowler and Ishikawa? Will these young guns be able to claim the coming years as their own?
Will they be able to escape the damage Woods inflicted on the generation of that came before them? That, in part, depends on which Woods returns. Will he be the guy, who at the age of 34, has already staked a claim to the title of best ever? Or will he be the guy who has had four surgeries on his left knee, for the first time in his career missed some crucial putts last season and then ended the year embroiled in the most difficult marital situation imaginable?
There is nothing about the Woods side of the equation anyone except Woods can control. Villegas, Kim and their young running mates need to keep this swing thought in mind: We can't control what happens to us, but we can control how we react to what happens to us.
No matter which Woods returns, can the young guns keep their focus on what it takes to win? Can they prove they can win when Woods is in the field? Can they prove they can win major championships? Or will they merely join the list of names of top players who have gone 0-for-the-Woods-era in the majors?
Sure makes one hell of a storyline for 2010, doesn't it? All of this -- the 10 different winners in the first 10 PGA Tour events of the year, the success of young guns like Villegas -- feels like the overture to the main show. And when the star returns we'll really see who is capable of being a leading man and who steps back into the chorus line -- a line filled with 0-fers.