News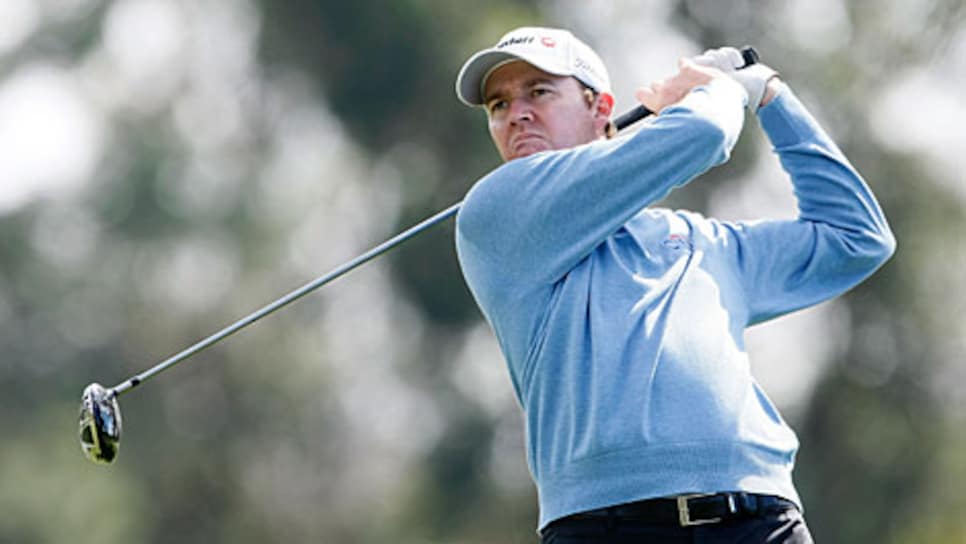 By locking up his tour card, Jimmy Walker can take a vacation instead of head to Q school.
LAKE BUENA VISTA, Fla., -- Jimmy Walker wanted one more look at the computer. Hat on backward, as if he needed one more rally, Walker came back into the locker room at Walt Disney World late Sunday afternoon and double-checked the numbers, just to be sure he was safe. In his position, you can never feel secure.
Beer in his hand, Walker and caddie Andy Sanders had just toasted their victory over Q school in the final round of the Children's Miracle Network Classic. But after loading the car and before heading back to San Antonio, Walker just absolutely had to see that his final-round 69 had secured his place at No. 125 on the money list, the last player to gain fully exempt status for next season.
"It's all kind of a blur, man, it really is," he said.
Walker's wife, Erin, couldn't watch. His father, a scratch golfer, couldn't watch, either. But plenty of his friends and family did watch Walker as he double bogeyed 17 and made a par-saving putt on 18 to lock down his card.
"I fired up (my cell phone) and about 1,000 text messages came in," Walker said, embellishing only slightly. "I had to get rid of all of them before I could call my wife. She was at a baby shower. She didn't watch all day. Then I called my parents and my dad couldn't watch. He drove to the coast and back today. I mean, he was a wreck. My mom was sitting there on the computer growing an ulcer; that's why my dad doesn't do it. He's a really good golfer and he knows what it's all about. Moms love you no matter what. But for my wife, it's pretty stressful, particularly in our predicament. We were outside looking in."
Walker, who turns 31 in January, could have added the word "again," to his last sentence. At 25, he met Erin at a Nationwide Tour event in 2004. She was a tournament volunteer, and has watched Jimmy mail off his application to Q school after finishing 207, 202 and 185 on the money list. Back and forth from the big tour to the secondary tour, fighting injuries and insecurities, Walker went from second-youngest Nationwide Tour Player of the Year in history to a perennial visitor to the Fall Classic. Last year's Q school finals were at PGA West, where he finished T-11.
This year they're headed to Mexico for a vacation, and then home for the entire month of December, before heading to Hawaii for the Sony Open in January. Bear Lakes CC in West Palm Beach, site of this year's Q school finals, is not on his itinerary. They can celebrate his birthday on the beach in Hawaii.
"There is a fine line but if you can get on top of it and get over it and get on the downhill I think it gets a lot easier," Walker said. "Man, I hope this the start of the downhill side of the roller coaster. I just hope to ride it out all the way."
There were uphill climbs to get to this point. Walker was No. 153 on the money list going to the Turning Stone Resort Championship. He finished T-5 to get in the game, but somewhere between upstate New York and Las Vegas, caught what was believe to be a case of swine flu. With a sore shoulder, he missed the cut at the Justin Timberlake Shriners Hospital for Children Open. His therapist told him it was the remnants of the virus, causing him to withdraw after an opening-round 75 in the Frys.com Open. When the Viking Classic was washed out, it may have been a blessing. He entered Disney 130th on the money list.
"I've been hurt. I hadn't been able to practice. I've just been trying to rest to feel better," Walker said. "I kept telling myself last tournament actually played was Turning Stone, I finished fifth. That was the last tournament I played where everything was good. I kept trying to draw on that, almost trying to convince myself I was playing good."
Walker kept convincing himself until the 71st hole at Disney, where he misjudged the wind, pulled a driver into a water hazard, took a drop, hit a good shot from under a tree, but three-putted for double bogey -- to put him right on the number.
The 18th on The Mag is a tight driving hole under normal circumstances, but the walls closed on Walker after the double. He managed to squeeze one in play but missed the green. Sanders, his caddie, put it in a positive form. "I just said we need four, let's just get a 4," Sanders said in the parking lot.
Walker's bunker shot was uphill into the grain, then downhill downgrain after the cup. Walker almost holed it, but left himself 5 feet. "It was left center and it was one of the easier 5-6 footers I had all day," Walker said. "I just kept telling myself, 'Stay in your routine, this is not a hard putt.'"
The ball found the cup but Walker had to wait until the grinding was over. He and Nicholas Thompson, who shot 66 on Sunday, moved inside the top-125 bubble, while Robert Garrigus and David Duval moved out.
"I'm really proud of the way I played, especially because I haven't played much," Walker said. "It's pretty cool when you gut it up. I know I've got it in me. I've proven in the past I can really play."
He was an All-America at Baylor, a star on the Nationwide Tour, but now he's back on the inside looking out. "It's nice," he said. "I'm going to play a lot of golf, but there are courses I really don't enjoy going to play. I've never got to have an off-season and set a schedule. When you come off the Nationwide Tour, you're still not at the top of the show. I'm just ready to go home and relax."