News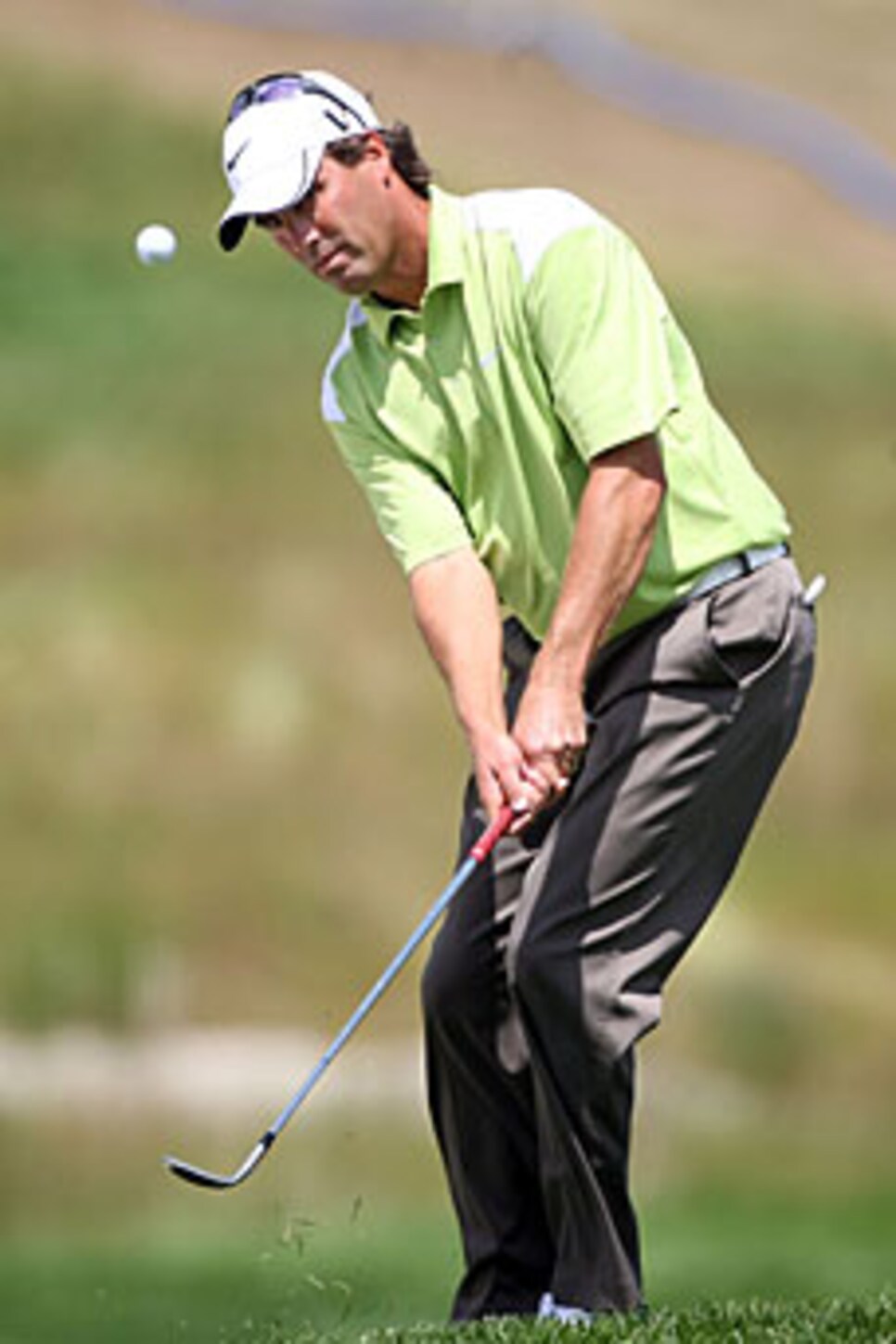 Stephen Ames had never competed in a PGA Tour playoff before Sunday.
LAKE BUENA VISTA, Fla. (AP) -- Stephen Ames won his second title in three years at the Children's Miracle Network Classic on Sunday, edging George McNeill and Justin Leonard in a playoff.
Ames was calm and cool on greens that were too slick for most of the field on a sun-baked day at Disney World. He finished with an 8-under 64 for the clubhouse lead, watching as McNeill (67) and Leonard (67) failed to pass him.
Leonard rimmed out a 16-foot putt for the win in regulation, even beginning to pump his fist in celebration only to watch the ball bounce off. He twice left putts short when he was eliminated on the first playoff hole.
"To be this close and not be able to pull it out is disappointing," Leonard said. "Obviously, I thought I made it by my reaction. I was surprised it didn't go in."
McNeill had a 6-foot putt on the second playoff hole trickle around the rim and pop off to give Ames the win.
There were other rallies that didn't end up on the leaderboard.
Sunday was the last day for players to secure a tour card for next year. Only those who finished the year in the top 125 on the money list are guaranteed full status. The next 25 will at least get conditional status and be able to enter more than a dozen tournaments.
For as much back and forth as there was throughout the week, in the end, there wasn't a lot of movement.
Former world No. 1 David Duval already had lost his full status by missing the cut. Robert Garrigus also missed the cut and was knocked out of full status for next year.
Jimmy Walker and Nicholas Thompson were the only two players to move inside the top 125 after beginning the week outside. Walker finished at No. 125.
"It's tough. You can't do anything," Walker said of watching his status. "You just have to sit back and relax. Not relax, you can't relax. But I did all I could do."
There were plenty others who cut it close.
Rich Beem shot a 68 to finish at 10 under for the tournament. The 2002 PGA Championship winner finished at No. 122 for the season.
He admitted the pressure to perform this weekend got to him in the first two rounds. He talked to his coach Friday night and said that helped him find his swing.
"I must say it was about as odd as I've ever felt thinking about it. I never expected myself to feel the way that I did," Beem said. "When somebody tells you that you can't do your job next year when you know you're so close, that's not such a good feeling."
After turning in his scorecard, Beem stood behind the 18th green watching a monitor with the projected money list. His name flip-flopped twice, and he had to walk away. He later walked into the media center to check the minute-by-minute standings.
"I'm sweating," he said. "But things look good."