News
McNeill Shares Four-way Tie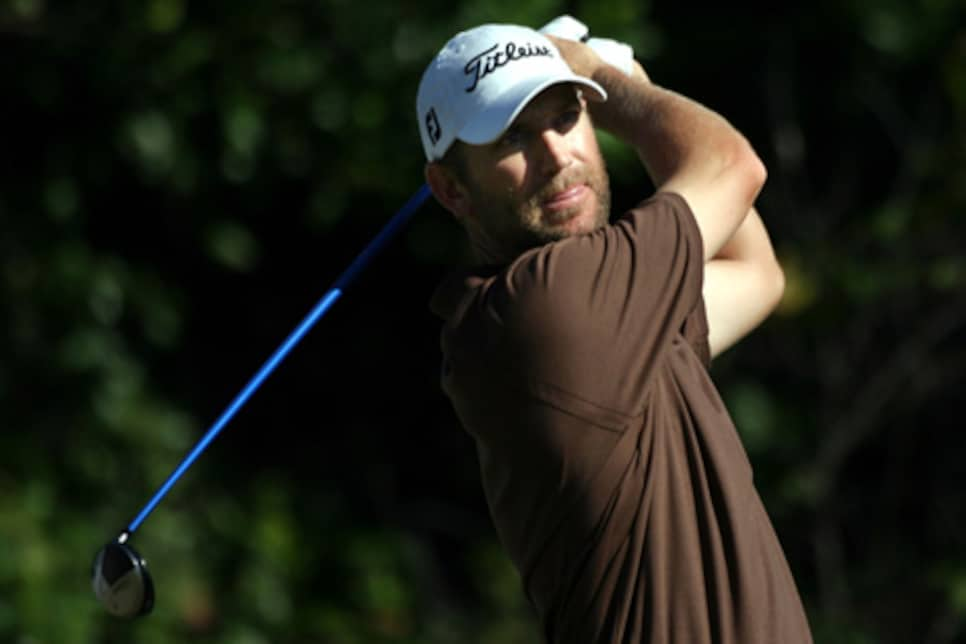 George McNeill closed with a double bogey Saturday for a share of the lead entering the final round, giving hope to others who seemed far out of contention.
LAKE BUENA VISTA, Fla. (AP) -- George McNeill stepped onto the 18th tee with a two-stroke lead, and was surprisingly still feeling good after just making bogey.
That's because everybody else also was struggling, too.
"It was funny. Justin Rose walked up on the tee and he says, 'Man, out of the three guys making 5, I think there's one guy that is actually happy about it,'" McNeill recalled. "I think he was right because Justin Leonard turned around and kind of gave him a look."
That was only the beginning.
McNeill closed with a double bogey Saturday for a share of the lead entering the final round of the Children's Miracle Network Classic, giving hope to others who seemed far out of contention.
McNeill overcame a five-shot deficit and made two eagles on a cool day at Disney World that made greens fast but easy to reach. He shot a 3-under 69 that left him tied with Rose (69), Leonard (71) and Mathias Gronberg (66) at 13 under.
"I felt back in the tournament, and I felt like it was going to be us three guys fighting it out," Rose said. "Then all of a sudden now we're in a tournament where it's a complete logjam."
McNeill kept his poise after two early bogeys. But he gave back three strokes on the final two holes, including a double bogey on the 18th.
McNeill found trouble from the outset.
His first shot of the day hooked past the brush and into the trees, forcing him to take a drop before guiding the ball 20 feet from the hole. McNeill two-putted for bogey but gained six strokes back on six holes later in the round.
None were bigger than when McNeill sank a 34-foot putt for eagle on the 10th and made a 30-footer for another eagle on the 14th.
"I can't remember the last time I made two eagles in a round," said McNeill, who won the 2007 Frys.com Open for his lone tour title. "So I was pretty excited about those."
Then things went sour -- again.
After bogeying on the 17th, McNeill's final drive landed out of play. He took a drop before missing a 10-foot bogey putt to take the lead into the final round.
Leonard, the leader after two rounds, had his troubles as well.
He had a five-shot lead after five holes and seemed as if he were going to run away with the tournament. But one hole did him in. His drive on the 11th sliced way right, bounced off the cart path and splashed into the water. He was able to fade the next shot 30 feet from the pin and two-putted for bogey.
Leonard figures most of the field now has a chance.
"There's three or four or five or eight of us tied," he joked. "Don't really know what to expect Sunday. I think with it bunched up as it is, it's going to take a really good round."
The competition to secure tour cards next year won't be decided until Sunday.
Only those who finish in the top 125 on the money list are guaranteed full status. The next 25 will at least get conditional status and be able to enter more than a dozen tournaments.
Rich Beem was among those in danger. The 2002 PGA Championship winner shot a 68, and he is projected to finish No. 128 on the money list unless he improves in the final round.
Jeff Maggert and Ricky Barnes stayed inside the cut line for full status with solid rounds. Barnes, who tied for a runner-up finish at the U.S. Open, shot a 71 Saturday.
For those at the top, it's a different feeling.
"I think you almost don't want to think that you're leading because I certainly don't see any pressure," Rose said. "I don't feel like I'm leading the tournament because there are so many guys around the lead."