News
Leonard Leads At Midpoint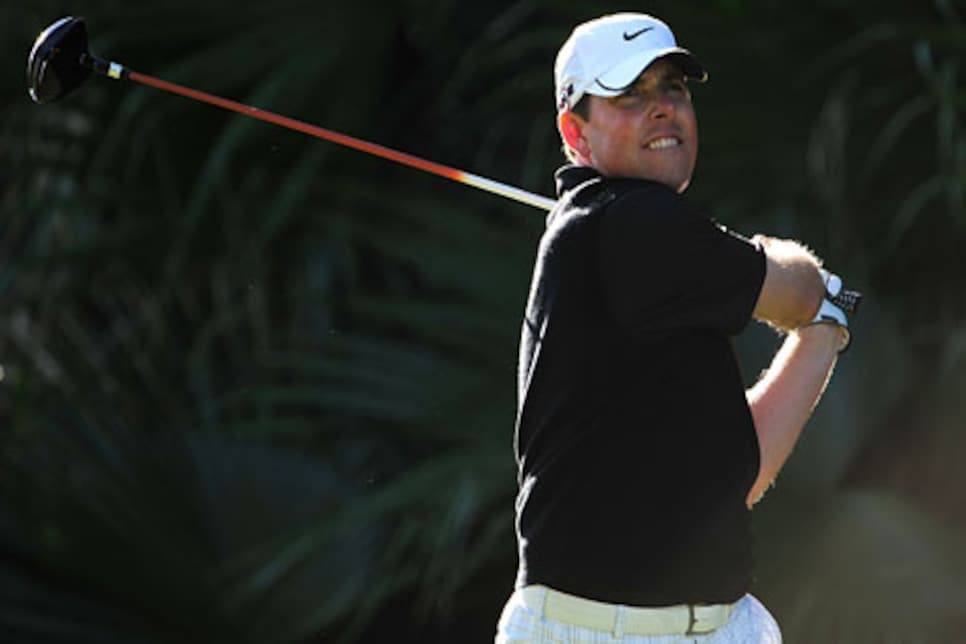 Leonard birdied nine of his first 11 holes in round two.
LAKE BUENA VISTA, Fla. (AP) -- Justin Leonard is one of the few players not feeling any pressure this week to secure his PGA Tour card next year.
He's already got that in hand. That much is clear from his play.
Leonard shot an 8-under 64 in the second round of the Children's Miracle Network Classic on Friday, surging to the top of the leaderboard in the final Tour event of the season.
"Any time I can come out and do that and play a nice, relaxed round where there's not a lot of pressure, I'm giving myself a lot of chances," he said. "It just makes the game easier."
Leonard had 11 birdies and three bogeys on a sun-baked day at Disney World, where the 15 mph winds caused problems for some players. Justine Rose and George McNeill were two strokes back.
Leonard landed his approaches close to the pin, but he had to three-putt twice and missed a chance to extend his lead.
"On the flip side of that, I came back and birdied the next hole each time," Leonard said. "I was able to hit the ball pin-high a lot, which is really important when you're playing in windy conditions.
Chances to lock up a tour card next year are quickly fading for others.
Only those who finish in the top 125 on the money list are guaranteed full status. The next 25 will at least get conditional status and be able to enter more than a dozen tournaments.
Former world No. 1 David Duval missed the cut and was among those who will likely lose their cards. Duval finished 5 over par and near the bottom in the tournament.
Duval's runner-up finish at the U.S. Open this year and his 2001 British Open championship will get him into the first three majors next year. But losing his full status on tour is a demoralizing blow in a once shining career that has sputtered for nearly a decade.
"It's not a position you want to be in," Duval said. "It's not fun, but really, I haven't been focusing on it a whole lot."
Kevin Streelman, on the other hand, couldn't have been happier Friday.
He won $1 million in the Kodak Challenge, a contest that designates a hole on each course and keeps score throughout the season. Streelman protected his lead on the 17th at Disney's Magnolia course by knocking a 118-yard shot about 3-feet from the pin, and he was helped with Bo Van Pelt missing the cut.
After sinking the putt, Streelman pumped his fist twice and got a hug from New York Yankees center fielder Johnny Damon, who was among the celebrities playing as an amateur. Streelman then jumped up to high-five fans sitting above him the bleachers.
"I wanted to close it out in style," Streelman said. "I wanted to do it with maybe some class. For me, I enjoy that moment, the nerves and the excitement and the exhilaration of playing golf for a living. And then being in that arena and atmosphere, that was pretty much the height of it thus far for me."
Erik Compton, the two-time heart transplant recipient who made his return to the tour at this same event last year, also missed the cut. Compton received a sponsor's exemption and finished at even-par 72. He already advanced to the second stage of qualifying school.
Twenty-year-old Rickie Fowler followed his dazzling first-day 66 with a 75, moving him back to a tie for 43rd place. The former Oklahoma State star is trying to join Tiger Woods as one of the few college players to bypass qualifying school in the same year by earning enough money through sponsors exemptions. Fowler probably will need to finish in the top 10 to accomplish that feat.
But with only two rounds complete on a course ripe for birdies, nobody was satisfied with his standing.
"I want to be leading after four rounds," Leonard said. "It's nice to put myself in position going into the weekend, so I'm looking forward to the challenge of putting myself in good position in order to go into the last round and try and win the tournament."