News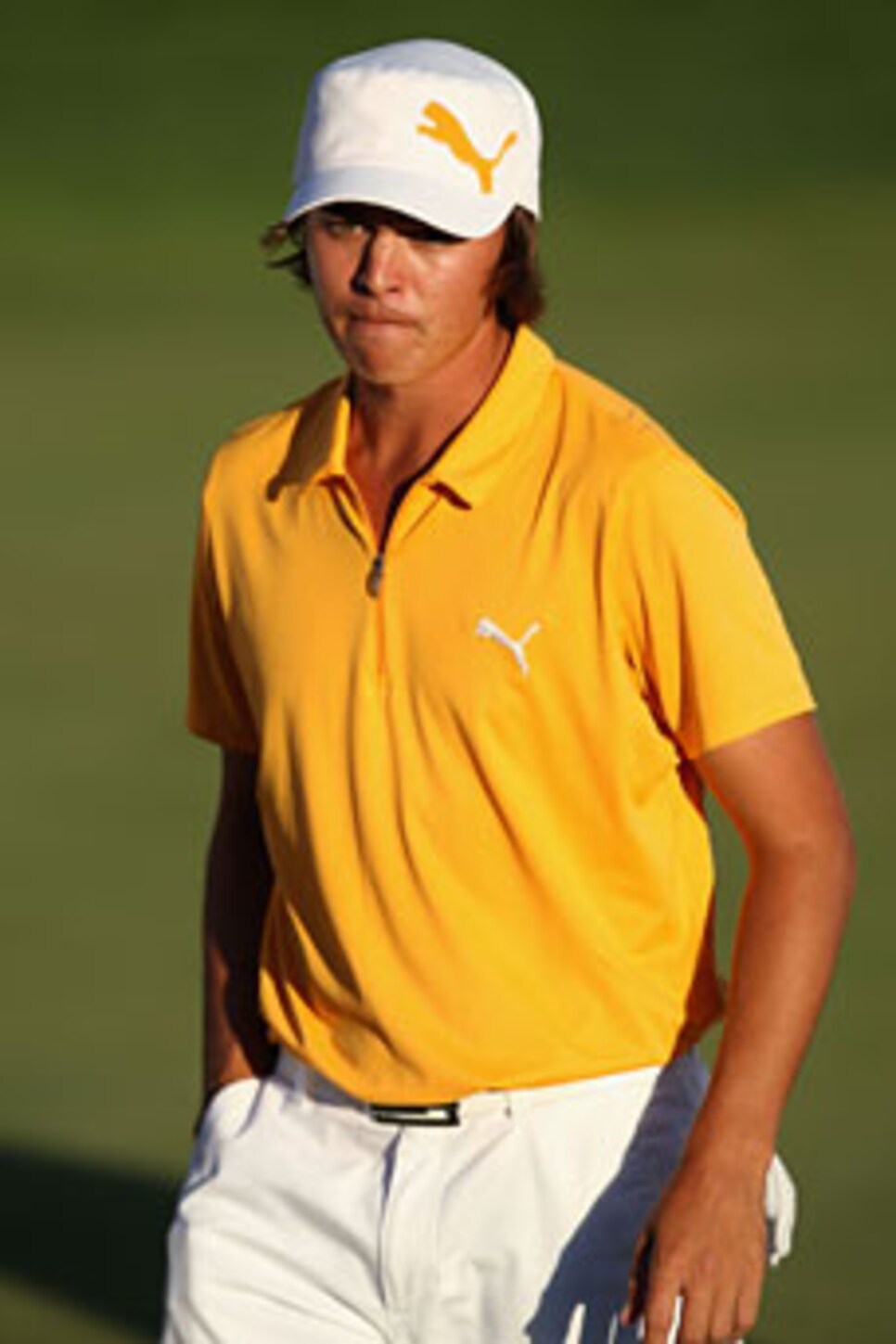 Fowler likely needs a top-10 finish to get his PGA Tour card for next year.
LAKE BUENA VISTA, Fla. (AP) - Justin Rose shot a 7-under 65 on Thursday in the opening round of the Children's Miracle Network Classic, edging upstart Rickie Fowler for the top spot on the leaderboard.
Rose was bogey-free on a breezy day where a steady morning drizzle and temperatures dipping into the low 50s made greens soft but tough to reach. Fowler, Greg Owen and Casey Wittenberg were one shot back at Disney World in the final PGA Tour event of the season.
The 20-year-old Fowler is making only his third start since turning pro from Oklahoma State. He can join Tiger Woods as one of the few players to go from college to receiving full status on tour in the same year by earning enough money on sponsors exemptions.
"It's nothing special," he said. "I'm not doing anything different really, just kind of playing golf. I'm just making less mistakes."
Defending champ Davis Love III withdrew with neck pain after shooting a 1-over 73. But the pressure was mounting for others to secure their tour cards for next year.
Former world No. 1 David Duval was among those in danger of losing their full status. Duval shot a 4-over 76 and was tied for next to last in 124th place, meaning he'll need a major push Friday to have any hope of keeping his full status.
Only the top 125 on the money list will have full status, and the next 25 will at least get conditional status and be able to enter more than a dozen tournaments. Duval, whose runner-up finish at the U.S. Open combined with his 2001 British Open championship will get him into the first three majors next year, began the tournament at No. 125.
"There's guys grinding for their livelihood out there," said Will Mackenzie, who is four shots off the lead. "It's tough. I mean, it's tough."
Maybe it's time to make room for the new kid.
Fowler has stormed onto the tour, shooting in the 60s for nine straight rounds. He lost in a playoff at Phoenix and, because the Viking Classic was rained out, his top-10 finish in the desert landed him a spot at Disney.
He's making the most of the opportunity.
Fowler ended the day with a 40-foot birdie chip from just off the 18th green. He was alone atop the leaderboard for most of the day until Rose surpassed him in one of the final groups.
Fowler is trying not to think about his chances of earning his PGA Tour card so quickly.
"I definitely think about it off the course," he said. "When I'm out here playing, I'm just trying to get the ball in the hole as fast as I can and get things going."
It wouldn't exactly be an easy feat.
Fowler can avoid qualifying school for now if he can earn enough money at Disney, likely needing a top-10 finish. Woods and Phil Mickelson are a couple of the big names who have accomplished what Fowler is trying to do.
Woods played in 11 events in 1996 - winning twice - to avoid Q-School. Mickelson landed a two-year exemption on tour in 1991, when he won the Northern Telecom Open while still playing at Arizona State. Ryan Moore was the last player to go from college to full status on tour in the same year when he accomplished the feat in 2005.
"You don't have those guys that are like that perennial coming-up guy. You're not sure," Mackenzie said. "Maybe this is one of the guys that's going to whip off a few majors."