News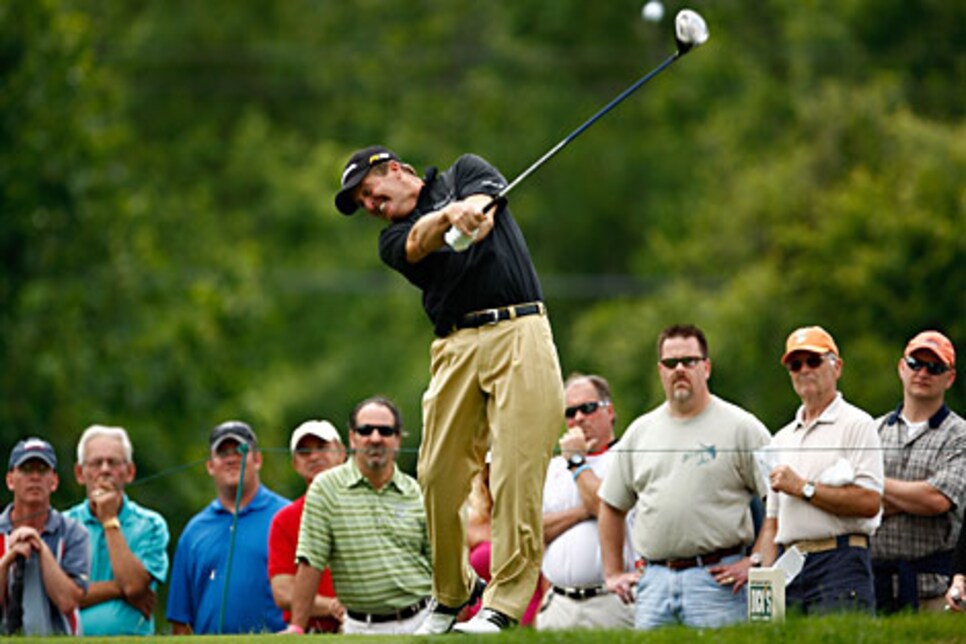 Funk, who lost a playoff four weeks ago, is looking for his first win of the 2009 season.
ENDICOTT, N.Y. (AP) -- Maybe it's the brace.
Fred Funk, who was limping badly just a few days ago after playing the grueling U.S. Open on his bum right knee, shot a 65 on Saturday to gain a three-shot lead after two rounds at the Dick's Sporting Goods Open.
Funk, who was fitted with a new knee brace on Wednesday, had eight birdies to go with one bogey to reach 15-under 129 and open a lead over Ronnie Black, defending champion Eduardo Romero and Lonnie Nielsen (66). Black and Romero each shot 9-under 63s, the best rounds of the day.
Gary Hallberg (66) was alone in fifth at 11 under and Jay Haas (68) was another shot back.
Funk began the day with a two-shot lead and continued his stellar play. That he finished the round carrying an umbrella in a steady rain only made his smile a bit wider. He had withstood a stiff challenge from his closest pursuers.
"My knee was horrible on Tuesday and now it feels great," said Funk, who matched his 36-hole low on the Champions Tour. "It's fun to be able to play without pain. My game has picked up a few notches."
Has it ever. Funk wasn't deterred by what was going on in front of him as Romero and Black challenged the En-Joie Golf Club record.
Romero began the round five shots behind Funk and made a move. He birdied the first hole, used his power off the tee to eagle the par-5 third hole and reach 6 under, and followed that with six more birdies over the next eight holes to get to 12 under.
Funk, who shot 64 Friday during the rain-delayed first round, nearly matched Romero's 30 on the front side, carding six birdies and three pars. Funk gained a two-shot lead when he rolled in a 20-foot birdie putt at No. 9, raising his right arm as the ball rolled slowly toward the hole and then smiling and waving to the gallery when it dropped.
"I got off to the dream start today," said Funk, whose lone blemish was a bogey at No. 13. "I had an unforced error or really could have run and hid at that point. I didn't, but it felt good to make birdie at 18."
While Funk was reaching 15 under with another birdie at No. 10, Romero faltered.
Romero was threatening the Champions Tour course record of 62 held by R.W. Eaks after shooting 7 under on the front nine. He made bogey at No. 13 after he was unable to get up and down from a sand trap and lost another shot on the next hole when his par putt stopped at the lip.
"I lost concentration, just for a couple of seconds," Romero said. "I'm playing with good concentration and then, boom! Bogey, bogey."
Romero rallied with birdies on 16 and 17.
"I think I played better yesterday, but I missed a lot of junk for birdie," Romero said. "He (Funk) is a tough man, but you never know. He's a good putter. I'm a good driver. I shoot 65 tomorrow and I win the tournament."
Black matched his career low -- he also shot 63 in winning the 1984 Anheuser Busch Classic -- as his short game was nearly flawless. He chipped in from 15 feet for birdie at the par-5 fifth hole after landing in a greenside bunker, made a 12-foot birdie putt at No. 8, hit inside 2 feet for another birdie at No. 9, then sank a 25-foot eagle putt at the par-5 12th hole to get to 10 under.
Black closed by hitting a pitching wedge to 18 feet and making birdie on his final hole. He credited his surge to a change in his putting grip.
"I felt like I had to do something," said Black, who finished tied for 70th and 50th in his previous two outings on the Champions Tour. "I got a long putter, I got a belly putter, and I tried the crosshanded grip for the first time in my career and it just seemed I had a good touch with it and I went with it.
"But this is a straight hitter's paradise here," Black said. "It'll be a lot of fun tomorrow."
Which would seem to favor Funk. Long one of the game's most accurate drivers, he's hit 25 of 28 fairways, 30 of 36 greens.
"I've got to keep the pedal to the metal," Funk said. "I have to keep making birdies or somebody's going to catch me."
DIVOTS: Joey Sindelar, seeking his first Champions Tour victory, was tied for 16th at 7 under. ... Sindelar twice won the B.C. Open at En-Joie when it was on the PGA Tour and Funk won it 1999. Among Funk's closest pursuers are three former B.C. Open winners -- Haas in 1981, Mike Hulbert (9 under) in 1989, and Jeff Sluman (9 under) in 2001. ... Richie Karl (76-76--152) was disqualified for not signing his scorecard.