News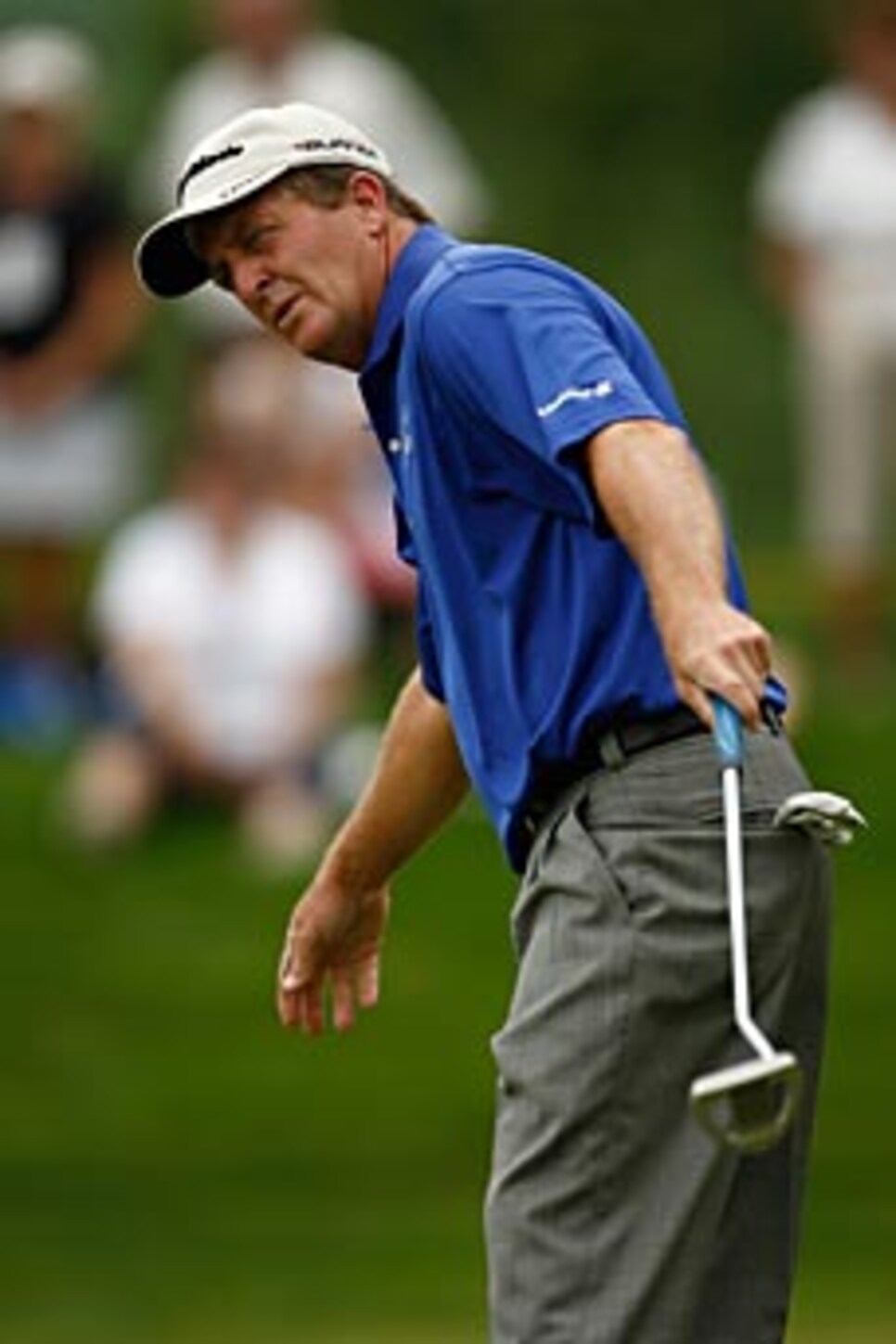 Fred Funk birdied nine of his final 15 holes Friday.
ENDICOTT, N.Y. (AP) -- A little more rain didn't faze Fred Funk.
Four days after trudging around rain-soaked Bethpage Black to a last-place finish at the U.S. Open, Funk shot an 8-under 64 on Friday to gain a two-shot lead over Jay Haas and Lonnie Nielsen in the rain-delayed first round of the Dick's Sporting Goods Open.
It was Funk's best round on the Champions Tour since a 63 in the 2008 season opener in Hawaii.
Tom Kite, D.A. Weibring, Gary Hallberg, and Andy Bean were tied at 5 under, while Joey Sindelar, Larry Mize, Jeff Sluman, Hal Sutton, Brad Bryant and Tom Jenkins were another shot back.
A band of thunderstorms halted play for nearly four hours in the afternoon, and 24 players will have to complete their rounds Saturday. Among them are Mike Hulbert, who was at 6 under through 17 holes and Jeff Roth, 5 under through 12.
Funk, who has top-seven finishes in his last three Champions Tour events, nearly finished before the rain struck and was undeterred after the long delay, hitting 8-iron to 20 feet and sinking a birdie putt at 18.
"It's like a breath of fresh air to come here. It was a long, long week," said Funk, who excelled despite a sore right knee and aching left shoulder. "I can reach every hole in regulation, I think."
Funk, at 53 the oldest player to qualify for the U.S. Open and still feeling the effects of the grueling weekend, started slowly. He bogeyed the par-4 second hole at the narrow, tree-lined En-Joie Golf Club course where he won the 1996 B.C. Open, then rallied with five birdies over the final six holes before the turn. He continued his surge with birdies at Nos. 11, 12 and the difficult, water-guarded 15th hole to reach 7 under.
"It felt good to get rewarded for good shots," said Funk, who had nine one-putt birdies, five from 7 feet or closer. "I'm tired of getting interrupted all the time, but you just kind of roll with it. The opportunities were there. It was a good little stretch there after a bad start."
Funk had just hit his drive at the par-4 18th when lightning forced a stoppage. Play was originally set to resume at 4:40 p.m., but with another band of thunderstorms in the area tournament officials decided to wait another hour.
Five of the players in close pursuit of Funk also won the B.C. Open at En-Joie when it was part of the PGA Tour: Kite in 1978, Haas in 1981, Sindelar in 1985 and 1987, Hulbert in 1989, and Sluman in 2001.
"I always feel I've won here before, I can do it again," Haas said. "The look at every shot is still the same as it was 28 years ago. I feel comfortable here. I feel like I can contend here because of what happened in 1981. I felt pretty confident coming in here."
Bean struggled to overcome the sore tendon he tore in his left foot at the Principal Charity Classic in late May, taking time during the delay to freeze the foot and ride an exercise bike.
"It's kind of funny being in a good position. This is my third round of golf in a month," Bean said. "The putter is working, what can I say? That's a very pleasant thing. I hit it close, inside 2 feet four times."
Players and caddies donned small green ribbons in honor of fellow golfer Ken Green, whose lower right leg was amputated in mid-June following a recreational vehicle accident in which his girlfriend and brother died.
After the previous Champions Tour event in Texas in early June, Green's RV blew a tire, sending the vehicle careening off a Mississippi highway, down an embankment and into a large oak tree, destroying the front of the vehicle. Also killed in the crash was Green's pet German shepherd, Nip, which he had saved six years ago by diving into a Florida canal and rescuing it from an alligator attack.
The golf world took another hit on Sunday when the wife of PGA golfer Chris Smith was killed in a car accident in northern Indiana.
"I know Ken and Chris, there's just no way anybody can really fathom what they're going through," said Funk, whose mother-in-law was diagnosed with cancer on Thursday. "But our prayers and blessings are with them."
Divots: 1984 B.C. Open champ Wayne Levi, playing in his first tournament since heart bypass surgery, was at 1 under through 16 holes. ... Defending champion Eduardo Romero and R.W. Eaks, the inaugural Dick's winner in 2007, finished at 3 under.