News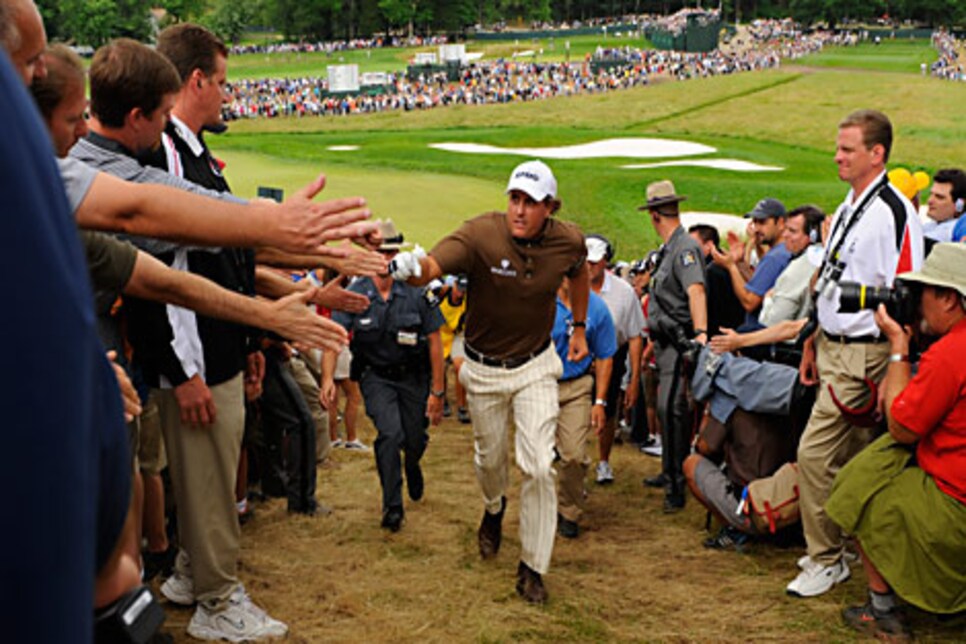 A HAND FOR THEIR MAN: Mickelson's faithful were steadfast in their support as he left the green at the par-3 17th hole after making a costly final-round bogey.
Striding toward the 15th tee in the final round of the U.S. Open last Monday, Phil Mickelson crossed the road that sets off Bethpage Black's self-contained homestretch and was engulfed by a welcoming cacophony in what had just become the most raucous and emotionally raw arena in major championship golf.
In fact, Mickelson was its architect. By playing the previous six holes four under to tie for the lead with Lucas Glover, Lefty was in the midst of his most impressive move ever in the late stages of a U.S. Open, and it promised bounteous rewards all around.
Foremost was a long-awaited first Open title that would give Mickelson a third leg on a career Grand Slam and exorcise the ghosts of Pinehurst, Shinnecock and, especially, Winged Foot. With it would come the silver trophy his wife Amy had poignantly asked him to bring back as the centerpiece for the hospital room where in the coming days she will recover from surgery for breast cancer.
The assembled multitudes wanted their prize, too, which besides just the thrill of being a witness to history would include an acknowledgement of the special energy New York sports fans believe they can provide their favorites. Also at stake was a chance for Bethpage Black to become the location of the kind of Open victory that transcends pure golf skill and runs over into the realm of universal human drama -- as Merion did for Ben Hogan in 1950, Congressional for Ken Venturi in 1964 and Torrey Pines for Tiger Woods last year.
The expectant fervor led to rhythmic chants of "Let's go Phil-iil," and even "Let's go A-my," all of which Mickelson met with eye contact and the thumbs-up gesture that became his staple at Bethpage. But with four more holes remaining, anxiousness lurked. Mickelson pushed his drive into the rough on the severely uphill 459-yard par 4, and as he assessed his second shot from the rough, a lone voice called out, "Don't let us down now, Phil." The words, loaded enough with portent to go unacknowledged, hung in the air.
And as they so often do when a major victory seems so close, the things that had seemed easy became hard. After one of his finest approaches of the championship -- an 18-degree hybrid from 209 yards that carried onto the green and ran to the back fringe and left a perilous, downhill 30-footer -- Mickelson missed a three-foot par putt to fall a stroke behind. On the next his 40-footer for birdie rolled some eight feet past, and though he bravely holed the comebacker, the effort likely left him wobbly.
On the 207-yard 17th, the amphitheater par 3 where a packed grandstand sang "Happy Birthday" to Mickelson at the 2002 Open -- and a hole he birdied in the first two rounds -- his slightly flared 4-iron into the wind came up short in the rough. His pitch was short of great, and his remaining uphill eight-footer was just plain short. The suddenness with which the charged atmosphere went completely flat was eerily reminiscent of the 71st hole at Shinnecock Hills in 2004, where with two misses from short range Mickelson handed the title to Retief Goosen.
Mickelson fought back with a huge drive on the par-4 72nd that left him less than 50 yards from the pin, but he was unable to summon a heroic flop shot when he most needed it and ended with a 25-footer for birdie that he missed, allowing Glover, who stabilized admirably on the closing nine, to cruise home.
The immediate reaction was that Mickelson had teased with another brilliant run he couldn't finish, much as he had two months ago at the Masters, when his pyrotechnic front-nine charge to within two strokes of the lead stopped with a badly mishit 9-iron into Rae's Creek on the short 12th. The exasperation among the Phil faithful was greater at Bethpage, in part because the Open is the championship where four times now he has had at least a share of the lead with three holes to go but has never even gotten to a playoff. Instead, he is the only player in history to finish second in the U.S. Open five times, surpassing Bobby Jones, Sam Snead, Arnold Palmer and Jack Nicklaus. Of that illustrious foursome, Mickelson for the moment has the most in common with Snead, the one who never won the Open.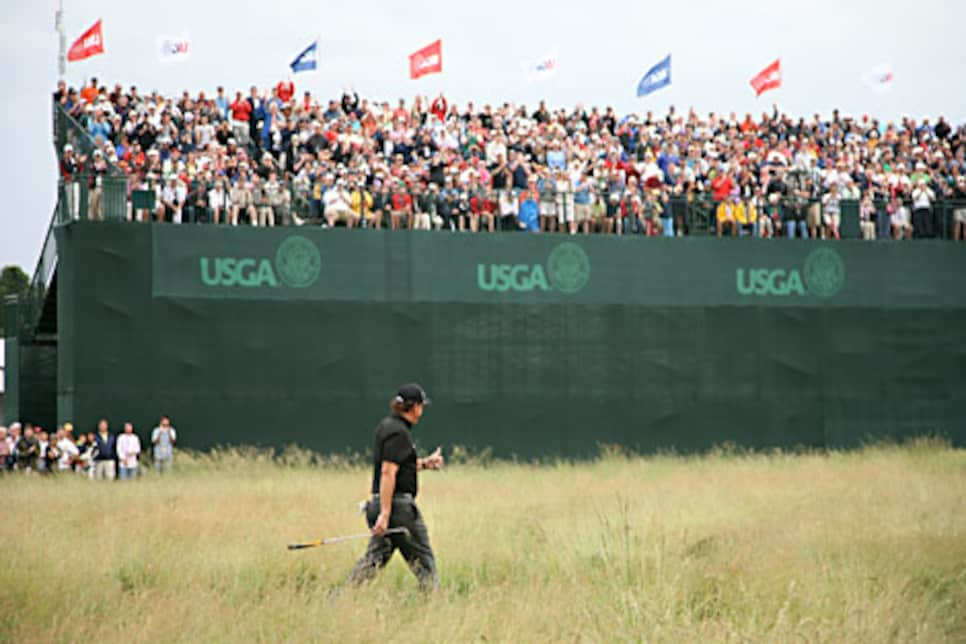 But further reflection brought more tolerance. Given the personal crisis he is facing, it is impossible to deny Mickelson performed gamely. His enthusiasm for the surroundings, his competitive resilience, and his ferocity of expressions made it clear he had been playing for something bigger than himself. Perhaps as much as the pressure of winning the Open, his desperation to give his wife the most special gift he could muster had caused him to try too hard.
"The guy's got guts," said Mickelson's longtime caddie, Jim Mackay. "He was really digging deep this week ... really deep. He never stopped fighting."
Steve Loy, Mickelson's agent, acknowledged how motivated Phil was to win for his wife, who stayed at home in Rancho Santa Fe, Calif., with their three children. "Phil is an emotional person on the inside who I've never seen emotional on the outside," said Loy. "This one's going to hurt. It will be a quiet flight home. But the way he is and the way she will make it, they will be over it the minute he gets off the airplane."
Indeed, Mickelson showed nothing like the devastation he felt in the aftermath of his 72nd-hole double bogey at Winged Foot, but rather a philosophical calmness. "Certainly I'm disappointed, but now that it's over, I've got more important things going on, and ... oh well," he said. "I think maybe it's more in perspective for me because I don't feel ... I feel different this time."
It was a week -- because of the dreary weather, protracted playing schedule and often artless brand of bashing and gouging golf -- that felt different for everybody. In the end it was Mickelson's story that provided much of the impetus and energy.
In his Open tuneup at Memphis, Mickelson talked about the way he had been affected by his wife's illness, first diagnosed in April, with an openness rare for a professional athlete. "I've never been this emotional, where if I'm driving alone or what have you, I'll just start crying," he admitted.
Mickelson's challenge at Bethpage was to suppress and/or channel those emotions into concentration and competitive fire. At his press conference Wednesday, having spent the day before at home in California celebrating his 39th birthday with family and friends, he seemed uncertain that he could.
"I'm not sure," he said. "I'm putting everything I have into this week because I don't anticipate being able to play for a little while." However, he struggled with his composure when he was asked about his wife. "I don't know how to express how lucky I am," he said. "She doesn't have a mean bone in her body. She thinks about others first. She genuinely is concerned and cares about everybody that she comes in contact with. ... And for me she's just the most amazing spouse you can imagine. ... And she's made my life so enjoyable to live. It's just hard for me to see her go through this, but we're going to get through this together. And it's a great opportunity for me to be there for her, and it's brought us closer."
Mackay said his player's demeanor reminded him of Pinehurst in 1999, a time when Amy was due to give birth to the first of their three children. "I remember him saying right before that if playing meant he was going to risk not being present for the birth, then he was just going to win the tournament," said Mackay. Mickelson, who led by one with three to play, finished second to Payne Stewart.
But for all his determination, it was still the propensity for loose shots a plague throughout Mickelson's career -- that undermined him at Bethpage. In the first round he was rolling along smoothly at one under par when, on the birdieable par-5 13th, he took out an 18-degree hybrid to play safe from the tee and severely pull-hooked the shot into a stroke-and-distance penalty. Although he was able to avert disaster with a one-putt bogey and finish with 69, the shot presaged several wild shots that led to bogeys and worse.
But much like Woods last year at Torrey Pines, Mickelson made up for mistakes with spectacular play that produced 17 birdies and an eagle. After bogeys on the ninth and 10th holes of his third round left him one over for the tournament and 11 behind leader Ricky Barnes, Mickelson finished with a burst of amazing recoveries and two putts of more than 30 feet, the last one on the 18th for his seventh birdie in a whirlwind 69.
After starting play on the final day five behind Barnes, Mickelson lost ground with bogeys on the sixth and seventh but then jumpstarted his round with a 9-iron to three feet for birdie on the 460-yard ninth. On the 10th hole his spinning recovery from a tramped-down area of fescue to within three feet and a miracle par further ignited him. He birdied the 12th with a 35-foot bomb and eagled the par-5 13th when he hit a 5-iron from 229 yards to four feet. But once Mickelson crossed the road to the 15th, the magic stopped.
Although Mickelson continues to make the Open the major in which he contends most consistently, it's reasonable to wonder if all the near-misses are building a psychological hurdle that will get harder and harder to clear. In his favor, Mickelson owns three majors and 36 official PGA Tour victories, making him a certain Hall of Famer with a secure legacy. He might not close like Hogan or Nicklaus or Woods, and he probably won't achieve their special pantheon, particularly without a U.S. Open title.
But despite not winning, Mickelson showed enough grace under pressure at Bethpage to sustain him in many more majors. Before getting into his car to drive away, he waved to fans for whom he had just signed autographs. "Thanks for a great week, guys," he said, leaving unsaid that he hopes the ones coming up will be even greater.
A look at Phil Mickelson's record five runner-up finishes in U.S. Opens
Leads by one with three to play. Misses an eight-footer to fall back into a tie, then misses an eight-foot birdie putt on 17 to fall one behind, eventually losing to Payne Stewart, who made clutch putts on the final three holes.
Urged on by the raucous New York crowd, Mickelson keeps pressure on Tiger Woods throughout (including birdies on 11 and 13 Sunday to cut the gap to two), but he cannot catch Woods who leads wire-to-wire.
Seeking his second major in a row, Mickelson (right)storms back from three down in the final round to tie Retief Goosen with three to play, then birdies 16 to temporarily lead. Goosen birdies 16 to tie, before Lefty disintegrates on the par-3 17th, three-putting from six feet for double.
The Collapse on the West course. With a chance to win his third straight major, Mickelson leads by one coming to 18, hits his drive off a tent, then his second off a tree before burying his third in a bunker. A double-bogey 6 hands Geoff Ogilvy the win. Phil: "I am such an idiot."
What could have been. An eagle on 13 ties Lucas Glover for the lead. A three-putt on 15 puts him one back, but Glover does the same. Tied on 17, Mickelson's short game comes up short; Glover wins by two.