News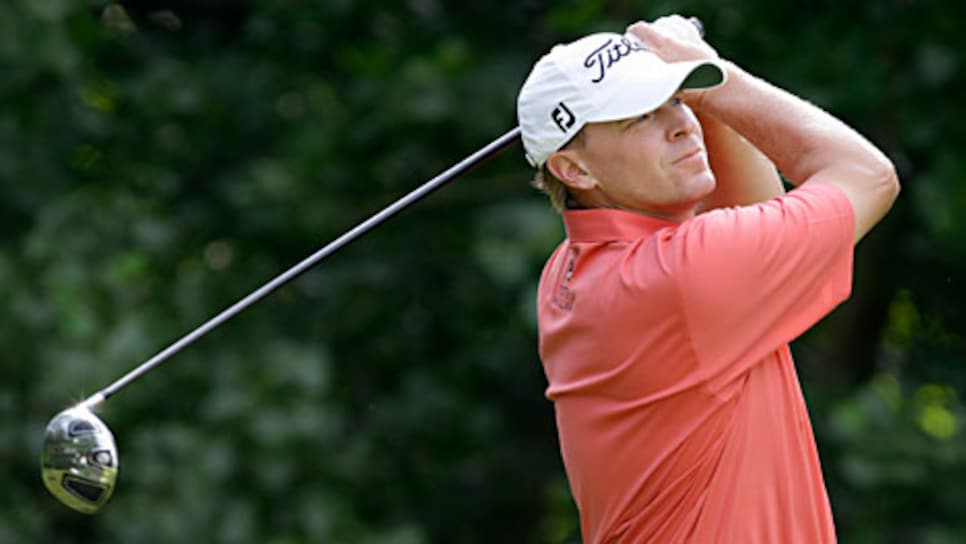 Stricker played the last 36 holes in 10-under par, erasing a three-stroke deficit.
SILVIS, Ill. (AP) -- Steve Stricker followed one of his best performances with 36 solid holes to win the John Deere Classic by three strokes on Sunday.
Stricker, who tied the course record Saturday, fired a 7-under 64 in the fourth round after starting the day with a third-round 68 to finish at 264 for the tournament. That was good enough to give him his second PGA Tour win this year and sixth in all, not to mention a heavy dose of momentum heading into the British Open to go with the $774,000 winnner's check.
Local favorite Zach Johnson (64, 66), Brandt Snedeker (68, 65) and Brett Quigley (62, 67) all tied for second at 17 under. Quigley also qualified for the British Open.
Stricker's biggest challenge, though, came from Tim Petrovic, who was in his group and was two strokes off the lead heading into the 36th and final hole of the day. But he hit the pond on No. 18 and double-bogeyed the hole, leaving him at 16 under along with Matt Jones (63, 69) and J.J. Henry (66, 68). Second-round leader Darron Stiles (70, 71) finished at 14 under.
A Wisconsin native and Illinois graduate, Stricker began the day three shots off the lead after he leaped into second place Saturday with a 61 that tied 2002 champion J.P. Hayes' course record and matched the lowest round of his career. Duplicating that would have been tough. He'll take this, though.
His approach to the 13th green in the fourth round stopped three feet from the cup, setting up a birdie that put him at 19 under, but he just missed two birdie putts on the 15th and 16th holes. His 11-footer on No. 15 rolled around the rim, and his 12-footer on the par-3 16th stopped a few inches from the cup. Stricker finally went to 20 under on the par-5 17th, tapping in for birdie after his 50-footer hit the rim.
His best shot was when he holed out from the fairway for an eagle on the par-4 No. 6 in the fourth round, his 98-yard shot clearing a bunker and landing in the cup to put him at 17 under. That tied him for the lead with Johnson, who was off the course long before Petrovic and Stricker.
A tournament board director who grew up just over an hour away in Cedar Rapids, Iowa, Johnson hadn't fared particularly well in seven previous appearances. His highest finish was a tie for 20th in 2004.
"This place has really done a lot for me," he said. "John Deere gave me two sponsors exemptions. Now, I'm on the board of the tournament. I come here because I love the golf course for sure, family, friends."
Thousands cheered every shot as he made his way up the leaderboard, even simple par putts. And when he was finally finished after 36 holes, he waved his white cap as he walked off the ninth green.
"Golf is a game of confidence," Johnson said. "It's a totally different golf course, but I'm hitting the ball solid and reading my lines."