News
Storms Wash Out Friday Play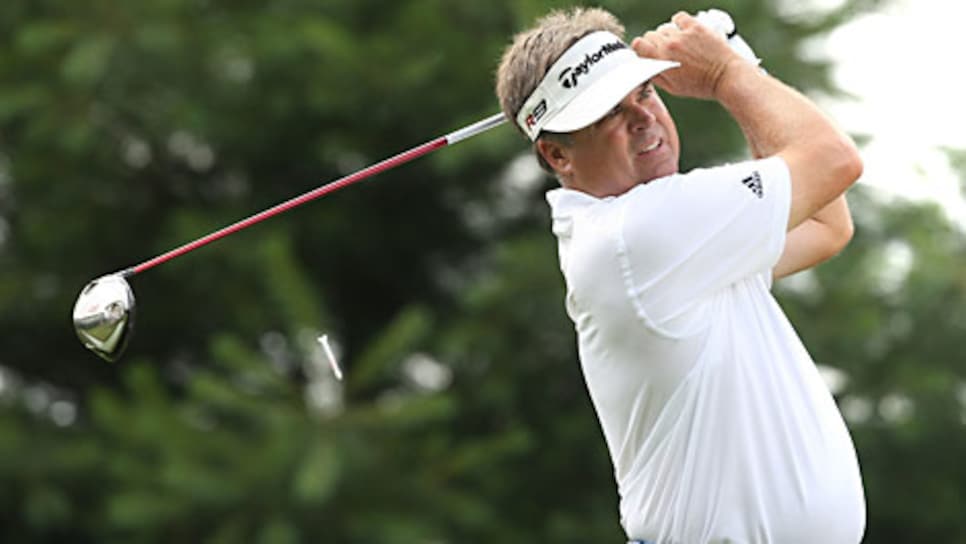 Kenny Perry is just one of several players heading to the British Open who now face a grueling 36 holes on Sunday before flying to Turnberry.
SILVIS, Ill. (AP) -- The thought of playing 36 holes and jetting across the ocean on the charter plane was about as pleasant to Kenny Perry as the violent storm that washed out the second round of the John Deere Classic on Friday.
"That's going to be hard," he said.
That's exactly what he'll have to do, unless he misses the cut. And the odds of that are slim.
Scheduled to start at 7 a.m. Central on Friday, officials were hoping play would begin at 4 p.m. but called it off about 20 minutes before the first groups teed off.
By then, the sun was out and most of the clouds had disappeared. But the course was simply too wet after 1½ to 1 3-4 inches of rain fell, so officials moved the round back a day and scheduled 36 holes for Sunday.
Two-time U.S. Open champion Lee Janzen and Darron Stiles remained tied for the lead after shooting 7-under 64 on Thursday. J.J. Henry, Matt Bettencourt and Dean Wilson were still one stroke off the lead. And Perry (68), U.S. Open champion Lucas Glover (69) and Zach Johnson (69) were still in contention.
About the only things that changed Friday were the projected start times and the weather.
Officials initially pushed the starting tee time back to 8:30 a.m. That changed to 9:30, 11:30, 2 p.m. and, finally, 4 before they gave up.
Although the course looked better, it still felt like a wet sponge. Even so, that was a big improvement considering it had been filled with puddles and streams of water.
"Everything looks good," PGA Tour tournament director Arvin Ginn said. "Sun looks good, looks like we have plenty of time to play, but we couldn't get the golf course ready to play."
He said five holes were unplayable even though on the surface, they appeared to be in decent shape.
"You start squeegeeing fairways and everything else, and water keeps coming back on certain holes," he said. "We just couldn't get the golf course ready to play in time to play a sufficient amount of golf to make a difference."
He also felt the groups that teed off would have been at a disadvantage, since the course figures to be in better shape Saturday when clear skies are forecast, but that wasn't a major consideration. Nor was the idea of cutting the tournament to 54 holes.
The main goal was to finish by Sunday evening, and it would have been whether the British Open was the following week or not.
"Everything is done according to the regulations, and we're playing -- and this is not to sell the British Open short -- the John Deere Classic this week," Ginn said. "And that's what we're mandated to do in the scheduled time."
More rain could conceivably push the finish back to Monday, which would have been Perry's preference, but Ginn said the rules are clear: "If you have to get 72 holes in and you're going to Sunday, as we are, we're mandated to play the 36 holes on Sunday. Our first priority is to finish on Sunday's scheduled time."
That means a long day and then a long flight for Perry.
"I hope I'm worn out enough to where I will sleep," said Perry, who went back to his hotel and had lunch during the delay.
He's going to the British Open after skipping it last year. And he's tired of the criticism he's received for skipping majors recently even though he's enjoying one of his best stretches, with five wins in the past year.
"I didn't want to sit there and listen to the talking heads just wearing me out again," the 48-year-old Perry said earlier this week. "It comes to a point to where you just want to go hit somebody, it really does. These people have a lot of power in what they say, but to me it's wrong."