News
Janzen, Stiles Share Lead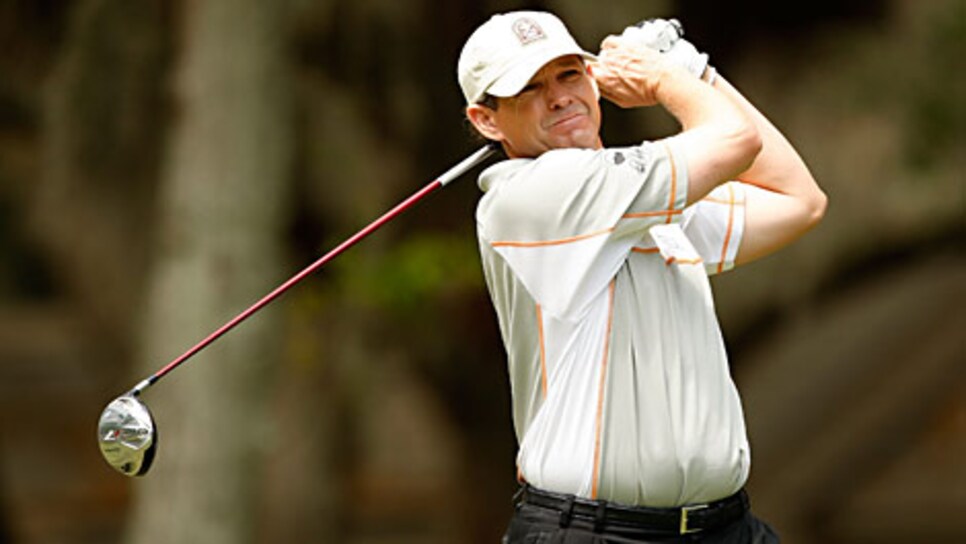 Accuracy keyed Janzen's round. He made all his fairways on Thursday and managed a GIR number of 77.8%.
SILVIS, Ill. (AP) -- Lee Janzen stirred some memories and was tied with Darron Stiles for the lead after firing a 7-under 64 in the first round of the John Deere Classic on Thursday.
Janzen has not won on the PGA Tour since he captured his second U.S. Open in 1998, yet he's in position after an impressive start at TPC Deere Run.
The 44-year-old was at 8 under after birdies on the 16th and 17th holes and played bogey-free golf until the 18th, when he hit a bunker and missed an 8-foot par putt. He was off the course by the time Stiles sunk a seven-foot putt for birdie on the same hole to forge the tie.
J.J. Henry, Matt Bettencourt and Dean Wilson were all one stroke off the lead at 65.
Last year's winner Kenny Perry, who's second on the money list, opened with a 68, while U.S. Open champion Lucas Glover and Zach Johnson shot 69. It was not a good day for David Duval, who finished with a 75 and was in danger of missing the cut after a surprising three-way tie for second at the U.S. Open last month.
This time, Janzen was the veteran turning heads.
"It'd be exciting; I would love to win," Janzen said. "If it doesn't happen this week, I still think that I'm capable of winning, and it won't stop me from continuing to work on my game to get better."
An eight-time winner on the PGA Tour, Janzen has just two top-10 finishes the past three years. He's spent much of that time trying to repair his swing with Mike Bender after leaving Butch Harmon, but the results have been slow coming.
One good sign for Janzen came in April at the Verizon Heritage in Hilton Head Island, when he opened with a 6-under 65 and finished in a tie for fourth. He got another boost on Thursday, when he made a late push to grab the lead.
He was at 4 under through 12 when he birdied four of the next five holes. His seven foot birdie putt on par-5 17 put him at 8 under before his mishaps on the final hole. That created an opportunity for Stiles, who two-putted from three feet for a bogey on the 17th but made up for it on the final hole.
Otherwise, it was a good day for Janzen, who also cautioned: "It's only Thursday."
So he'll wait before he declares himself back.
"It's like starting over in some ways," Janzen said.
Duval would probably like to call a do-over after this round.
Winless since the 2001 British Open, he simply was sluggish in his first start since that eye-opening performance at Bethpage Black.
"I don't equate it to how I did at the U.S. Open," he said. "That has no relevance, no bearing on what I'm doing here. I just didn't play that well."
The world's No. 1 player before a long decline, he was even after sinking a 9-foot birdie putt on the par-4 eighth hole, but four straight bogeys quickly brought his momentum to a halt.
"I just wasn't as sharp mentally today," said Duval, who was also tired and concerned he was coming down with something. "Why? I don't know. I just wasn't. I didn't think as clearly as I would like to. I made a couple of bad decisions that cost me."