News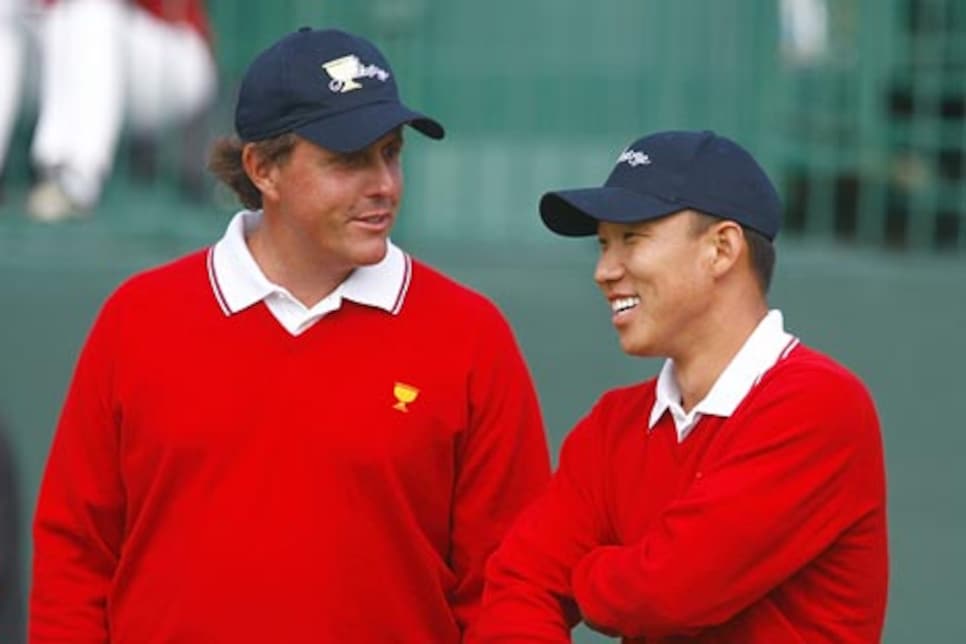 Phil Mickelson and Anthony Kim got Team USA on the board with a 3-and-2 win over Tim Clark and Mike Weir.
SAN FRANCISCO -- They were put in the leadoff spot at the 2009 Presidents Cup and given a straightforward assignment: reprise your Ryder Cup mojo and get the Americans off to a fast start. For the first 12 holes during Thursday's foursomes competition at Harding Park GC, however, Phil Mickelson and Anthony Kim struggled simply to get out of each other's way, going 1 down to the International pairing of Mike Weir and Tim Clark while combining for one birdie and four bogeys.
"We just needed something to go our way," lamented Mickelson. "Just one little thing."
Then it happened. On the par-4 13th hole, Kim hit a sand wedge from inside 100 yards, his approach shot stopping three feet from the hole. With Mickelson converting the birdie putt, the match went all square and the momentum jumped to the Americans. Mickelson and Kim then proceeded to birdie the next three holes to claim an easier-than-it-looked, 3-and-2 victory and the first of the 3½ points the U.S. would earn on the day.
"We needed something to ignite us and that wedge shot did the trick," Mickelson said.
"I was a little heavy on the front nine, but [Mickelson] picked me up," said Kim, referring to his so-so play early on. "I had some opportunities to perform on the last couple of holes and we really hung in there."
Both Mickelson and Kim lived up to their devil-may-care reputations off the tee, but with Weir and Clark struggling in a similar fashion, the match remained close. Things go so ugly that on the par-4 sixth hole, the U.S. side won with a bogey after both teams hit tee shots that rattled off trees and landed less than 200 yards from the tee.
"None of us played the way we wanted to, and that happens in match play," Mickelson said. "It happens in this format, and sometimes we are on the good end and sometimes we are not. Today we were."