News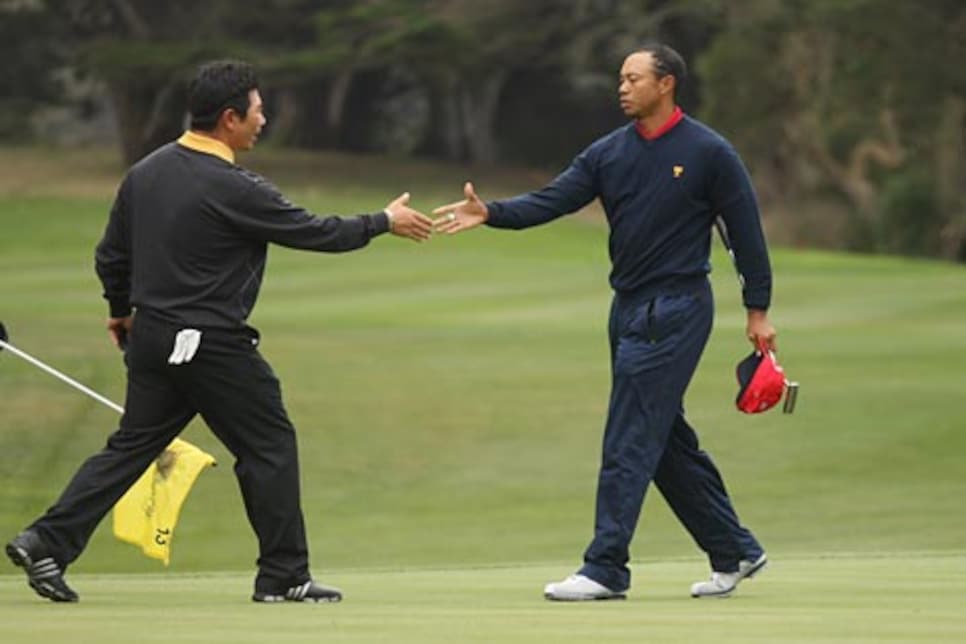 Woods was all business in dominating Yang to secure the U.S. victory.
SAN FRANCISCO -- His only bogey was the celebration. Tiger Woods rolled in his winning birdie putt, removed his cap to shake hands with opponent Y.E Yang, then soberly moved on. Take away the uniforms and the world No. 1 could have been wrapping up a Wednesday pro-am.
At that point, Woods didn't grasp the signficance: his win was the clinching point. The Presidents Cup was the Americans' for the third consecutive time. Even when U.S. captain Fred Couples unleashed a celebratory uppercut while walking toward his star player, the moment seemed to pass Woods by.
"I said, 'You won the point,'" Couples clarified to Woods later behind the 13th green, in the revelry that followed his 6-and-5 win.
"I thought you said I won MY point," Woods responded.
"No," Couples said. "I said you won THE point."
So there's the drawback to winning five points in one week at the Presidents Cup. After a while, it's hard to keep track of them all.
For a player who went 5-0 for just the third time in event history, Woods' wins at Harding Park covered the full spectrum: By mercilessly rolling over his opponents; by pulling off an otherworldly shot on a match's climactic hole; even by climbing on the back of his playing partner. The only part that followed the script was how he secured the Cup on Sunday: by channeling the disappointment from his loss to Yang in the PGA Championship two months ago and setting the golf world back in order in 13 succinct holes.
If you didn't see that one coming, then you obviously haven't been paying attention. No player is more proficient at summoning past injustices -- both real and perceived -- and using it for his own motivation. Woods has played that card on tour for a dozen years, but never before in a team event, where the failures of 12 have always fallen on the shoulders of one.
But this Presidents Cup was the week Woods was able to translate his dominant play as an individual into team competition as well. He spent four days walking in lockstep with partner Steve Stricker in becoming the first team in Presidents Cup history to go 4-0. Then he walked out solo in raw conditions on Sunday and proceeded to dismantle the player who stole 2009's final major right out from under him. Woods pulled his opening tee shot left and went on to lose the opening hole, but never lost another, dropping five birdies during a nine-hole stretch to secure the U.S.' sixth win in the eighth Presidents Cup.
"He got me there and I figured I could get him here," Woods said of avenging the loss to Yang at Hazeltine. "It certainly was not exactly the same atmosphere but then it was still an important point."
Later, Woods would try to downplay the Yang subplot, but by then the damage was done. With his five points this week, two better than any other personal performances in team competition, he offered the most compelling argument yet that he has warmed to the idea of playing for more than himself. Another way to look at it is Woods, much like another legend of sport, has simply done a better job of understanding his role.
"It's like looking in a mirror in certain respects," said Michael Jordan, the U.S. honorary assistant captain who has a close relationship with Woods. "He's very understanding of his surroundings, especially when it comes to his peers. One of the things I got the chance to see this week that a lot of people may not know, but obviously I know, is that it's very difficult for us to always be involved in a team sport.
"Because we carry such huge baggage on our shoulders that the public perceives to be so grand. We have to find a way to blend in with them as opposed to them blending in with us. I saw he was able to do that in his own way, which is very similar to what I had to do. When the team hangs out and does things, you don't want to go because you'll create more havoc. You want to enjoy your teammates, but you don't want the publicity for them, so they're not able to enjoy it. But he was able to have a good time. He has a quiet way of leadership."
Woods isn't Phil Mickelson, who shepherded three different partners to victory this week. He isn't even Couples, who called his week as U.S. captain the most rewarding of his career. But in actions alone, he is still the quarterback of any American team. The difference now, as opposed to then, is it's not a hat he's uncomfortable wearing.
"I wanted Tiger to win every match, and I thought that was our important to our team," Couples said. "Now, obviously, Phil wants to win every match. Sean O'Hair wants to win every match. But every tournament Tiger plays, everyone wants to know what he's shooting and where he's at, and the Presidents Cup is no different."
That's exactly the point. On a day when Woods' drubbing of Yang screamed out from every scoreboard, the International team could quickly sense where the day was headed. Maybe Woods didn't know what his match meant for the rest of the event. Everyone else had figured it out for him.