News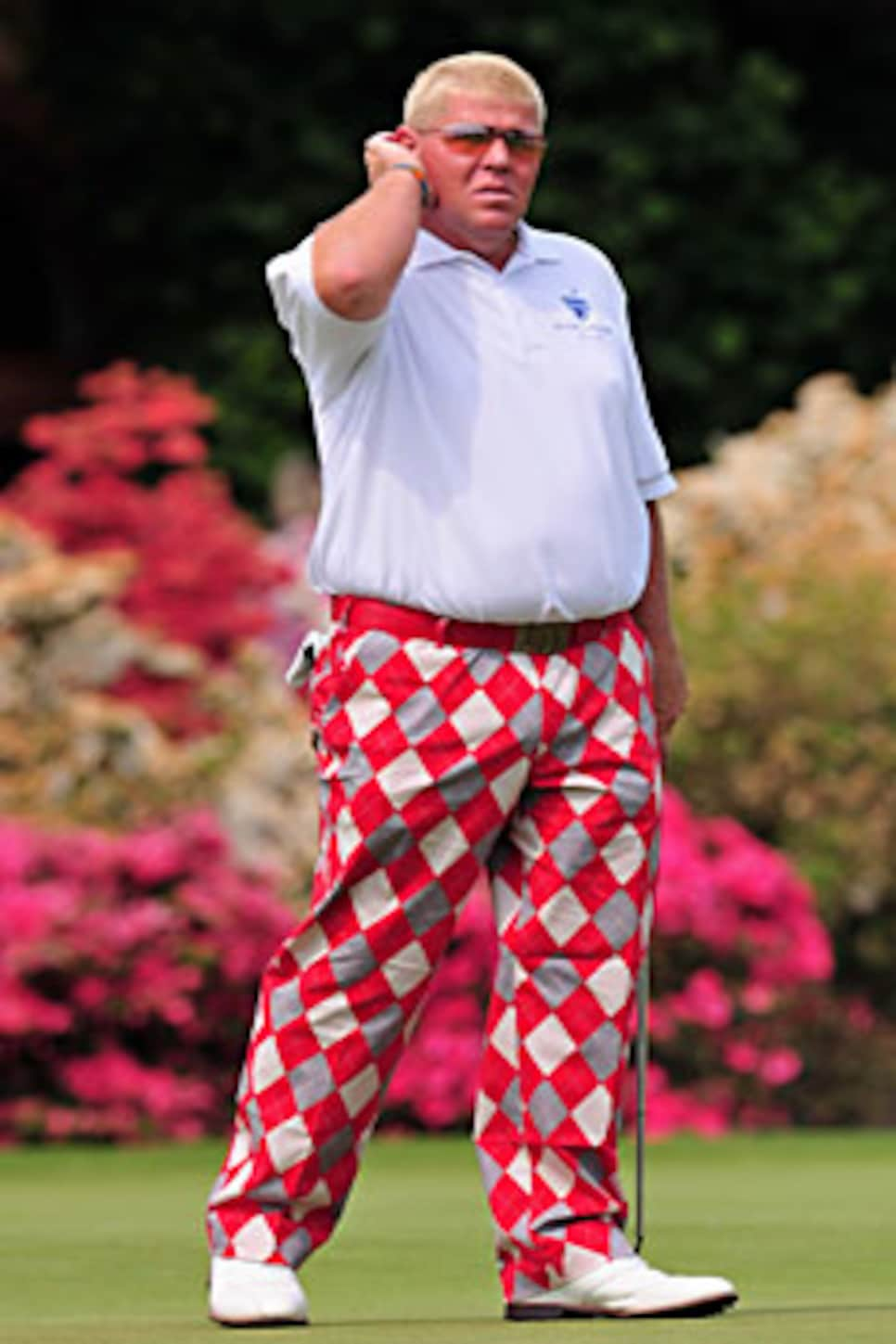 John Daly's choice in attire has overshadowed a renewed commitment to his golf career.
The pants are one thing, but what about the stylish golf played by John Daly over the weekend in Italy? Just when the lights were being turned out on his lounge act, when he was kicked to the curb for the final time, the game's Biggest Loser comes from singing another sad refrain of "Knockin' On Heaven's Door," to an encore life as a tour player.
Starting two weeks ago in Spain and carrying over to Torino, there were images of Daly beamed all over the world in pants that were indescribably ugly, whether they were psychedelic, madras, quilted or in diamonds. But somehow with the peroxide hair and the cigarette dangling from his lips, Big John had a way of pulling it all together in a style that can best described as White Trash meets Euro Chic.
People were talking John Daly again, even if they were saying, "At least it's not an orange jump suit." But instead of a mug shot, Daly, who turned 43 last month, was pictured at the Italian Open in a retro version of his glory years. This wasn't Crooked Stick or St. Andrews, but five weeks after hawking his collectibles along Washington Road in Augusta -- where he confirmed having lap-band stomach surgery -- in the midst of a six-month suspension by the PGA Tour, Daly again reminded us of his talent and resilience, if not his sense of fashion.
"He had to," said swing instructor Rick Smith, who has been with Daly since last summer. "It's a survival mode."
As Smith pointed out, Daly hit his bottom at the worst point of the economic downturn. Daly's stock plummeted so bad that even Hooters had dumped him and now the Repo Man was starting to show up at his doorstep. Yahoo! Sports reported last week that his fourth wife, Sherrie, was evicted from their home in Germantown, Tenn., the week Daly finished 15 strokes back in the Spanish Open. Loudmouth Golf, the company that makes those hideous pants, literally can't pay him enough to overcome the mountain of debt.
"There's something about a guy who gets as low as he gets, he doesn't have fear any more," Smith said. "How are you going to be afraid? You've just hit bottom. Somebody takes your car and your house, what are you going to do, you're going to fight. And he's still got his fight, which is cool."
That he did it the week of the Players, when all the best players in the world were in Ponte Vedra Beach, Fl., gets lost in the flow of optimism a final-round 66 and a back-nine 31 can bring -- even if it was against a Euro Tour equivalent of a Nationwide Tour event. In this reality show that he continues to live in, Daly just left his audience wanting another episode.
Smith turned Daly into his project at last year's PGA Championship, after Butch Harmon dumped him for his behavior and lack of commitment. Still recovering after his longtime friend and student Phil Mickelson left to work with Harmon, Smith went at Daly with a different approach.
"Everybody keeps saying, Rick, why are you tackling this?" Smith said. "But I stand on this, I'm not going to be his father."
That meant a long leash, as Daly wallowed away the winter months hanging around the bar and the first tee at the Belleview Biltmore in Clearwater, Fl., playing money games and feeling sorry for himself. From time to time he would check in with Gerald Goodman, the tournament director at the PGA Tour stop just north on Highway 19, the Transitions Championship. This was the venue where Daly spent two hours in a Hooters hospitality tent during a rain delay in March 2008. When play resumed and Daly emerged with Tampa Bay Buccaneer Coach Jon Gruden carrying his bag; that was the end of Harmon.
"I'm not scolding him," Smith said. "If you can motivate him to play, get to point where he wants to live again, where he can survive again, because he didn't have an alternative," Smith said. "Now he knows he can do it again."
Daly's golf swing and putting stroke, along with his genuine heart, has sucked Smith right in -- the same way it sucked in Harmon at first. But even Butch still cares, as a recent text message to Smith would indicate.
"Hey, great work with John," Harmon wrote.
"It was nice of him to do that," Smith said of Harmon. "(Daly's) spirit is a good one. After the bus he's been totally under, it's good to see him popping out. I'll help him with his golf and leave it to that. The rest he has to formulate on his own. Again, he doesn't have many choices."
Daly's tour through Europe resumes this week at the Irish Open. With his suspension on the U.S. tour not scheduled to end until June, he will continue on to the BMW PGA Championship at Wentworth, followed by the European Open at London GC. That points to a return at the PGA Tour stop in Memphis, the city where his house was just repossessed, where they have lost the corporate sponsor in Stanford Financial, and where John Daly could come home a hero. It would be his sixth-straight week of tournament golf.
Daly posted an announcement on his website that he would see everybody at the TPC Southwind, which was picked up by a writer at the Memphis Commercial Appeal, who wrote a story or the front page of the paper. There was a spike at the ticket office as tournament officials were quoted saying they would consider giving him an exemption, but tour headquarters got a little uncomfortable with how it was being handled and Daly took down the posting.
"I guess it's been said before, but this has got to be this guy's last chance," said a tournament official who has seen the good and the bad with Daly. "It appears he wants to help himself this time."