News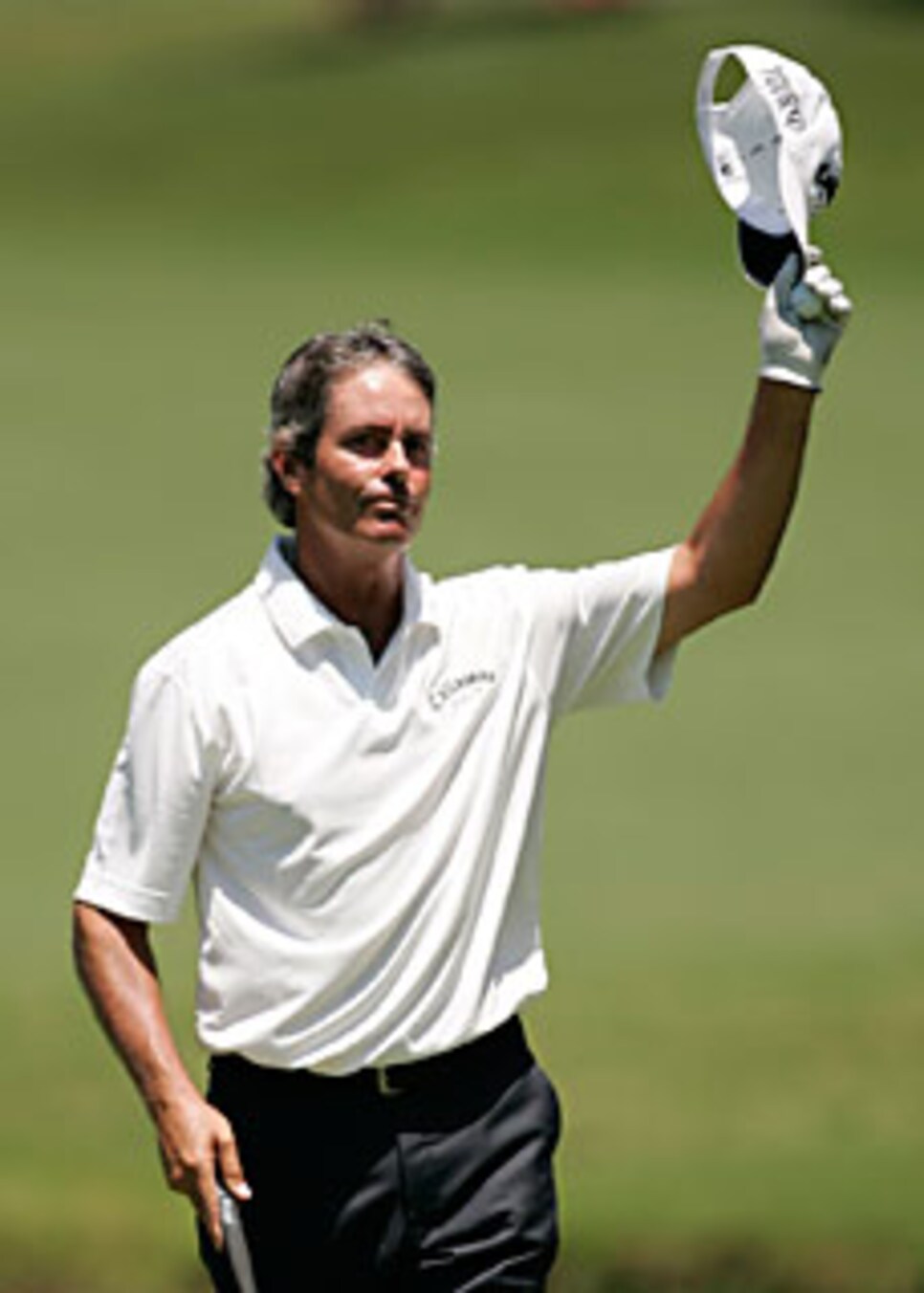 Much like Annika Sorenstam six years earlier, Ian Baker-Finch's appearance at Colonial was about answering some internal questions.
FORT WORTH, Texas -- Among the more memorable things I've had the good fortune to witness in my years as a sports writer -- Chris Webber calling a timeout his Michigan team didn't have with seconds to go in the 1993 NCAA basketball championship game, Tonya Harding asking for a do-over in the 1994 Winter Olympic figure skating competition, the entire 2000 season by Tiger Woods -- one that stands out is a tee shot by Ian Baker-Finch on the first hole at St. Andrews in the 1995 British Open.
Now, the first fairway parallels the 18th at St. Andrews and both are among the widest on the planet. Baker-Finch redefined a snap-hook with a lurching swing that sent his ball across both fairways and bounding into Old Tom Morris' Woolen Shop. That image came to mind on Wednesday when, on the eve of the Crowne Plaze Invitational at Colonial, where he was playing his first PGA tour event in eight years, Baker-Finch said he was driving the ball great.
Really? Well now, I thought to myself, we'll just see about that. He spoke with confidence that sounded pretty close to a pep talk, as if he were trying to make certain he really believed returning to the wars after an eight-year absence was the right thing to do. At least he was doing it a place where he had won before -- the reason he was able to get into the field of 120 as a past champion. It was also here that he played his last PGA Tour event, missing the cut in 2001
Another memorable moment for me happened right here at Colonial Country Club in 2003 when Annika Sorenstam teed it up against the men. I remember thinking then about Sorenstam as I thought now about Baker-Finch: Why take this risk of embarrassing yourself? I found out that both are extremely special people deep down inside. Sorenstam was the best women player in the world at the time. Baker-Finch was a major championship winner gone horribly wrong. Both had some inner questions they wanted to answer.
What Baker-Finch accomplished in the first round of the Crowne Plaza Invitational may not live in my brain as one of the most memorial moments I have witnessed, but it will linger in my heart as one of the bravest and most touching. His two-under-par 68 nearly 12 years after he shot a 92 in the British Open was a testimony to his courage as well as his considerable skill.
"I'm older now," he said after the round in which he made five birdies and three bogeys about fighting his nerves. "I just tried to stay in the moment. I never had second thoughts about doing this. Hey, I can still play the game." Of that there is no longer any doubt.
"I just want to be late for work Saturday and Sunday," he said with a broad smile about his job as a commentator for CBS. "And I want to thank all the people who have sent me messages of support this week. They inspired me."
If there were thousands of people crowded around the 10th tee that day to watch Sorenstam hit her first tee shot, there were maybe two dozen on Thursday for Baker-Finch. He walked with his head down onto the tee box and when a tournament officials handed him a scorecard and said: "Welcome back," the amiable Aussie replied: "Ah, good to be back." Then he took out a fairway metal and nailed his drive perfectly to the center of the fairway.
Like Sorenstam, Baker-Finch was probably fortunate in that his first swing did not have to be with a driver -- it was pretty much the driver yips that drove him from competitive golf. And like Sornestam, who feigned a wobbly leg stagger after she split the fairway in a rare display of nerves, Baker-Finch let loose with a huge exhale of relief as he handed the club to his caddie.
Baker-Finch knocked a nice three-quarter short iron approach to about 16 feet and made a routine par on his first hole back. No. 11 is a 635 par-5 and the driver had to come out of the bag, but no worries, mate -- another hit fairway and another routine two-putt par. The question occurred: How will be respond the first time he faces adversity.
That question was answered on No, 12 when he tugged his driver into the left fairway bunker, fanned his second shot into the right greenside bunker, but then blasted to three feet to save par. He birdied the par-3 13th with a 15-footer and again saved par when he missed the 14th green left and chipped to a foot.
The loudest ovation Baker-Finch received all day was as he walked to his drive on No. 15. The hill to the right of the fairway was lined with about a dozen-and-a-half colleagues who had left the nearby CBS TV compound to come out to watch. Somewhat embarrassed, Baker Finch waved and raised both fists over his head in mock bravado.
His first bogey came on No. 15 when he three-putted from about 45 feet. But he got that back with birdies on Nos. 18 and 1. True, there was more red on the leader board than on the AIG balance sheet, stil 68 was impressive for a guy away so long.
Sorenstam won over so many hearts with her first-round 71 at Colonial. The same is true for Baker-Finch. And with him, we are allowed to dream even a little bigger. What if this 48-year-old reclamation project from golf's scrap heap is actually in contention on Sunday? Well now, that would mean I'd have another memorable moment to add to my collection.
Like with Annika, how can you not root for Finchie? Both took amazing personal risks, and in doing so both displayed to a riveted public what a great game golf is. In what other sport could this happen? This was a great day for Baker-Finch, but it was also a great day for the game of golf. See you on Sunday, Finchie.