News
Stricker Wins On Second Playoff Hole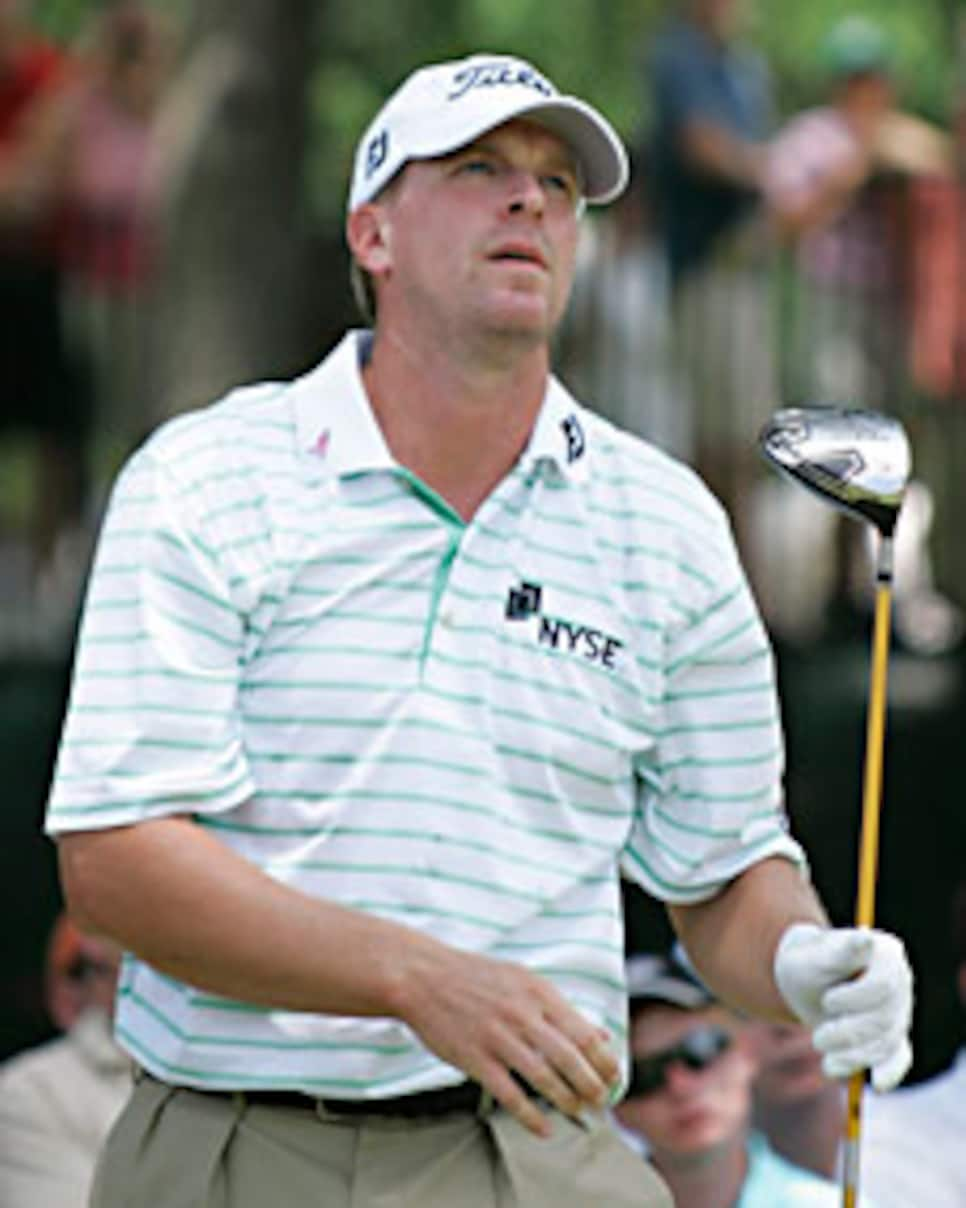 The win was Stricker's first since the 2007 Barclays during the inaugural FedEx playoffs.
FORT WORTH, Texas (AP) -- Steve Stricker has all sorts of top-10 finishes on the PGA Tour this season. Now he has the best one, too.
Stricker birdied the second hole of a sudden-death playoff to beat Tim Clark and Steve Marino and win the Crowne Plaza Invitational on Sunday. It was his first title after being second, third, fourth, sixth and seventh at other tournaments this year.
When the winning putt fell, Stricker pumped his fist twice, then gave a little punch. It was pure relief.
"This means a lot," he told CBS from the green, his voice cracking and the gallery chanting his last name. "It's tough to win out there. Feel fortunate any time you get a chance to."
Clark came in having won the most money ($12.7 million) without winning a tournament in PGA Tour history. His 0-for-183 skid seemed likely to end when he held a two-stroke lead with five holes left to play. He was tied for the tournament record and was the most accurate driver of the week.
But he couldn't keep it up. His next tee shot landed in the rough, as did his drive on No. 18. He took bogeys on both holes, coming up short on his par putt on the final hole to force the playoff -- the third in four years at the Colonial Country Club. (The exception was last year, when Phil Mickelson made a spectacular shot on No. 17, leaving Clark in a tie for second.)
On the first extra hole, Clark put his approach 7 feet from the cup. Stricker and Marino missed their birdie tries, so the 33-year-old South African had another great chance at victory. He got the distance right this time but rolled it just to the left of the cup. With his arms still on his belly putter, he dropped his head in disbelief, then pulled his hat over his face while the others made their par puts.
On the second hole, Stricker put his approach within 4 feet and Clark almost matched it -- but his approach hit the stick and rolled more than 20 feet away. He missed his birdie try and Stricker made his for his fifth career victory.
Clark was left with his seventh runner-up finish. Marino was second for the second time in his 81-tournament career. It would've been a sweet place for his debut win considering his mom grew up a few blocks away and was in the gallery with a group of her childhood friends.
Stricker and Marino shot a final-round 68 and Clark an even-par 70 to all finish at 17-under 263.
Jason Day, a 21-year-old Australian who recently became a Colonial member, shot 69 and finished fourth at 264. He shot 65 in the other three rounds, but started with a bogey and wound up a stroke out of the playoff.
"I missed too many greens and I got a learning experience," he said.
Another stroke back was Paul Casey, coming off a prestigious win in Europe that vaulted him to No. 3 in the world rankings. He opened the final round with three straight birdies but couldn't build on it much.
"I didn't find the middle of the fairways and I didn't really put myself in position to challenge the holes for birdies, so it was a bit of a grind," he said.
Woody Austin (68) and Vijay Singh (69) tied for sixth. Brian Gay had the lowest final round, a 64 that jumped him into a tie for 27th.
Stricker set the 36-hole tournament record (126) and was two strokes behind Clark when the day began. He birdied the fifth and sixth holes to take the lead, but gave it right back with bogeys on the next two. He missed a short par putt on No. 16 for another bogey, nearly ruining his chances, especially when his approach to 17 landed in fluffy grass behind the green. But Stricker chipped it in from there for a birdie, a good omen considering the playoff would return to that hole.
Counting the playoff, Stricker birdied No. 17 four times in five tries this week.