News
Clark Claws In Front At Colonial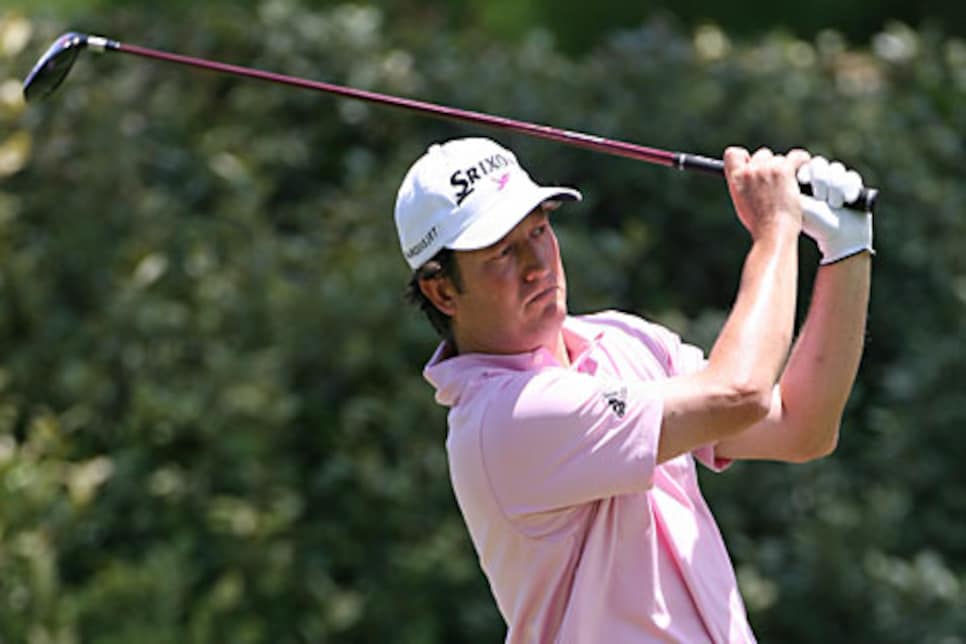 The South African stands at 17-under after a birdie on No. 18, but Steve Stricker, Steve Marino and Jason Day are just two shots behind.
FORT WORTH, Texas (AP) -- With $12.7 million in career earnings on the PGA Tour, Tim Clark has the dubious distinction of winning the most money without winning an event.
Now he's got a great chance to let someone else carry that burden.
Clark shot a 4-under 66 on Saturday in the third round of the Crowne Plaza Invitational to take a two-stroke lead into the final round.
The 33-year-old South African has been near the top of the leaderboard all week, then finally moved into first place all by himself with a birdie on 11. After a string of pars, he birdied 18 to dip to 17-under 193 and stretch his lead. That kind of finish also might be the momentum-extender to help him snap his 0-for-183 skid.
"It's tough to win out here; everyone knows it," said Clark, 63rd on the tour's career money list. "Hopefully, I do get that win sometime and it makes things easier. That's all I can hope for."
Reason to believe he can do it starts with his streak of eight straight rounds in the 60s at the Colonial Country Club. That includes all of last year's event, when he walked off the course tied for first but wound up second when Phil Mickelson birdied the final hole. It was the sixth runner-up finish of Clark's career; another came at the 2006 Masters.
That giant 0-fer is reason enough to question whether Clark can do it. There's also this nugget: Clark's only other 54-hole lead was at the 2008 St. Jude Classic. He opened that final round with a triple bogey, shot 6 over and finished 18th.
"It's never easy being the front-runner. It's a little bit tougher than coming from a few shots back," he said. "But I have led a few tournaments on the European tour going into the last round and have been able to shoot a good score. It's about staying calm and not getting too far ahead of yourself.
"This is a great course for doing that, too. You still have to come out and play good golf. If someone is going to catch me tomorrow they have to play really good, so that's good to know."
Well, that brings up another problem. Lots of people are playing really good this week.
Wind is the only defense this old course has against modern players and their technological advances, and there's yet to be anything more than a gentle breeze. Making things even easier, many greens are new and soaked by a rainy spring, leaving them nice and soft -- just the way players like it.
Jason Day has capitalized with three straight rounds of 65, and Steve Marino shot a tournament-best 62 on Saturday, moving them into a tie for second place at 15 under with Steve Stricker (69).
Day and Marino also are winless on the PGA Tour. Both have extra incentive, too, from Marino's mom growing up in Fort Worth (she was in the gallery, as were a bunch of her childhood friends) to Day having moved to Fort Worth last year.
"My mind is in a really good spot right now," Day said.
Marino gave his mom and her friends plenty to shout about during the lowest round of his PGA Tour career. They were loudest on Nos. 11-13, when Marino put all of his approaches within 5 feet for "pretty stress-free birdies."
"I just felt really in control of everything," he said. "It was a great feeling."
Stricker faded after setting the 36-hole record (126). Playing with Clark, Stricker birdied the second hole and parred all the rest.
"I like the position I'm in," Stricker said. "For the most part, it's better to come from behind -- unless it's someone like Tiger who's used to leading. Hopefully I can put up a good number tomorrow."
Vijay Singh got off track with consecutive bogeys early in his round. He finished at 69 and was alone at 13 under in his first appearance in the event since pulling out after criticizing the tournament for letting Annika Sorenstam in the field in '03.
Justin Leonard (64) and Woody Austin (67) were 12 under. One more shot behind were Sean O'Hair (70) and Paul Casey (66), who is playing his first tournament as No. 3 in the world ranking.
Mickelson isn't here after announcing last week that wife Amy is battling breast cancer. In her honor, and to raise awareness about the disease, the tournament went into "pink out" mode Saturday. Most players wore pink shirts, as did tournament staffers and many folks in the gallery.
CBS broadcaster David Feherty really got into it, going pink from head (cap, sunglasses and spray-painted beard) to toe (pants and shoes).
"It's pretty special to see," Leonard said. "I'm not usually a pink-shirt wearer, but it felt good to put it on. I wish it were under different circumstances."