News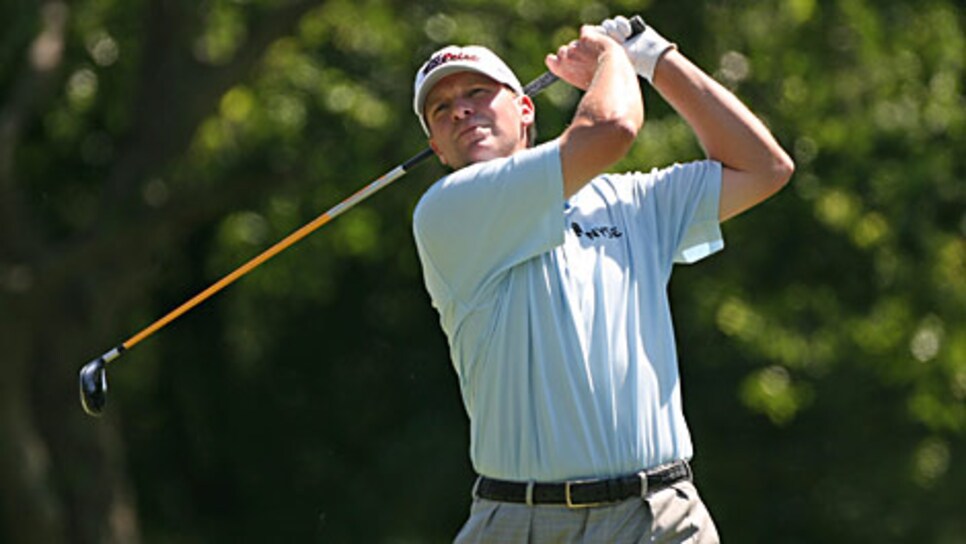 Despite Stricker's low scores, soft greens and excellent scoring conditions have kept the field close.
FORT WORTH, Texas (AP) -- From its Ben Hogan trophy room to its status as the longest-running event at its original site, the Colonial Country Club is among the most venerable stops on the PGA Tour.
This week, the ol' course is playing like a pitch-and-putt.
Steve Stricker shot his second straight 63 on Friday morning, giving him a 14-under 126 total that set records for 36 holes and for any consecutive rounds at the Crowne Plaza Invitational -- yet was barely enough to top a leaderboard filled with players taking advantage of light wind and pillow-soft greens.
Tim Clark, Vijah Singh and Shaun O'Hair shot 64s on Friday and were lined up right behind Stricker: Clark was one shot back, Singh one more and O'Hair yet another.
Jason Day (65) was 10 under, Woody Austin (68) was another stroke back, and Ryan Palmer (63) was 8 under.
"The weather, for two days in a row -- well, all week since we've been here -- has been unbelievable," Stricker said. "Wind is what this course needs to get difficult, but we haven't seen it yet. ... I kind of like what's going on right now."
Clark's two-round total of 127 matched the previous best for back-to-back rounds set by Justin Leonard in '03. Singh's two-round total of 128 matched the previous midway mark set by Kenny Perry in 2005. And they're only good for footnotes because of Stricker's 126.
"I'd rather have the trophy," Stricker said. "We're only halfway through. I'd like to keep making putts. That solves a lot of problems."
Colonial members can only shake their heads at these scores, especially after undertaking course alterations that were supposed to make things tougher, not easier. Some West Texas gusts would help show whether they miscalculated or if it really is just the calm conditions.
The cut line was further evidence of how tame the course is playing. It was even par (140). To put that in perspective, par would've beaten Hogan the last two times he won it, in 1959 and '53; he was 1 under in all three of his other victories here.
"This course really rewards good play," Clark said. "It favors everyone."
Singh is here for the first time since 2002, having withdrawn right after criticizing Annika Sorenstam's spot in the field in 2003 then citing conflicts overseas for his continued absence.
He's been fondly welcomed back by the galleries and has made himself right at home. He's second-longest off the tee and has taken the sixth-fewest putts, leading Stricker in both categories.
"I'm really happy with the way I'm swinging the club," Singh said. "I'm doing everything pretty good right now. That's a good feeling."
He finds the conditions a little too good. He's hoping for some extra heat to firm up greens that he finds too soft and too slow.
"If you can hit the fairways, you can really attack the pin because you know they're going to stop," he said.
Palmer's low round pushed him up to seventh. It meant even more because this is home course and the gallery was filled with friends and family. He finished with a pair of birdies, capping it with a 16-footer that left him a bit emotional.
"To put on a show for them was nice, it was unbelievable," he said. "I've been waiting for this day to come for a long time this year."
Chad Campbell hurt his calf so badly that others had to brace him, then he went down to the ground, while playing the 17th hole. The Masters runner-up withdrew, and hopes to be healed in time for the U.S. Open in three weeks.
Rory Sabbatini shot 69 to make the cut by a stroke. Coming off a win at the Byron Nelson last weekend, he has a long way to go this weekend if he's going to join Hogan as the only players to sweep the Dallas and Fort Worth events in the same year.
Ian Baker-Finch won't be playing this weekend, not after six bogeys and a double bogey left him with a 78.
"That's just lack of play," said Baker-Finch, who hadn't played a PGA Tour event since the 2001 Colonial, and he missed the cut then, too.
The 48-year-old Australian left the television booth to tee it up again this week in celebration of the 20-year anniversary of his Colonial victory.
"Maybe when I'm 50 I'll be able to play on the Champions Tour," he said. "But I'm happy to get back to the booth."