News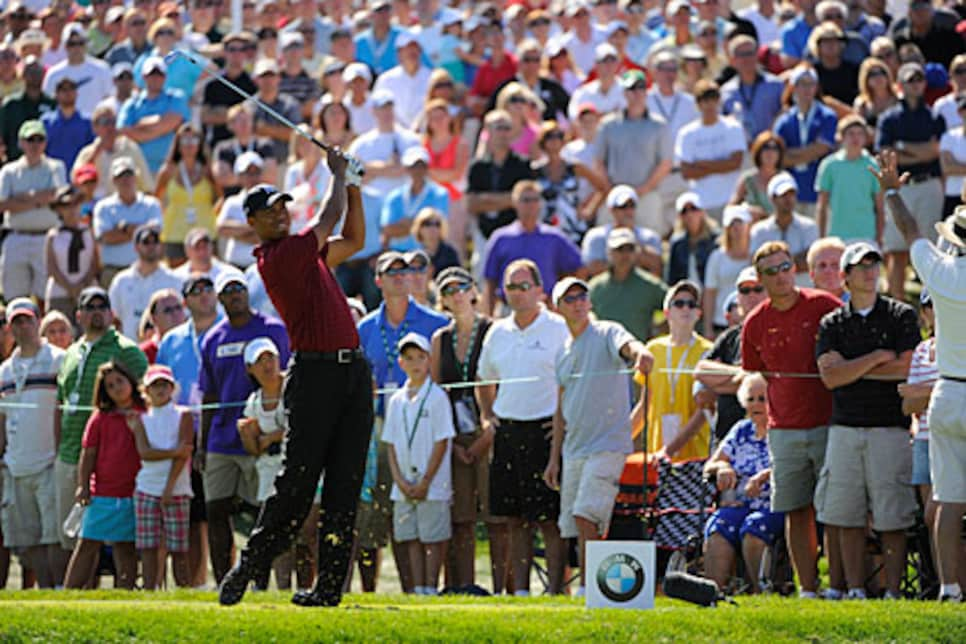 no doubt about it: Woods, who closed with a 68, didn't have any difficulty Sunday wrapping up his sixth win of 2009, a stellar season following major knee surgery.
There appeared to be no chance that suspense would become a fourth in the final threesome at Sunday's BMW Championship, yet suspense found a way. Naturally, this sudden anxiety had nothing to do with Tiger Woods, who amassed a seven-shot lead with Saturday's succulent 62 at Cog Hill GCC. He could have achieved his fifth career victory on the Dubsdread course and sixth this season on one leg. But he's already been there and done that at the 2008 U.S. Open, so the world's No. 1 golfer opted to celebrate a healthy 2009 in a walkover so resounding it left the rest of the field limping.
"To be as consistent as I have been this year, I'm very proud of that," said Woods, who finished with a 68 for 19-under 265, eight fewer than Jim Furyk and Marc Leishman. "Absolutely, it's one of my best years. There were so many uncertainties at the beginning of the season. What kind of shots could I play? How was my recovery going to be from day-to-day? Am I going to hurt again? Am I going to stretch the graft? To come back and be, as I said, this consistent feels pretty good. I had an opportunity to win just about every tournament I played in."
With his 71st title at age 33, Woods vaulted to the top of the FedEx Cup playoff points derby that will be settled at the fourth postseason event, the Tour Championship. Steve Stricker, Furyk, Zach Johnson and Heath Slocum round out the top five. It's what happened at the bottom of the list that had to be seen to be bereaved. After John Senden, in Sunday's second-to-last group, doubled the 17th hole, he dropped out of the surviving 30 who shall joust in Atlanta. But then he re-entered the equation and secured the final spot when Brandt Snedeker, playing beside Woods and Leishman, tripled No. 18 by four-putting from 13 feet. Snedeker toppled to 33rd, joining casualties such as Ian Poulter, Anthony Kim, Sergio Garcia, Justin Leonard and Camilo Villegas with a thud that even shook Tiger.
"You feel bad for him," said Woods, who otherwise extended few regrets over four days to fellow competitors; Rees Jones, the architect commissioned to refresh the storied public layout; or Cog Hill owner Frank Jemsek, who fervently wishes to be awarded a U.S. Open. Tiger didn't know exactly what to expect from the "new" Dubsdread, but he assimilated the alterations like the scholar-athlete he is. Woods' next bogey on the back nine of the updated design will be his first, and if the infant greens he described as somewhat "spongy" weren't quite ready for showtime, he was ready for them. Whatever domestic problems existed between Woods and his short stick during, say, the PGA Championship at Hazeltine, were resolved in Chicago, one of his favorite playpens.
"I didn't change anything," said Tiger of his putter or putting. "I was hitting a lot of lips. They just weren't going in. I kept telling myself through those stretches, I was hitting good putts, they just didn't go in. You read the putts better, eventually they'll start going in."
Sometimes when they go in from 14 feet, as one did on No. 9 Sunday for birdie, it can appear in Monday's newspaper to be ho-hum. In reality, Woods' route to the cup was rather bizarre. His tee shot sailed right, so far right toward a refreshment area that it just missed a barbeque in regulation. Woods then exited by nailing a 3-iron through the forest, the ball settling near trees on the other side of the fairway. From there, he curled a 9-iron in some kind of funky 105-yard bump-and-run hook pattern to just beyond the hole. His 4 on the 615-yard par 5 was labeled "science fiction" by a security officer who also witnessed Woods' eagle there Saturday, when two mighty blows to the green traveled straight as a string.
What an afternoon that was. Tiger bogeyed No. 1, then apparently became angry enough to collect a bunch of circles thereafter for his 62, a Dubsdread record, past or present.
Some of Woods' amazing swings did not even beget birdies. At No. 7, from behind tall and leafy shrubbery, he cut a 6-iron from 188 yards not only to an elevated green, but to the upper tier on which the flagstick stood. "That was pretty sweet," observed Woods. ("No," corrected caddie Steve Williams, "that was unbelievable.") On No. 12, a beastly par 3, he lofted a 4-iron through a breeze toward a wicked pin placement and the pelota landed like so many of his 200-yard missiles—as if they sprout wings, or a parachute.
"I shoot what I feel is a decent round, 71, and next to Tiger, the way he's controlling his ball and putting, it can feel like 80," said Mark Wilson, a Chicago-area resident who plays Cog Hill often, studies under Dr. Jim Suttie at the back barn and briefly snagged a third-round lead until Woods binged.
Stricker, who began the BMW as the leader of the FedEx Cup parade, shot 72 beside Woods (68) and Slocum (70) Thursday while looking a bit fatigued. It's been a haul lately, guys are tired and encouraged that next year's schedule might feature two weeks of playoffs, a week off, then two more playoffs. Anyway, Stricker could have excused himself for the evening, but instead attended a gala dinner to honor Don Johnson, the retiring president and CEO of the Western GA. Johnson and Stricker go way back to their days in Cheeseland. Stricker stayed from beginning to end, humbly introducing himself ("Hi, I'm Steve") despite needing no introduction. Stricker shot 73 Friday, after Johnson noticed him yawning Friday morning around the locker room. Stricker probably needed sleep instead of dessert Thursday night, but as Johnson noted, "He's a special person ... that's why everybody in golf from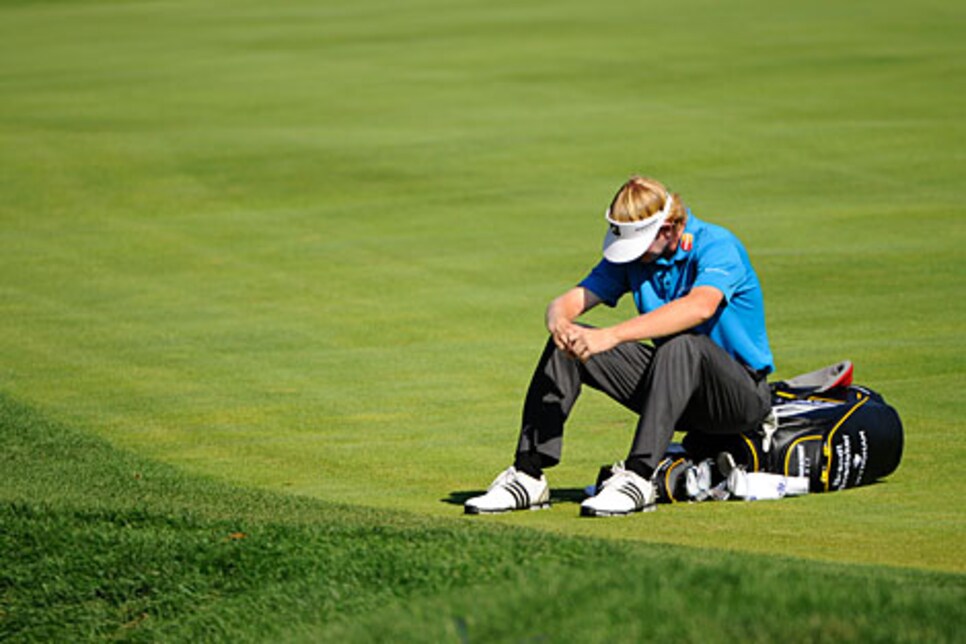 Tiger on down loves him to death."
Stricker found himself 244 yards from the green during the pro-am on No. 5, a converted par 5 that was reincarnated as a par 4 of 500-plus yards for the BMW. Just to make sure he was not hallucinating, Stricker had 244 yards again in the first round Thursday. That scenario encapsulated collective critiques of the facelift: too long, even though the Dubsdread course did not use all of its 7,616 available yards on any day in dry, warm weather that made the trip feel a little shorter. Other evaluations: the par 3s were especially lengthy and too similar; the bunkers too severe with too many fingers serving no other purpose than cosmetic; quirky contours to greens feeding runoff areas. The putting surfaces will improve with maturity and become firmer and faster—golfers were thankful they were not parboiled last week—but the rest will remain the same.
"Not a big fan of them," said Stricker, though first-round leader Rory Sabbatini begged to differ after 66. "They did a fantastic job," he said. Even critics thought the course, having been cleaned up, was more appealing to the eye.
Otherwise, the BMW came off as usual, an ode to organization. Players had a gaudy array of courtesy cars, all of which were hosed down daily by a feverish crew. Spectators arriving in a BMW parked in a choice lot where cars were also washed while key holders were invited to a deluxe pavilion with upgraded food and beverages. Even reporters were pampered to a degree. The carpet leading to the media tent—the outdoor carpet outdoors—was vacuumed periodically. Only a Sunday morning fog delay—not declared until a number of players were on site for obsolete tee times—created issues beyond the normal traffic snarls, etc. Any tournament wants Tiger Woods as its champion because he will be the player of the year, while the reworked Dubsdread vies for votes as comeback course of the year.
Snedeker has been something of a marathon man, playing 13 of 14 weeks since returning from a rib injury. All he required for playoff advancement was a bogey putt from three feet on the par-4 No. 18, but he yipped it. "I asked [NBC analyst] Roger Maltbie what I needed on the fairway," Snedeker said. "I'm sure Dr. Bob Rotella and I will have a nice long talk tonight. He always tells us to just think about the next shot, not to get ahead of ourselves. I did everything wrong. Shows you how weak mentally I am. I can't believe I did that, but that's what's great about the system."
Snedeker's spotless wheels were ready and waiting only a few yards from the clubhouse, and he probably wished he was either in the automobile, or under it. However, for several minutes after his meltdown, he stopped to sign autographs. He tripled the 18th hole, but he birdied the 19th.