News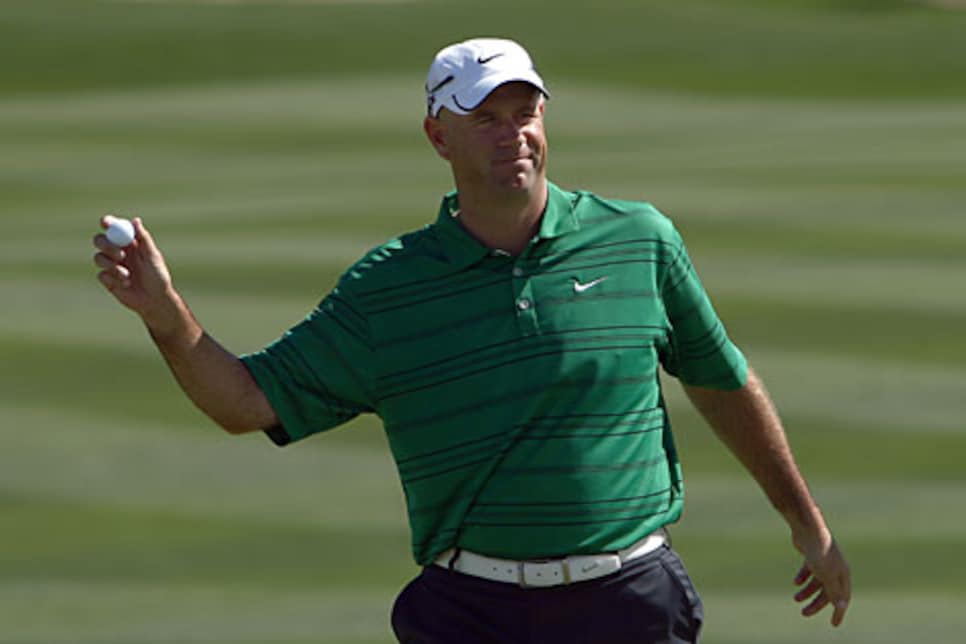 By emphasizing the need for players to support the PGA Tour, Stewart Cink has proven that he gets it.
If there is any justice, Stewart Cink will win this week's Player Championship. If you're wondering why, consider the following:
Among the minor details that clog the cynical world populated by journalists is the phenomenon known as media day, a PR opportunity for tournaments and a chance to play a great golf course for writers and broadcasters. But what Cink did last week at media day for the Travelers Championship was major-championship caliber.
The gathering this week at TPC Sawgrass is the annual celebration of the PGA Tour. A great field gathers on a great golf course in the shadows of tour headquarters and, almost without exception, a terrific tournament is the result. This year the tournament should also serve as a reminder -- in these difficult times -- how good life has been, and still is, for tour members.
The first year the Players Championship was contested at TPC Sawgrass was 1982 and the total prize money on tour was $15,089,576. This year, the combined purse on tour is in excess of $277 million. That's a nearly 20-fold increase.
To put things into perspective, the median income for an American household in 1982 was $20,171, according to the U.S. Census Bureau. Median income in 2007, the most-recent year for which numbers are available, was $50,237 or a two-and-a-half-fold increase. And I'm guessing the number for an average American household did not increase in 2008 and will not increase this year.
Now where does Cink fit into all of this. What has he done that makes me shed my unbiased-journalist hat and want him to win this week at The Players? He said what needed to be said last week, using his appearance at TPC River Highlands in Cromwell, Conn., for Travelers Championship media day to remind all players how fortunate they are to be PGA Tour members and to point out that now would be a good time for them to show their appreciation to loyal sponsors and fans.
"Players that are younger than 30 ... seem to approach the tour and the way that the structure is out here differently than the players older than me," Cink, 35, said at River Highlands. "They seem to think the tour has always been and always will be." The success of the tour, Cink was reminding the younger players, is no accident and its continued prosperity will require diligent effort.
"Now, going through this difficult time that we're in… we're starting to realize how important it is to increase value. Really all we can do to increase value is to spend a little more time with the sponsors, the pro-am, chat it up a little more and have a good time, try to be more available and play more," Cink said.
Speaking of being available, as the defending champion at the Travelers Championship there was a responsibility for Cink to participate in media day. But he was not obligated to appear in person, especially since he was playing in that week's tournament at Quail Hollow in North Carolina.
Instead of doing a telephone interview or videoconference with the local media, Cink flew into Connecticut, did the interview and then returned to North Carolina. Now factor in the player's regular postings on Twitter in which he shares the minutia of his life on and off the course, and this is someone who gets it.
That's a five-time PGA Tour winner with no major championships who is extremely appreciative of the fact he has won more than $25 million in official prize money.
"The more we play, the healthier the game is," says Cink, who has averaged 27 PGA Tour events a year since joining the tour full-time in 1997. "That's the same for Tiger Woods as it is to the guy who finished 125th on the money list.
"We have to play more, keep the value, driving it home for Travelers -- 2014, unbelievable they announced [a sponsorship extension]. Must have something to do with their past champion," Cink said to laughter. "That's all I can think of."
In fact, Cink is closer to the truth than he thinks. It may not be Cink winning in 2008 that got Travelers to re-up its contract with the PGA Tour. But it's the fact the tour has players like Cink. Most of the guys get it -- especially, as Cink points out, those guys old enough to have seen the remarkable growth of the PGA Tour in the Tiger Woods era.
Talk to Davis Love III or Brad Faxon or Lee Janzen -- that fortysomething group of guys -- and you will find players who appreciate how good golf has been to them, and understand that now is the time for them to repay that debt. PGA Tour members are being impacted by the economy much, much less than the global society as a whole. But that's mostly because of fortunate planning.
"The PGA Tour business sort of lags behind the rest of the economy by about a year," Cink says, "give or take, because of the contracts and all that. We're not even going to feel our bottom until after the bottom has hit and everybody else is on the upswing."
That sounds very much like the sophisticated thought you'd expect from a 1995 Georgia Tech grad with a degree in Management. So do these words from Cink: "We have to be more sophisticated with what we can deliver. In the end, it's all about deliverance. We have to deliver it."
Let's hope some of those younger players were listening when Cink spoke. And let's hope he gets a chance to reinforce the message Sunday afternoon when he gets that $1,710,000 check for winning the Players Championship. How can you not root for him?