News
In The Eye Of The Beholder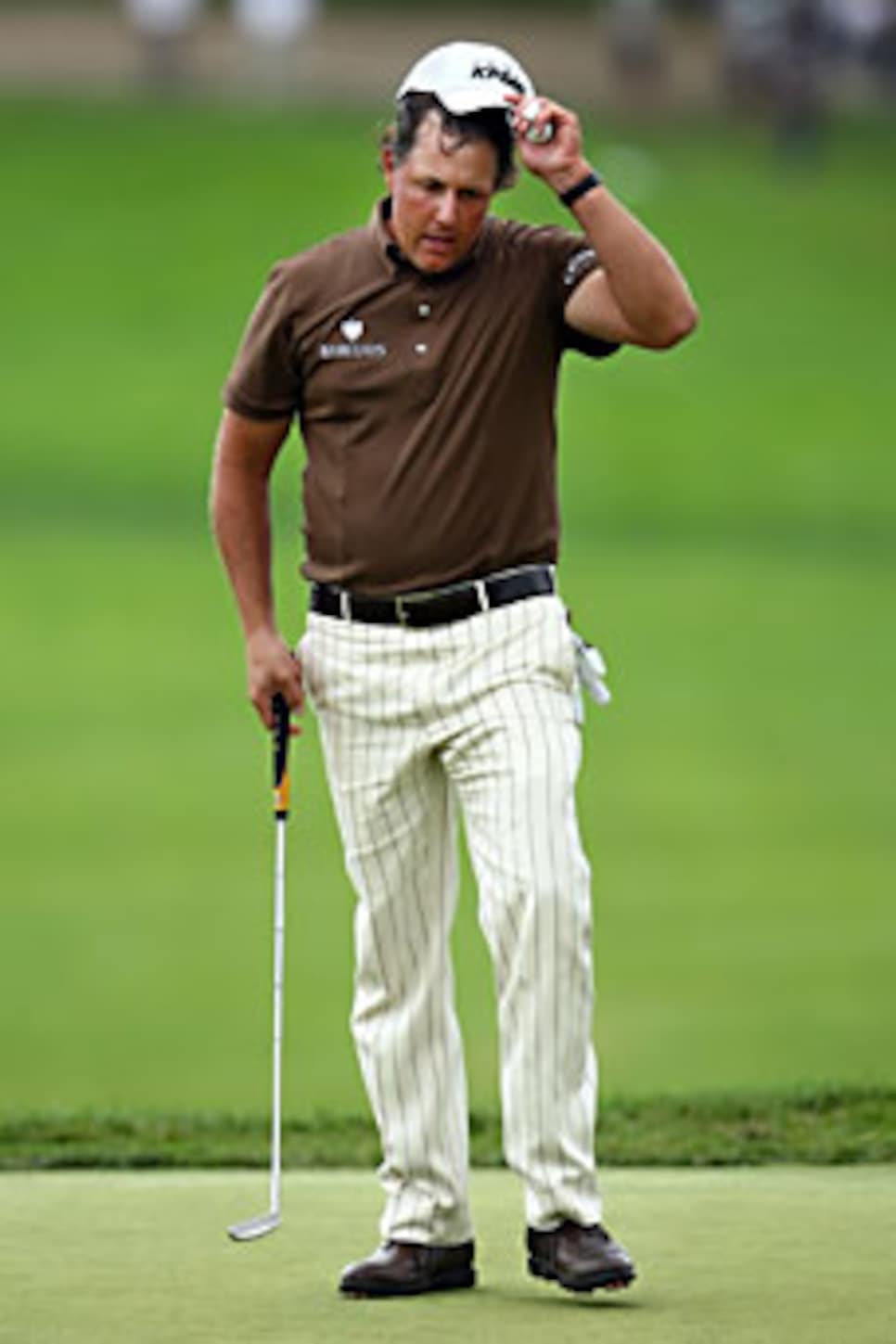 Did Phil Mickelson choke over the final holes of the U.S. Open? Not necessarily.
It is the dirtiest word in golf, a one-syllable indictment of a player's ability to handle pressure. To choke or not to choke? More than just a question, sentences built around the C-word can serve as accusations or stand as brave admissions. Curtis Strange once told me you're not really a golfer until you've choked, but let's not get carried away. Too much of a bad thing definitely isn't good.
Strange took it like a man at the 1995 Ryder Cup, after he bogeyed the final three holes and allowed Nick Faldo to steal a crucial point in America's painful-to-watch loss to Europe. Several U.S. players proved less than clutch down the stretch in their singles matches that afternoon, adding a chapter of dark drama to the event most likely to cause contraction in the windpipe.
The U.S. Open isn't far behind, however, with last month's final round at Bethpage offering the latest pile of evidence. A significant amount of post-tournament discussion focused on Phil Mickelson's sloppy finish, which short-circuited the heroic rally that immediately preceded it and left Lefty a runner-up for the fifth time at our national championship.
Did Mickelson choke? A lot of people wouldn't need to think twice about it. He bogeyed the 15th hole from the back fringe to fall out of the lead he shared with Lucas Glover, then failed to get up and down from a relatively harmless spot just short of the 17th green, which basically ended any chance of his forcing a playoff.
No assessment of Mickelson's performance can ignore the health issues involving his wife, Amy, who has since begun medical treatment for breast cancer, or the overwhelming vocal support he received all week from the New York fans. Both factors formed a powerful emotional backdrop that accompanied Mickelson from start to finish at a tournament full of stops and starts. In that context, the burden presented by the last four holes only becomes greater.
That doesn't mean he couldn't handle the heat, or that his most recent failure to claim a U.S. Open title was undone by nerves. I think Mickelson's problem down the stretch was a function of his competitive disposition. He is most comfortable when forcing the issue, when playing aggressive golf regardless of the situation, which is a tough way to win major championships, especially those decided late in the game.
A relevant example occurred on that par-4 15th. Mickelson got a bit unlucky when his superb second shot trickled through the green, leaving him a 30-footer with a pronounced right-to-left break. A difficult putt? Absolutely, which only made it more important for Philly Mick to leave his ball in as harmless a spot as possible, take his par and move on. Instead, his birdie attempt was left all the way, stopping four feet above the cup, meaning Mickelson would have to deal with a tricky downhiller on what was widely recognized as the toughest putting surface on the course.
In baseball parlance, it was the kind of mistake that doesn't show up in the box score. Mickelson's par attempt rolled three feet past the hole, which is basically where he should have been a stroke earlier. "I played for a lot less break than it [broke]," he would explain. "I just thought it was going to stop breaking, and it broke a little more."
Which is all the more reason to play to the high side of the hole, leave yourself an uphill putt and practice caution when caution begs to be heard. A five- or six-footer from below the hole is a lot easier than a four-footer on ice. As it turned out, Mickelson's momentum had been stifled, his rally over, and in final analysis, his faulty strategic process was to blame, not an inability to handle extreme pressure.
When it comes to the grand scheme, I'm honestly not sure which weakness is worse.
In terms of struggling with the magnitude of the moment, third-round leader Ricky Barnes could not have appeared more vulnerable. He played the front nine that Monday with two very different swings: a fluid, picturesque move that ended with the club on his left shoulder, the other plagued by a forward lurch shortly before contact, which left him off-balance and, in several instances, off-target.
It would be difficult to rationalize Barnes' bad passes as anything other than a product of frayed nerves. When he'd seemingly fallen hopelessly out of contention early on the back nine, his good swing suddenly resurfaced, which keyed his improbable comeback and had him in the hunt until the very end. Barnes' choking occurred early and ultimately cost him late, but the kid hung in there. As Strange would tell you, he's really a golfer now.
Lee Janzen, who was one of the game's best closers in his prime, gave me the best definition I've ever heard for choking: "It's when you forget to do something you'd never forget to do otherwise, because you're caught up in the moment or worried about the result."
Only the player himelf can tell you if he has actually choked, and most are loath to admit it, but some cases are a lot more glaring than others. Kenny Perry's Masters meltdown -- he led by two with two to play and lost in a playoff -- would seem to fit Janzen's description. A tempo player whose swing is best defined by a distinct pause at the top, Perry's body language and rhythm clearly changed after stuffing his approach shot at the par-3 16th.
The pause was gone, and the green jacket would soon follow.
But Perry's demise was nothing compared to that of Jean Van de Velde, whose closing triple-bogey at the 1999 British Open was a unique combination of mental and physical errors. The driver off the 18th tee, the third shot out waist-high grass, even his contemplating a fourth shot out of the Barry Burn -- it was as if the Frenchman had lost his mind.
Maybe Mickelson had his eye on the prize a little too early at Bethpage. Maybe he allowed the size of that prize to take his mind off what he should have been thinking about, which was more likely the case at Winged Foot in 2006, when his double bogey on the 72nd hole immediately registered as one of the modern era's most tragic collapses.
Three years later, we basically saw the same result with a different application. Did he choke? I don't think so, but you might. Either way, a loss like that can be real hard to swallow, contracted windpipe or not.