News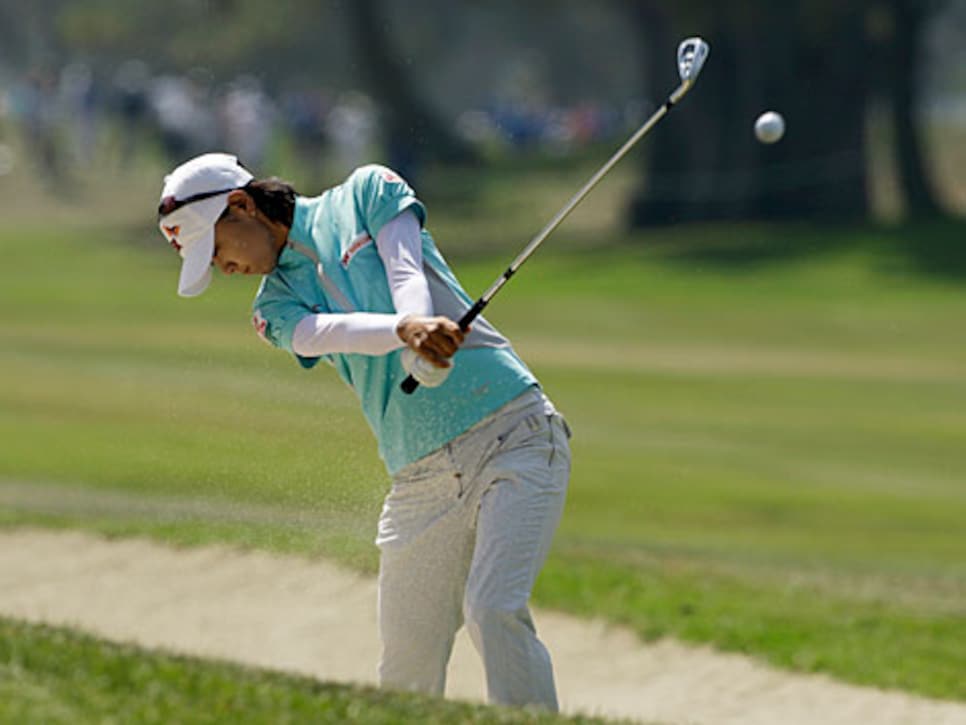 Seeing is believing: Choi had 17 career top-10s without a win, but a third-round 63 and a fresh mental
Na Yeon Choi's Korean nickname translates to Pretty Face, which often wasn't befitting one whose brief career had been sullied with near-misses. Where is the beauty in a frown brought about by another sixth- or seventh-place finish?
It might only be a fine line separating winning from losing, yet so many trip over it anyway, and Choi was determined to discover the root of her own stumbles. Two days before the Samsung World Championship began, she turned her focus to the psychology of the game.
The mind can't be adequately explored in a few conversations, nor can its code be rewritten in a couple of brief text messages. There is this at least: A complex game still allows for wisdom in simplicity.
Thus when a seven-stroke lead turned into a one-stroke deficit on the back nine of the South Course at Torrey Pines, Choi did as she was told. She retained a positive outlook even in the disturbing face of adversity, and an 18th-hole birdie, the defining putt from four feet with the demons dancing on her dream, lifted her from the land of promise and delivered her to the promised land.
Choi, a 21-year-old South Korean, outplayed everyone in this elite field of 20 and outlasted one of them, Japan's Ai Miyazato, who lost by a stroke. It was Choi's first victory in her two years on the LPGA, but the safest bet is that it will not be her last.
"I can't think of words to describe how I feel right now," she said, though surely two of them came to her in the course of her celebration.
Thank you, she no doubt shared with those to whom she turned on Tuesday of tournament week, Pia Nilsson and Lynn Marriott, whose rising stock in trade is their sport-psychology business known as Vision54. Recall that Nilsson and Marriott began working with Brittany Lincicome only a week before she won the Kraft Nabisco Championship in April.
"We started with [Choi] on Tuesday," Nilsson said. "We just had some talks with her, and then we were doing a little bit every day. The thing is that she's so young, she doesn't have a lot of baggage. She already knows that she hasn't yet learned to perform under pressure. We've just been asking her questions and observing a little bit."
They were attempting to ascertain what specifically went awry on the weekends, when tournaments are won or lost. In 47 starts as an LPGA member, Choi had finished in the top 10 on 17 occasions, without solving the puzzle that victory represents. What Nilsson and Marriott learned in these brief crash sessions was that pessimism reigned under pressure, causing her body to tighten and her swing to hasten.
"We told her to focus more on her breathing and also to be much more physical in certain ways, to keep her loose and help her swing and tempo," Nilsson said. "She had told us that she had a tendency to get down on herself. We told her that after shots, no matter where the ball ends up, to keep your head up and your shoulders forward."
"OK, I'm going to try," she replied.
Saturday presented no openings for frustration. Choi posted a nine-under 63 on the second-longest course in LPGA history (6,721 yards), not counting U.S. Women's Opens, to open a two-stroke lead. "Nine under, that feels like 12 under on a normal course," Miyazato said.
Choi's momentum failed to dissipate overnight, either. She was four under through six holes Sunday to expand her lead to seven shots, presenting her with a 12-hole victory lap—or, as it turned out, too much time to think.
The bogeymen returned, and her lead disintegrated. The tournament eventually came down to the par-5 18th, a renowned risk-and-reward hole that was playing a shade less than 500 yards for the women. Miyazato, finishing ahead of Choi, attempted to reach the green in two shots, the second from 203 yards with a 5-wood. She hit it flush, but with a shade too much hook spin, and the ball splashed just short of the green. Her penance was a bogey that dropped her into a tie.
Choi faced virtually the same situation, 193 yards to the pin, and though she mis-hit a hybrid, she did so away from trouble, her ball settling on the fringe, 36 feet right of the hole. Two putts later, she was a winner for the first time.
"Throughout the second half of the tournament today, I thought I was going to lose it again, but it was easy now that I look back at it," she said.
She found comfort playing alongside friend and countrywoman Jiyai Shin, who on 18 delivered the news that Miyazato's second shot was in the hazard. Victory was Choi's, provided she was ready to embrace it.
And when the last putt fell, friends stormed the green, showering her in beer, a baptism that conferred membership into an exclusive club of which she heretofore may have considered herself unworthy.