News
Off To Work: Chen, farmer turned waiter turned pro, heads toward the course at last month's Midea China Classic in the industrial town of Shunde.
China's most unlikely golf champ took his seat at a neighborhood restaurant in the dark, sooty suburbs near Beijing's international airport and declared, "I like to drink." Before long he was chugging cold Yanjing beer and gnawing on stewed pig intestines. He closed the place down, outlasting even the shirtless kitchen workers who were smoking cigarettes and playing cards at a corner table.
This is how Jian Chen unwinds the week of a tournament. But it's a safe bet the 33-year-old was eating and drinking like this long before he ever heard of golf, a serendipitous discovery that happened less than a decade ago.
Chen's rise from farmer to head waiter to obscure pro golfer -- now, slightly less obscure -- mirrors the random trajectories followed by the majority of the Chinese men who toil on their country's domestic golf circuit. Most of them stumbled into the sport accidentally and relatively late, bringing personal histories almost unheard of in the Western world of contemporary professional golf.
For example, the first-round leader board of the Luxehills Golf Championship, a $150,000 event Chen won in June, featured in its top 20 a former security guard, a former soldier, a former stunt motorcyclist, a former kung fu champion and at least a half-dozen guys who spent their formative years swinging a harvesting sickle, not a 6-iron. For them working at a golf course or a driving range was just a job, a way to make money, an attractive, and slightly more lucrative, alternative to some other form of menial labor.
"When I was young, our village didn't have electricity -- it still doesn't have running water," says Chen, who grew up in tiny Chen Xiang Cun, a farming community in poor eastern Anhui province. "When I was old enough to work in the fields -- about 10 years old -- I worked in the fields. It was hard work, too hard, and I did it for several years. I vowed to get out of the village, find a job, any job, and never come back."
Chen pauses, using his chopsticks to scrape some flesh off the side of a steaming fish, and adds, "Of course, back then I had no idea that job would be playing a game called golf. Why would a farmer in Anhui know what golf is?"
Even the four Chinese golfers going up against pedigreed players such as Tiger Woods in this week's glitzy $7 million HSBC Champions tournament at Sheshan International GC in Shanghai adhere to the Walt Zembriski storyline -- humble origins and a haphazard path to golf.
• Lian-wei Zhang, 44, the first Chinese golfer to win a European Tour event, was a 20-year-old washed-up state-system javelin thrower when China's second course opened near his home in 1985. He wasn't familiar with golf, but Zhang still accepted a $20-a-month job caddieing and doing odd jobs. His rice-farmer parents thought he was crazy.
• Wen-chong Liang, 31, the 2007 Asian Tour money leader and China's top-ranked player, was one of a few dozen teenage farm boys plucked from the rice paddies near Zhongshan Hot Spring GC, China's first course, and instructed to take some test swings for club administrators looking to start a youth team.
• Ashun Wu, 24, China's top talent under 30, didn't know what golf was until 2001, when reps from a new golf academy visited his high school looking for potential talent. Eight years later, this son of a truck driver and a municipal worker posted three top-10 finishes on the Asian Tour.
• And then there's 41-year-old Weihuang Wu, the aforementioned martial-arts expert who practiced wushu for 15 years starting at age 8. He's the only member of this foursome who plies his trade almost solely on the decidedly unglamorous, and increasingly unpredictable, China Tour. Wu started golfing in his late-20s because he thought it would advance his family's construction business. After only seven months, however, he was shooting in the 70s. Within two years he was considered the best golfer in Xiamen, a city of 2.5 million people on China's southeastern coast.
Wu, like most of his peers, is self-taught. His swing is stiff and stabby, reminiscent of a hockey slap shot. He strangles the shaft and swings with such fury that all the muscles on his slight, sinewy frame ripple and pop. Jian Chen also would be playing in "Asia's Major," which earlier this year was elevated to World Golf Championships status, had a rule change not cut in half the number of Chinese players eligible for the '09 event. The inclusion of Chen, who eight short years ago thought golf consisted solely of what he witnessed at the driving range -- he had yet to see a course -- would have been a fitting tribute to his gritty generation of pioneering pros whose window for competitive success appears to be closing.
There is a new crop of players nipping at their heels, rich kids mostly, the first wave of Chinese golfers young enough to have grown up playing the game and wealthy enough to afford quality coaching. And there are foreign invaders, as well. This year, in an effort to improve its quality of play, the China Tour invited more non-Chinese pros, primarily from the PGA of Australasia Tour and the Mercedes-Benz Tour of Southeast Asia. As a result, many of China's late-bloomers started seeing themselves getting leapfrogged on the leader board.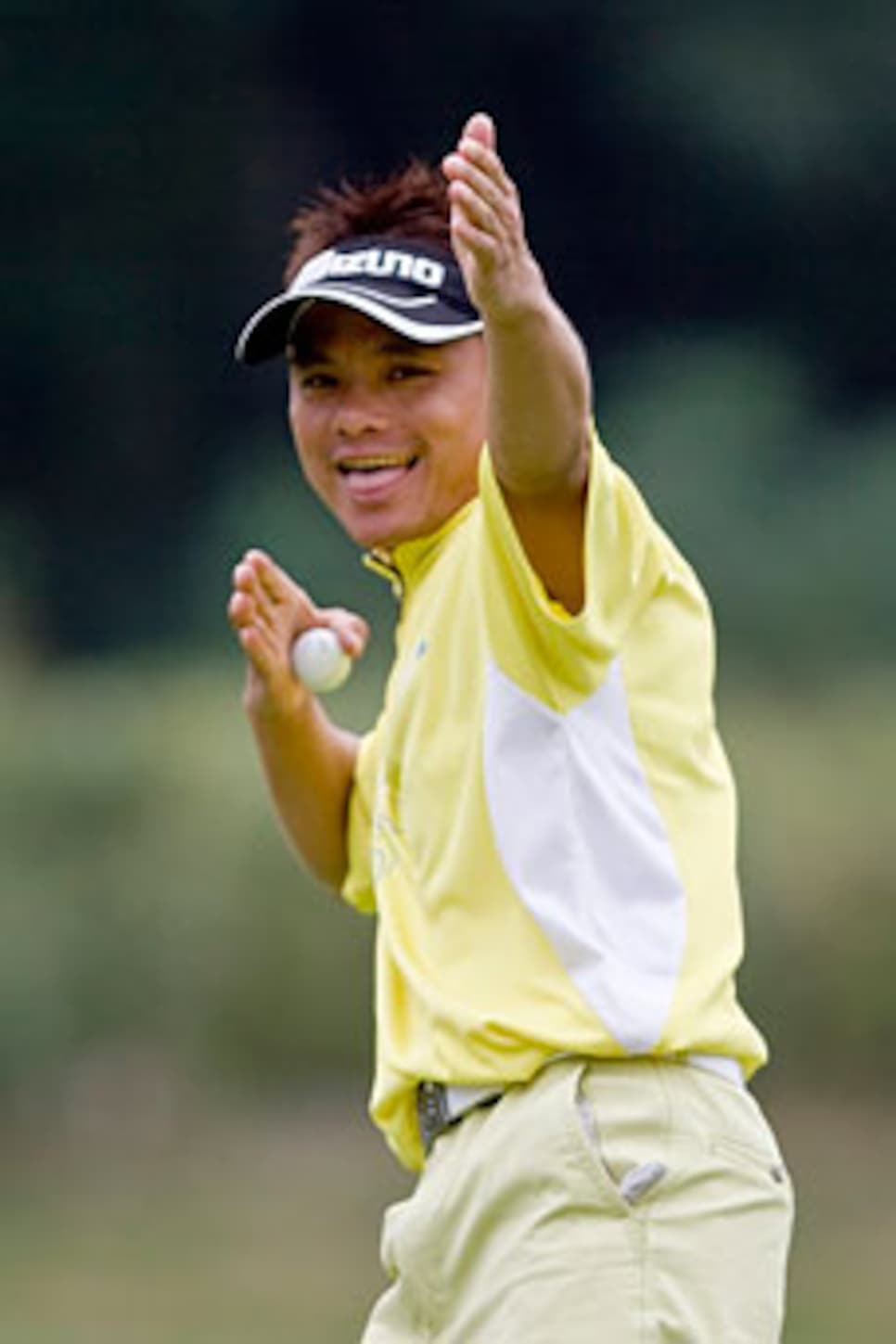 Photo: David Paul Morris/World Sport Group
But in 2009, a year that was supposed to signal their slow fade into irrelevance, China's homespun pros showed considerable fortitude. Weihuang Wu and Chen alternated victories with more polished foreign counterparts, big-hitting Australian Kurt Barnes and Thai legend Thaworn Wiratchant. Unfortunately, in its fifth year, this latest attempt at a domestic Chinese tour fizzled due to lack of funding, and the '09 season was cut short in June after only four events (eight to 10 were planned). The tour's title sponsor, Omega, and its organizers, the China GA and Singapore-based sports-marketing firm World Sport Group, issued no formal announcement about the stoppage, and players were left wondering for months whether rumored tournament dates would become reality. They never did.
Uncertainty has been the norm in these early days of Chinese golf. Tourney dates are rarely firm or announced more than two weeks in advance. Players joke they always have a bag packed because they never know when an event will pop up. Others point out this irony: The country that hosts Asia's richest golf event, the country that, with golf now in the Olympics, may hold the key to the future of the sport, may enter 2010 without a formal domestic tour.
"It's hard to say who or what is to blame," Wu says. "We all want to compete, but if there are no tournaments to compete in, sooner or later I fear some players will lose their enthusiasm for the game."
And that would be a shame because since its 2005 launch the China Tour often felt like a breath of fresh air. The game is so young (2009 U.S. Open champion Lucas Glover is five years older than golf in China) that players lack pretense. The game is so unpopular (statistically, 0 percent of the Chinese population plays golf) those who grind away at the game for a living have yet to assume the affectations associated with pro athletes elsewhere. China Tour golfers drink. They smoke. They curse. They say what's on their mind. As one observer says: "The big pro tours feel so sterile nowadays. The China Tour has got soul." More so than most places, golf's an elitist pursuit in China.
But the Chinese men and women trying to earn a living from it occupy a far different rung on the social ladder. Many of the original China Tour players are basically poor boys from the provinces doing something that makes no sense to anybody back home. A handful make a comfortable living through sponsorships and prize money; the rest hold down jobs at courses or driving ranges, or manage to talk a local businessman into bankrolling their career. If they were being honest, several guys would list gambling as their primary source of income. They remain, as one first-generation pro golfer puts it, "blue-collar workers."
At tournaments, where finishes outside the top 20 likely mean not covering expenses, a fraternity atmosphere prevails. Golfers share rooms at cheap hotels and crowd tables at local restaurants smoking cigarettes and downing tall bottles of local beer -- or, if it looks like they'll miss the cut, several shots of the foul Chinese firewater, baijiu.
While most players are serious once they hit the course, the rest of the week can have the feel of an extended boys' night out. In 2007, on a Friday night in the middle of a $100,000 event he was leading, Zhang threw himself a 42nd birthday bash in the club's restaurant. With a slight hangover, he went on to win the tournament by two strokes.
When the Omega China Tour began in 2005 with four events and the promise of growing by two tournaments each year, players were optimistic it would bring some stability to their competitive lives. The events were first-rate; only one thing was missing: spectators. Tour organizers found their most successful events were the ones that enticed fans with prizes -- people were more likely to come if there was a chance to win a home appliance or laptop computer. Getting them to actually watch was another issue, so this year spectators who got their ticket stamped after every three holes went home with a free hat.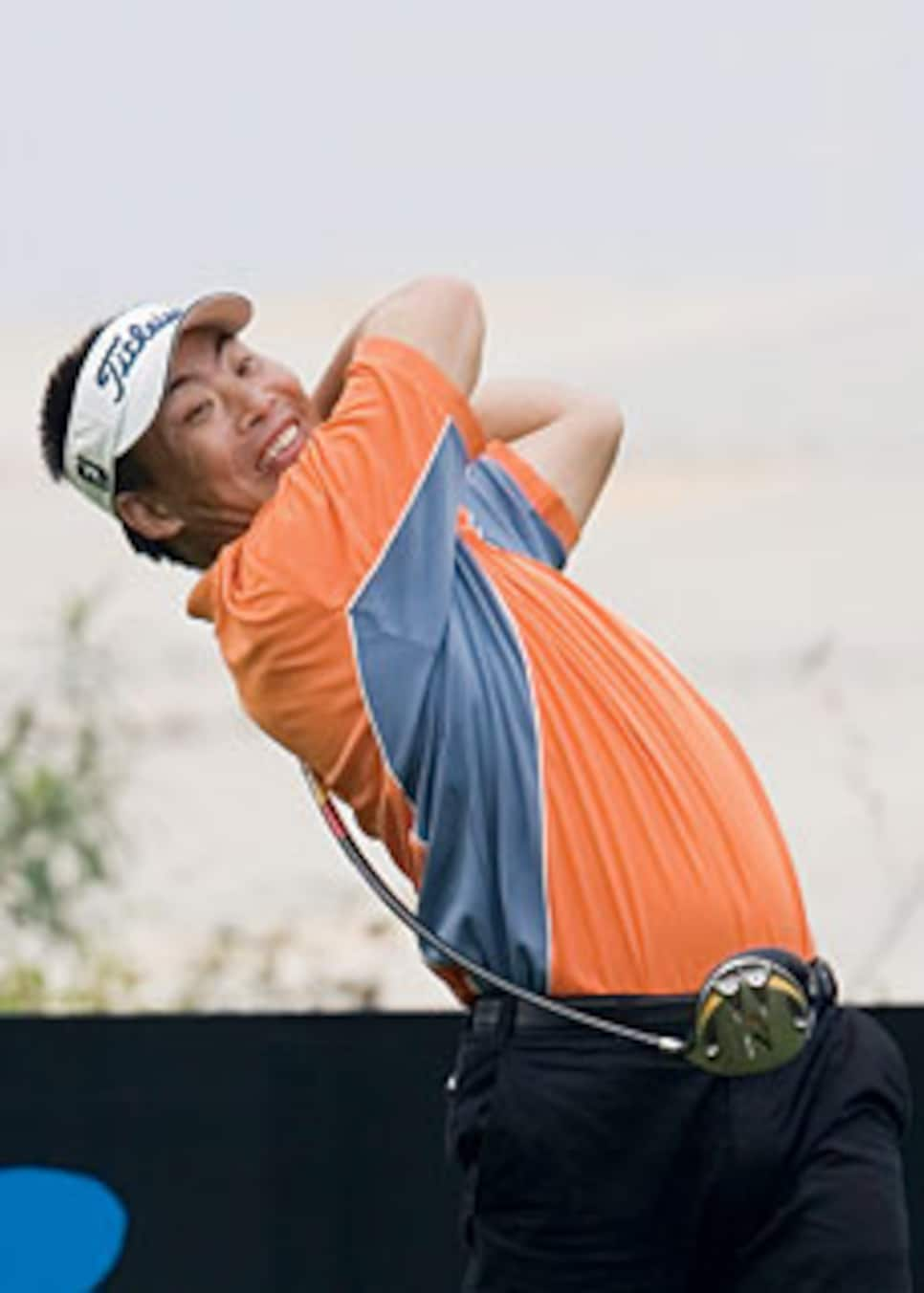 Photo: David Paul Morris/World Sport Group
Those who stuck around until the end of the Luxehills Golf Championship in June came away with much more than complimentary headwear. They got to see Jian Chen, the lanky and laid-back nobody, pull off the biggest shocker in China Tour history. Chen played his way into a sudden-death playoff, on live TV, against a 28-year-old Aussie named Rowan Beste. He was playing for a paycheck that was worth more than all his winnings from the previous four years combined.
Chen was a longshot's longshot. His opponent began playing golf at age 10 and had played on the Asian and Australasian tours. Chen, on the other hand, spent his childhood working on a farm. He first hit balls on a lark when he was 25, before he knew what a golf course was. Nonetheless, Chen appeared to be the only person at Sichuan Province's Luxehills International CC not affected by the gravity of the situation. His smile wide and genuine, his eyes kind and honest, Chen loped back to the 18th tee laughing with his female caddie and wasted no time launching his drive on the 602-yard par 5 into the fairway, a shot he followed with a smile.
His secret? Extremely low expectations. Chen's only prior top-10 finish came in his China Tour debut in 2005, and since then he had been what the Chinese might call mamahuhu, mediocre.
So although he was leading going into the final round in Sichuan, Chen never thought he really had a chance to win. He figured one of the more established players playing ahead of him would make a charge and he would fade away. But that never happened. He won the tournament on the second playoff hole and partied at a karaoke bar until his flight the next morning.
The victory earned Chen a check for $20,500, after taxes. He admits he has already blown about half of his winnings taking large groups of people out to dinner, but he did manage to send $1,500 to his parents -- that's more than an average year's income back in their village.
"I told them I won a championship, a very big national championship," Chen says. "They asked what kind of championship. I said golf. 'What is golf?' They still don't know."